Bali Disctricts: where to live, what to see and what to do?
If you want your Bali expectations to meet the reality, have a fantastic holiday, do lots of things and feel yourself comfortable – choose an area of your stay carefully. If you like surfing and parties – go to Kuta; if you are looking for more worthy leisure on the seaside – check Seminyak; if you dream to move far in the jungle, do yoga and meditation – book a villa in Ubud.
To make it easier for you to check where is better to spend your vacations in Bali, where to go and what to do on the island, we made for you a detailed guide with main districts of Bali.
Bukit Bali
The main bustle in Bali is in the south. If you prefer beach holiday, doing surfing, going to restaurants, shopping, and clubbing – go to Kuta. The South also fits better those who are looking for ideal family holidays. At the same time there are many secluded places, which are located close to the main infrastructure – so the ones who love peace and quiet will find nice options. The south of Bali is divided into two parts – peninsula Bukit and central part located northerner.
Jimbaran district starts at the bottom of peninsula Bukit, it includes Jimbaran and Balangan beaches. The atmosphere here is calm and relaxed. There are no nightclubs, but there are many good seafood restaurants and famous fish-market. There are many shops and good choice of accommodations starting from cheap guesthouses to luxury villas. Jimbaran Bali makes you feel the flair of the island life.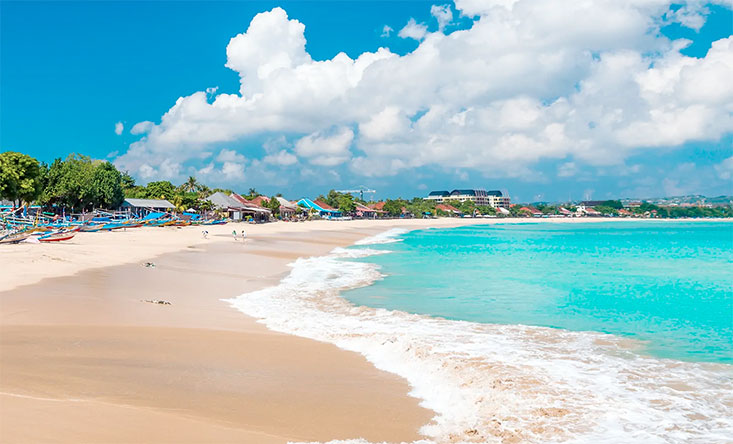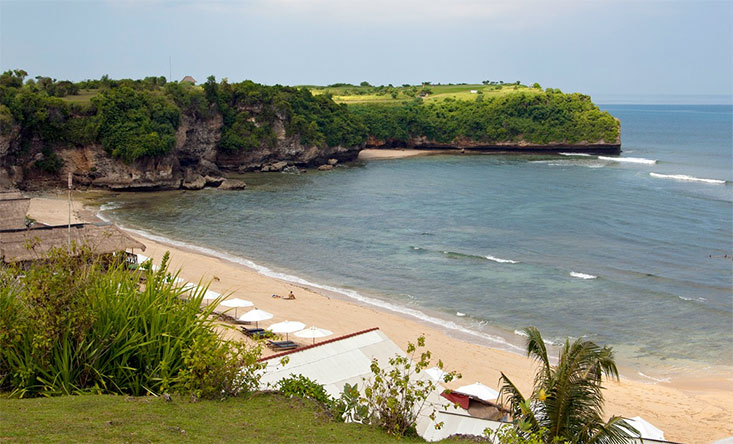 Uluwatu, another district in the south of the peninsula, is located far from the main infrastructure. Here you need personal transport to get to different destinations that are located in a distance from each other. At the same time it's very peaceful and beautiful here. You will be delighted with high cliffs, steep rocks and picturesque beaches of this area.
Bali Nusa Dua fits perfectly for the family vacations and those who travel with kids – there are small waves, comfortable shore, clean white sand, so it makes swimming nice and comfortable. There is also a range of accommodation for any budget.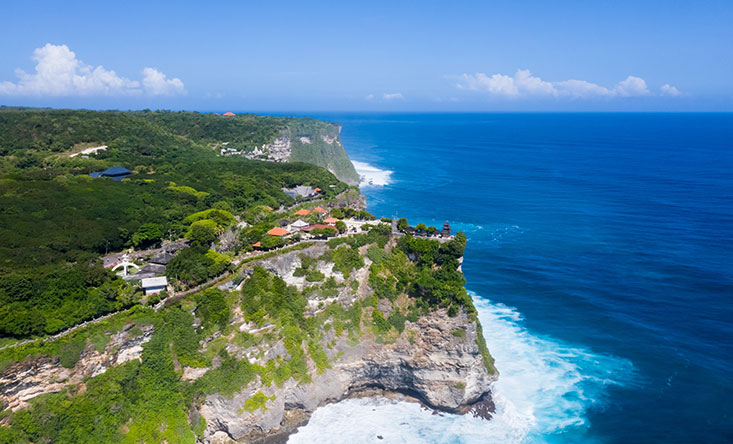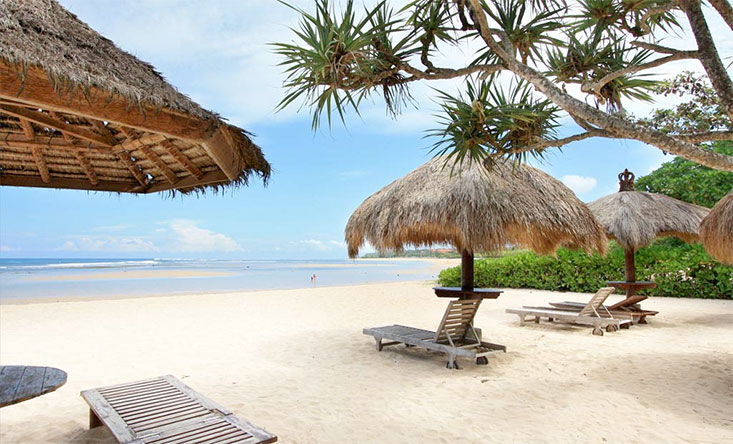 You can go on a trip along the seaside of Bukit on the boat «Black pearl»  – enjoy amazing local beaches, the main sites of the peninsula. If you would like to see all these wonders from the clouds you can go paragliding.
To enjoy the beauty of Bukit, its sunrises and sunsets you can go on a tour around local beaches like Melasti, Padang Padang, Dreamland and Bingin. You will see all the main attractions in one day. Plan your trip so that you finish it in Pura Uluwatu, the main sea temple of Bali, and see a magical fire-dance Kecak, which actors show on the sunset.
You can easily combine the sightseeing with the a yacht trip or a boat cruise – you can also go fishing or snorkeling, and even see small neighboring island Nusa Lembongan during these activities. You can also see the underwater world of this area on the Odyssey submarine that sets off from Nusa Dua beach.
Kuta, Seminyak, Canggu
The central part of Bali is located northerner Bukit, it includes the most favorite tourists area. If you like surfing and active nightlife – go to Kuta. You will love its restaurants, clubs and beaches that are the best for the beginners and those who know how to stand on the board. Bali Kuta is the center of parties, shopping and joy of holidays. It's noisier and cheaper than neighboring Seminyak, with its posh restaurants and luxury villas, and more calm atmosphere.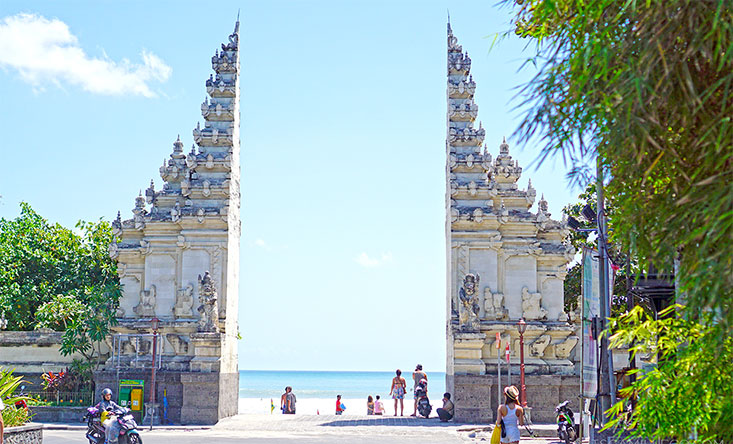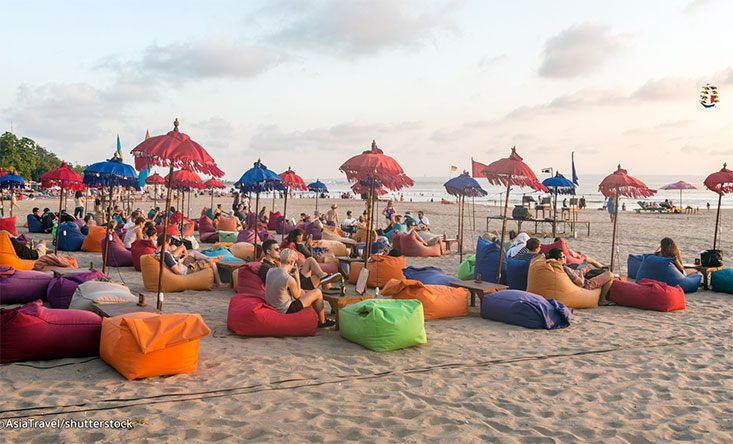 If you prefer positive vibes, smoothie, vegetarian restaurants, yoga, modern design and black volcanic sand – you should definitely stay in Canggu. The atmosphere here is nice and relaxed with the rice fields, traditional buildings and trendy cafes. Canggu is popular with hipsters, surfers, dog-lovers and the ones who prefer healthy lifestyle.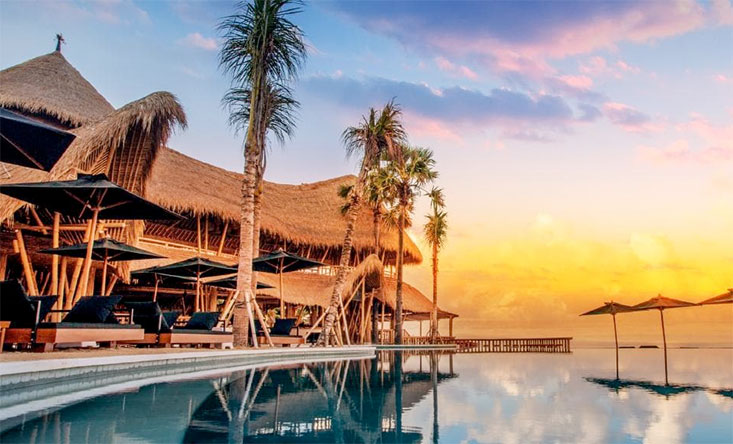 If you dream to catch the waves on board – go to Kuta. Here you can find very good surfing schools where coaches will teach you how to stand on a board and catch the waves.
For more experienced surfers Canggu fits better, here you can practice a lot and be filled with real surfer atmosphere. If you would like to get extreme emotions on the ground, motocross on the Tabanan beach is what you need. You can race on the black volcanic sand and increase the level of adrenaline in your blood!
Extreme lovers and those who look for a nice place for a family weekend should visit Waterbom park: there are waterslides with free-fall effect, more than 100 different attractions, volleyball court, Ping-Pong, relaxation area, spa, massage and a playground for kids. When you feel like having a true adventure – go to McDonald's on Sunset road. It's the meeting point from where the journey to Ijen volcano on Java island starts. Mysterious blue lights and turquoise lake are waiting for you!

Ubud Bali
In central part of the island there's Denpasar, the capital with dense buildings and heavy traffic, and Ubud Bali, cultural center with a lot of galleries, crafts markets, souvenir shops and art workshops. If you want to get to know the culture of Bali you should come here. You will see here ancient temples, traditional architecture, rice terraces, waterfalls and most famous Bali swings. You can dive into local life and take beautiful photos.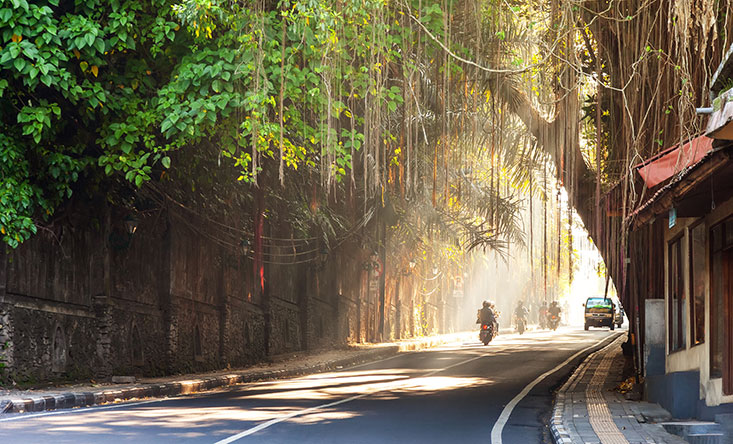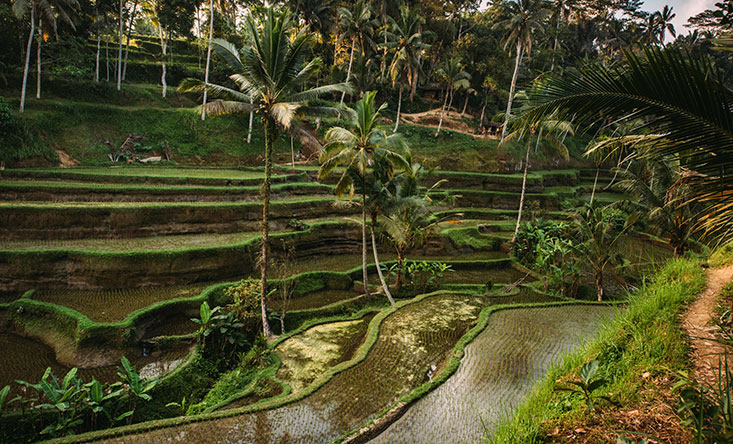 Get closer with amazing nature and animals of the island in Bali Elephant park and Bali Bird park or go on a Bali Safari park tour. Feel the power and beauty of the island on the top of Batur volcano. You can also try different activities which you can find a lot in this area: like rafting, kanyoning, quadro cycling and bagging. You should also go on a jungle cycling tour and a balloon ride – it will give you completely new impressions of Bali and show the island from a new point of view.

East of Bali
You will be mesmerized by a magnificent view of Agung, black sand, unusual calm and the best diving in the area of Amed. There are several dive-centers and schools of free diving on the seashore. Two ships are resting at the bottom of the ocean – one American «Liberty» and another one – Japanese. Divers from all over the world come here specially to see them.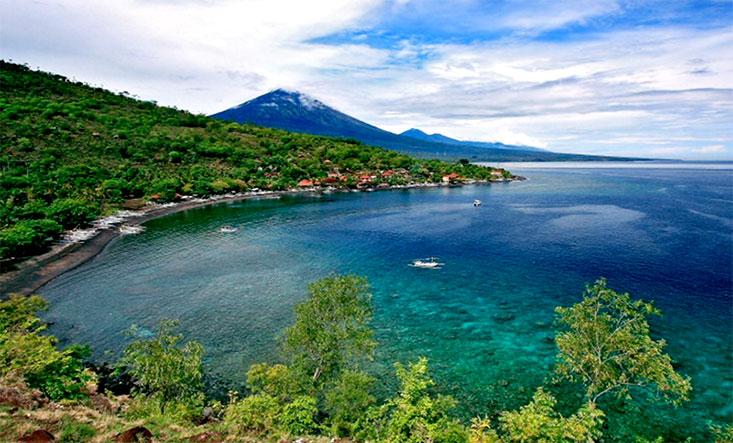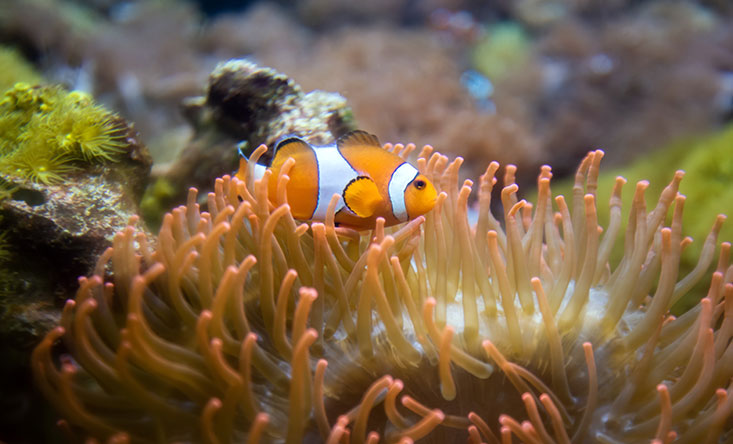 You can go snorkeling in Blue Lagoon in the neighboring area Candidasa, swim with bright tropical fish and huge sea turtles. If you would like to feel the authentic atmosphere of Bali and special spirit of the island – visit Royal palaces Taman Ujung and Tirta Gangga.

North of Bali
This area isn't very popular with tourists, but only here you can feel the real magic of Bali. The capital of northern Bali – Singaradja – is located here, and also touristic district Lovina is spread along the seaside. It's very quiet and rather deserted. If you're planning a trip to the North and would like to see all local sights, you should split the trip into 2 days and stay for a night in Lovina – in this way you will be able to see everything in a calm way.
There are a lot of amazing places in the North: Jatiluwih rice terraces, mystical always surrounded with fog mount Batukaru, lake Bratan, famous water temple Ulun Danu, waterfalls in the jungle and swing over the abyss, where you can take perfect Instagram shots.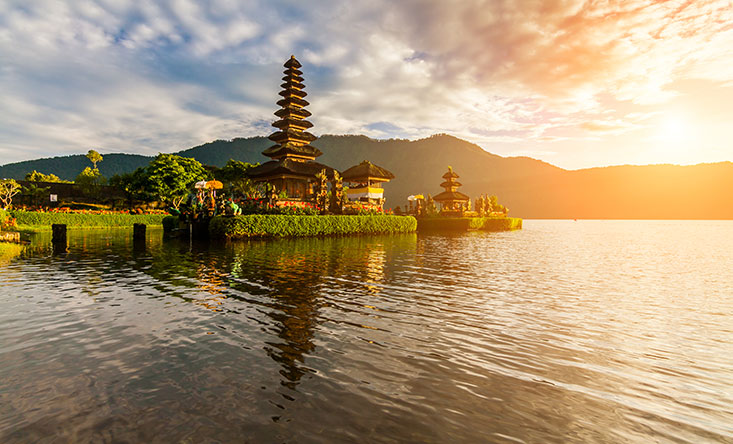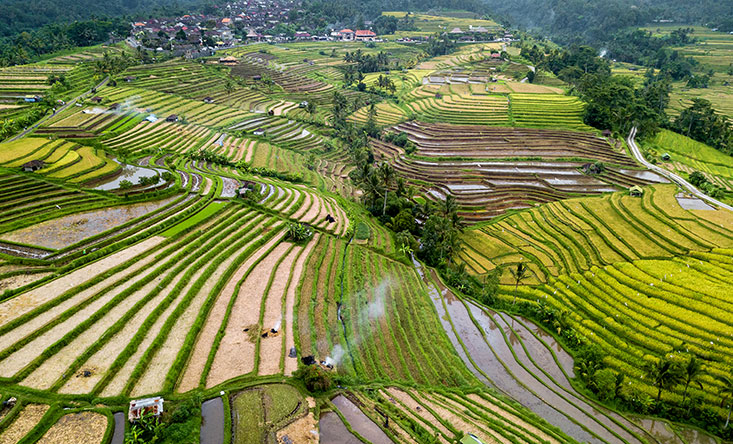 West
Here is located a big nature park Bali Barat, and also Gilimanuk harbor from where you can get by ferry to the eastern Java. On your way you can also visit another important for the island defense water temple Tanah Lot. In the center of western part of Bali western part you can make a stop at lakes Buyan and Tamblingan lakes which are located in the crater of the sleeping volcano Batur.
If you would like to make your trip to Bali more intense and interesting go to neighboring islands and rare nature sights. You can climb Ijen and Bromo volcanoes in the East Java.
You can swim with sea turtles near Gili islands or huge manta rays at islands of Nusa Penida or Nusa Lembongan. Steep rocks, powerful waves, secret caves and mysterious mangrove forest are waiting for you!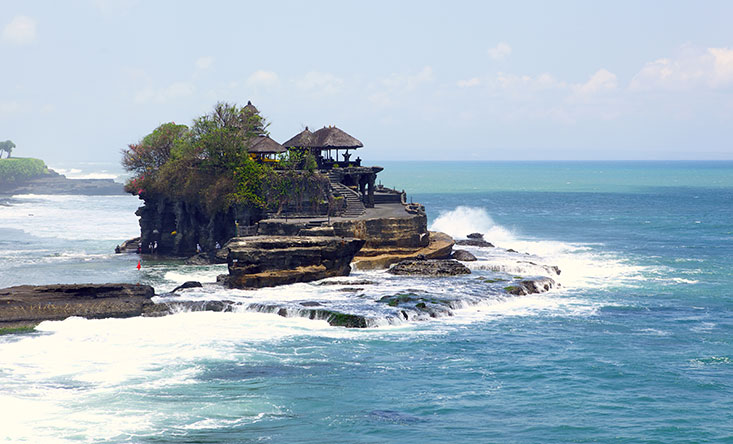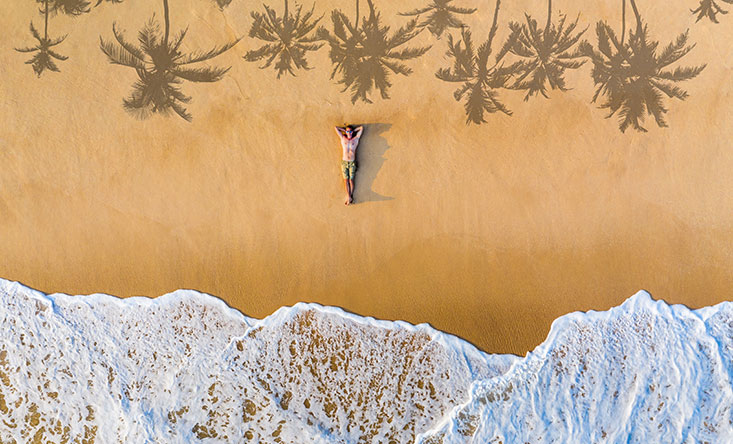 Explore More of Bali with Us: