Things to do and to see on Nusa Lembongan Island
There are several islands near Bali. Nusa Lembongan in the south east is one of them. Together with neighboring islands of Nusa Ceningan and Nusa Penida they compose famous tropical trio. Tourists visit Nusa Lembongan to dive into the world of nature, get closer with the special lifestyle of locals, relax on the beautiful beaches and get rid of the bustling Bali South.
Nusa Lembongan Island
Lembongan is a small island. It's just 8 square kilometers, and around 5 000 people live there. There was no infrastructure on the island a few years ago. It was brought into view not so long ago – people began to visit the island for its relaxed atmosphere, beautiful sunsets and amazing ocean landscapes. There also happened to be perfect spots for snorkeling and diving at Lembongan coastline and surfing here is as good as at other popular spots of Bali. Step by step there began to appear small hotels and bungalows, nice restaurants and cafes in the northern and western parts of the island – in villages Jungut-Batu and Mushroom Bay. Now Lembongan is welcoming its visitors. Here you can have anything to spend a couple of days in a tropical paradise.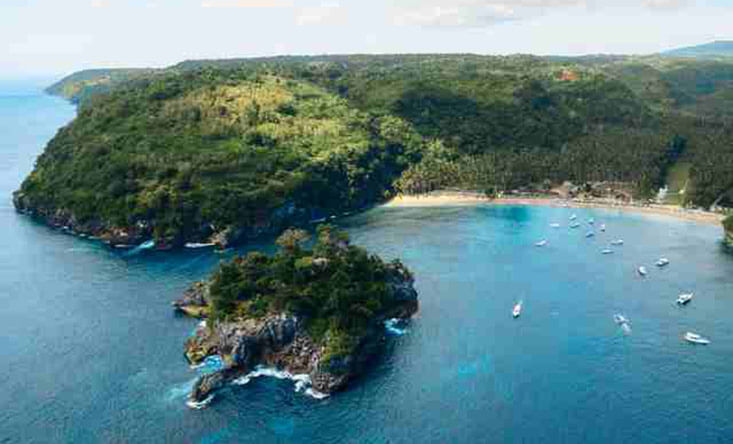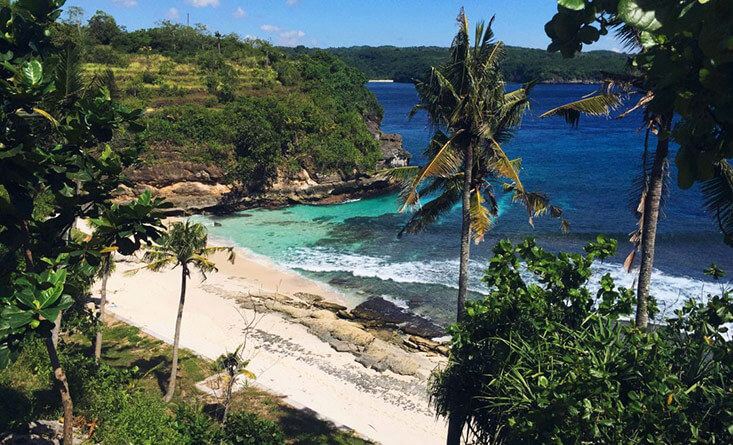 How to get to Nusa Lembongan?
You should go to the harbor of Sanur, from where the boats to Lembongan go every day. The boat for locals is a cheaper option, and it takes one hour and a half to get to Lembongan. The speedy boat is more expensive, but it's more comfortable and will take you to the island in 40 minutes.
You can book tickets to Nusa Lembongan here.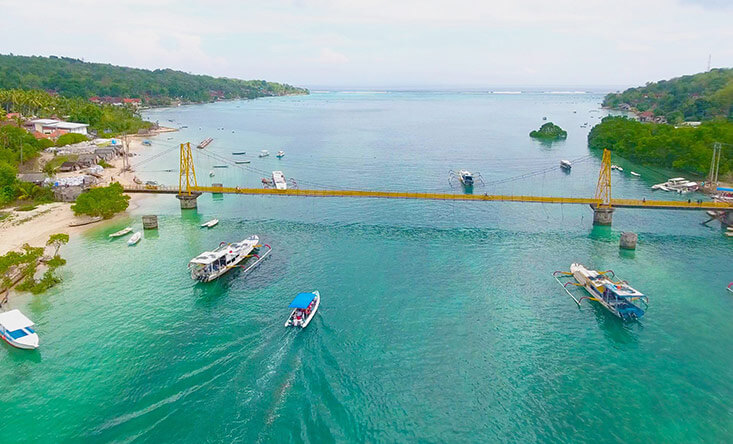 On the island you are going to dive into calm and settled life of fishermen's villages. Farmers grow seaweeds on shelves – you can see plantations along the seaside. They harvest it in huge baskets, which they carry on their heads. Lembongan is a perfect place to reset your mind, practice meditation and just relax from Bali's blair and bustle. You can stay in a hotel or bungalow on the seaside and enjoy bright starry sky at night or blue boundless ocean in the daytime. There are also a lot of things to do on Nusa Lembongan.
Those who love adventures and activities will also find what to do on the island. It's a perfect place for lovers of snorkeling and diving. The water here is crystal-clear, and the variety of the underwater world can impress even experienced explorers. The colorful coral reef is a home for hundreds of different inhabitants of all colors and shapes. Manta Point is located 20 minutes from Lembongan – there live ancient giant manta rays. You can easily see here sea turtles, nurse sharks, hammer fish and mysterious mola-mola fish that come here from July to October.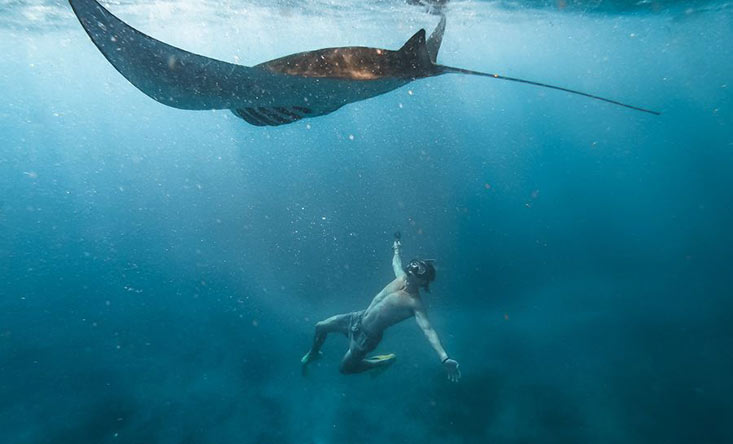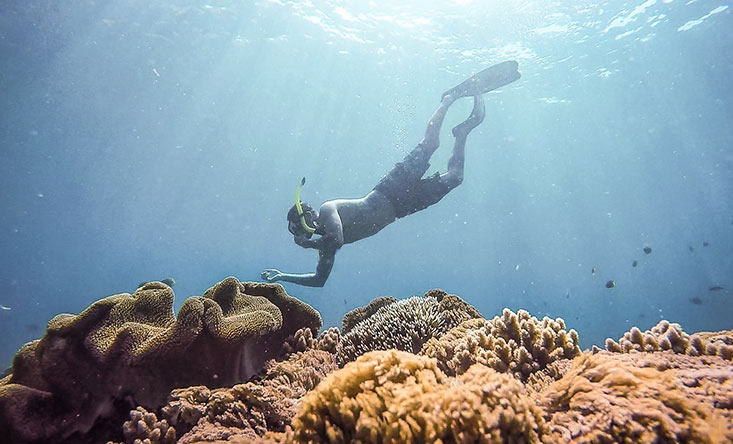 Surfers usually come to the northwest coast of Lembongan, but currents in the south and southeast also fit well to ride a board. If you are an experienced surfer you can ride away from the coastline, and to save your strengths you can also rent a boat.
Beaches of Lembongan
Beaches of Lembongan is another point of attraction. There are plenty of well-equipped beaches there. Most of them are located on the western coast, boats from Bali arrive at Mushroom Bay, after that stretch Dream Beach and Sunset Beach, and Mangrove Beach on the other coast of the island where a view on Mount Agung reveals. The main snorkeling spots are located here, and also mysterious mangrove forest is located not far from here.
There are also plenty of traditional beach activities: you can swim in the ocean, play volleyball and ride scooters and motorboats. In contrast to Bali there are not so many people here, chill and calm atmosphere.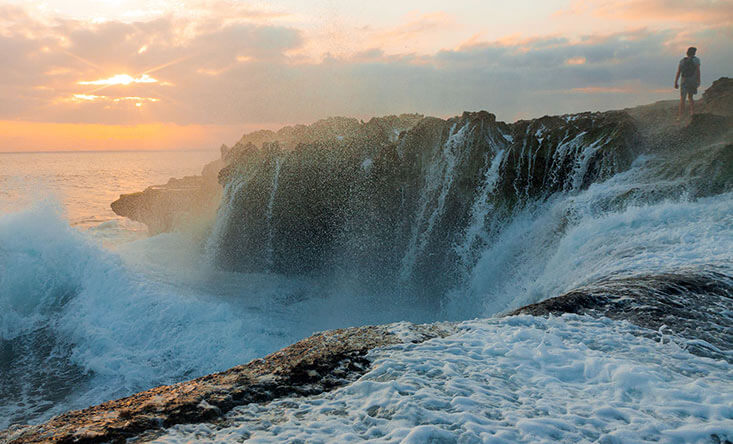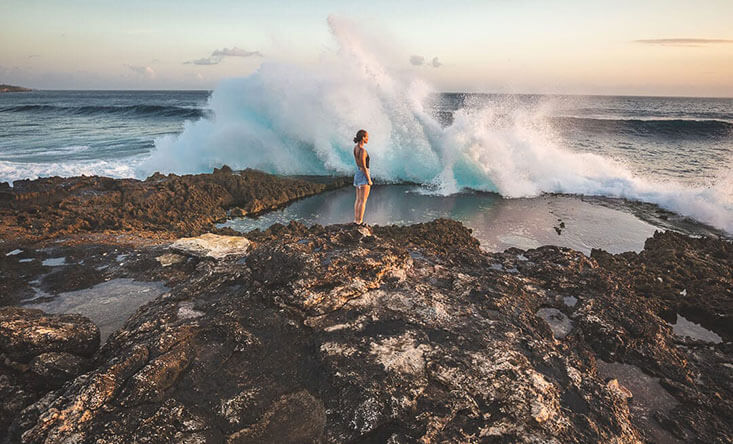 Those who like walks will enjoy staying on the island. There are walkways on the whole touristic territory, so it's easy to get from the beach to a nice cafe, and from there – to one of the local sights. Moreover there are plenty of things to see on Lembongan. You can go along the path walk from Dream Beach to Devil's Tear Cove in the north. Don't get close to the abyss – the sea is roaring downstairs, and waves crash against the cliffs with a thunder, some of them even lash the cove. Its power is amazing; you can feel the real energy of nature and recharge with it. In the northwest here is a line of rocks. The view on Lembongan and neighboring Bali reveals from this point. You can climb the Panorama point to take stunning pictures, which will get likes and adoring comments in social media.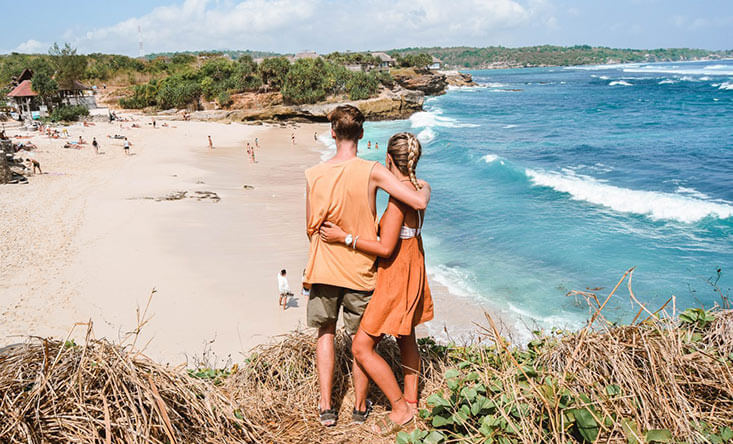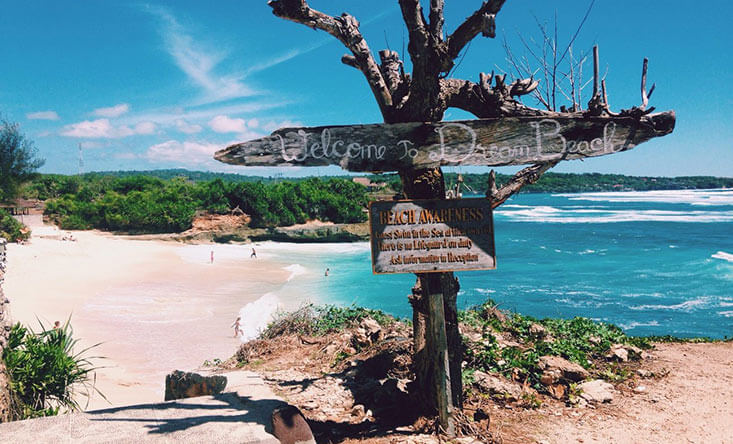 If you are interested in nature, go to mangrove forest and dive into special atmosphere of this quiet place. You can walk through the forest and see beautiful birds or rent a kayak and explore mystic wilds by water. You can visit underground house Goa Gala-Gala. A man built this cave just with his hands. He was making this labyrinth from limestone more than 10 years – and nowadays it's a tricky attraction. Walk along the underground halls and check how brave you are. And of course Lembongan Yellow Bridge is a must-see attraction. This famous bridge connects Lembongan with the neighboring Nusa Ceningan. Take some nice shots in constructivist style and walk over the bridge to the neighboring Cheningan. There is going to be one more island on your travelling map!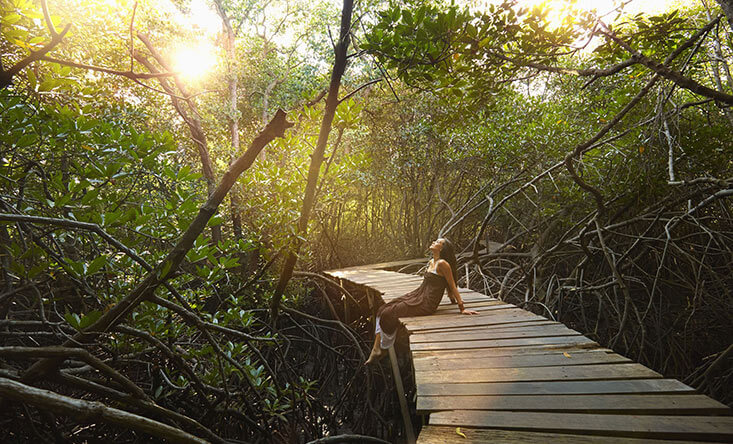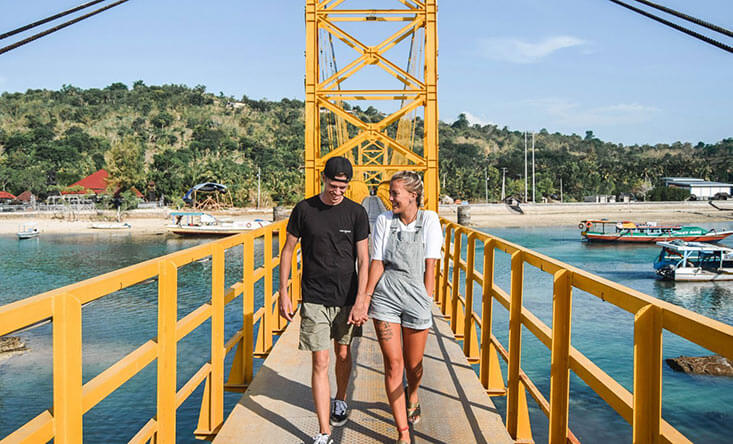 Nusa Lembongan is a tropical treasure not far from Bali. You can go there to feel the power of nature, explore its sights and feel the harmony of this place of the Earth. We promise to make your trip amazing, comfortable and safe - Tours To Nusa Lembogan.
Explore More of Bali with Us: