Top-10 North Bali Treasures
If you are in Bali first time, you are likely to dive into intense touristic life of its southern part. You will meet white sand beaches in Nusa Dua, surfing spots in Canggu and jungle or rice terraces in Ubud. But hardly anyone knows that if you want to see real treasures, you have to go to the North. You will dive into another world with huge waterfalls and woods, which are unusual and mysterious. Get away for a couple of days after bustling South to get its leisurely pace and feel its atmosphere. If you don't have much time, then we provide you top-10 treasures, hidden in this part of the island.
Banyumala Waterfall
Banyumala Waterfall is hidden in the depth of Northern Bali, the Vanagiry village. To get there is not easy. You drive up to Lake Buyan and then go down to the northern coast. The road down is terrible, that's why there are not many tourists here. Close to the parking area there is a pathway to the waterfall. It takes you 15 minutes to reach your destination. The way down is very steep, be ready for that. But it's worth it – there is a swimming pool with cool water downstairs. You can swim there, do meditation or just relax to recover your energy and catch the vibe of this breathtaking place. Two streams, called twins, flowing from the 40-meter height. Recharge yourself with its power and resume your trip.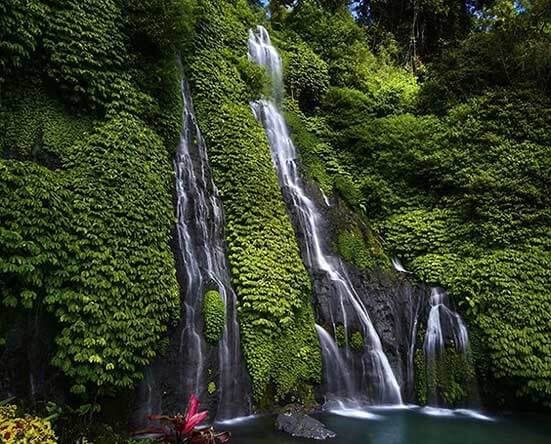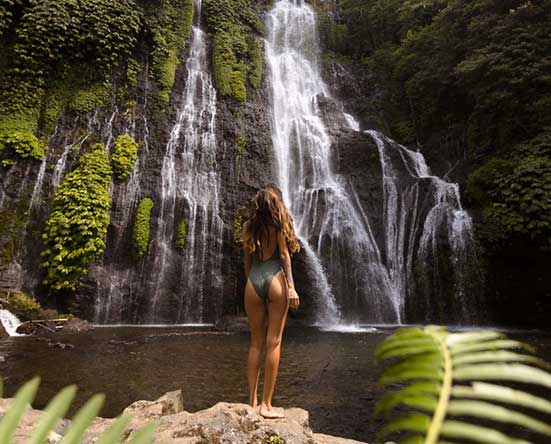 Tour "The magic of Northern Bali" includes a trip to the waterfall Banyumala.
Ulun Danau Water Temple
You can see photos of Ulun Danau Water Temple quite often in Instagram. It's no wonder. Its main part is located on Lake Bratan and you can only get there by boat. But some parts of the temple are on the shore of the lake, so they are quite reachable. It's easy to get there. Bring your camera to catch the stunning view of this place. The multi-layered border seems to grow from water and together with the mountains it creates a stunning composition. This is the second most important temple in Bali after Pura Besakih. By the way, you can see this view on the 50.000 IDR banknote.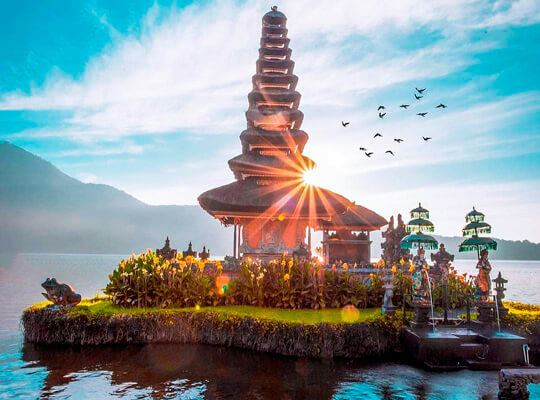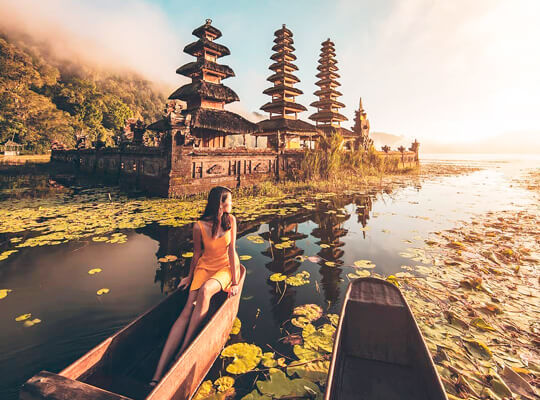 Git Git Waterfall
Not far from Ulun Danau and Lake Bratan there is Git Git Waterfall. It's much easier to get there, that's why many tourists come to see this place. It takes one minute to get there from the parking area. There are 3 flows in this waterfall in the distance around 1 kilometer. It will take a couple of hours to see them walking over small bridges and narrow paths in the jungle.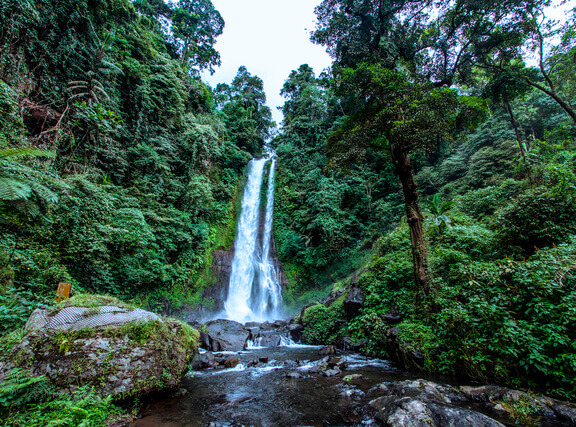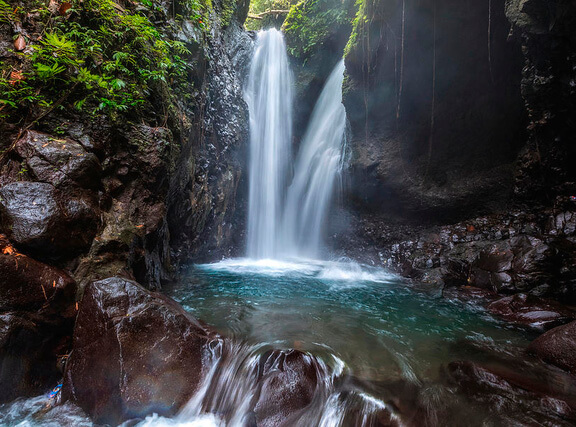 Mount Batur
Those who like it hot can go to Kintamani village. Mount Batur is located in this area. This is one of the Bali's active volcanoes, but you shouldn't worry about that. This one hasn't erupted since 2000. Mount Batur is a popular tourist attraction on the northeast of the island. Tourists come here specially to see the dawn. The photos of the rising Sun taken on the top of the mountain are fantastic! So it's worth climbing 1717-meter height. Some nice surprises are waiting for you on the top. For example, the guide serves you breakfast with eggs, steamed right here. You will be lucky if the weather is ideal.
The one who loves hot springs will appreciate Toya Bungakh. It's one of the tourist traps, so the place is quite crowded. However, despite this fact, you can relax and enjoy yourself in the shadows of Mount Batur. What could be better? There are 7 different pools with mineral water to cater any taste. The most popular one is the pool with the view on Lake Batur.

Munduk Waterfall
In the area of Munduk village there is a waterfall with the same name. You can get there along the twisting serpentine. You will have a thrilling track through the woods. On your way you will see different tropical plants, such as banana, pineapple, coffee and cacao trees, and vanilla plant. The track takes around 20 minutes. The waterfall is a 25-meter cascade of water surrounded by huge cliffs. Hold a short photo session here or just enjoy the nature. After that you can resume the trip, because in the neighborhood there is another stunning waterfall, Melating. You can hear the loud sound of water and birds singing in this place. Recharge with the energy of this wonderful place.
Sekumpul Waterfall
The biggest cascade waterfall in Bali, Sekumpul, is located not far from the city of Singaraja and Lovina resort. You have to try hard to reach this place, because it's not easy. The path runs through the jungle, along the abyss, by the farms of locals and rice terraces. There are several viewpoints on the way from where you can see all seven Sekumpul waterfalls. You can make great shots here! Water streams flows from the 70-80-meter height. In the area of the waterfall it is always cool and humid. You can get completely wet already in the 30-meter distance. On sunny weather drops and beams blend into thousand small rainbows, which look very beautiful. You can enjoy wonderful nature of this area also because there are almost no tourists here. It feels as if you are in the lost world of Jules Verne's novels. Go to visit this waterfall if you like exotic places, extreme travel and walking trips!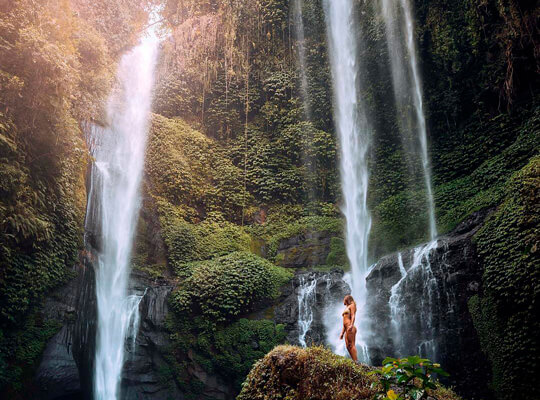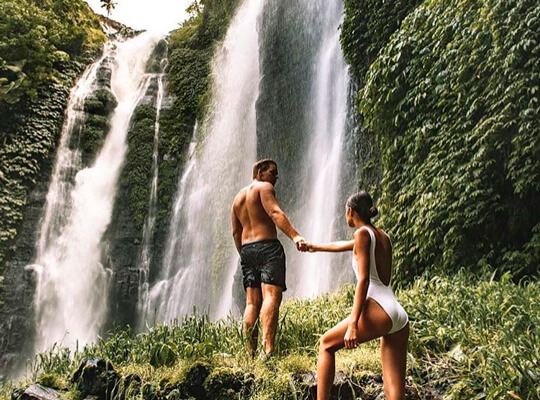 View the waterfall on a trip "Romantic North".
Aling Aling Waterfall
There is another waterfall, Aling Aling, 8 kilometers from the city of Singaraja. This waterfall is 30-meter height. During the rainy season the streams get very big, they even covers all the cliffs where water flows. At the root of the mountain the streams make a lake that seems to be turquoise color on sunny days. Though it might be dangerous to go in the water. Usually the pool is 4-meter deep, but in the rain season the depth grows up to 9 meters. The road from Lovina and  Singaraja goes through beautiful rice fields and villages. Closer to the destination you meet with mysterious world where huge stones are covered with moss and birds sing very loudly. There is a narrow path from the parking area to the waterfall, which goes along the cliff. It will certainly appeal to thrill lovers: when you are walking along it you feel like you're going to plunge into the abyss. On your way you will most likely meet native bees and big green snakes. You will get overwhelming impressions!
To relax go to Sing Sing Waterfall. The road goes through the jungle and small mountain rivers. You can swim there and chill in one of the two pools with cool clear water.
There is one more bonus for photography lovers on the way to the North, Handara Golf Course. It's not worth coming there specially, but you should definitely make a stop on the way. There is a huge gate in Balinese style in front of this golf course and behind the gate you can see a fantastic mountain view. Take some pictures and get back on track to explore North Bali treasures.
Explore More of Bali with Us: