How to start making money with the MyBaliTrips.com affiliate program?
Why MyBaliTrips.com?
It is no secret that today the competition in the niche of affiliate programs is very high, and therefore it is difficult for a webmaster or a blogger to decide which of the many affiliate programs to start working with.
MyBaliTrips.com is a dynamic company led and managed by top specialists. Working as a team, we have brought the company to the international level and are constantly strengthening our position.
Any experienced webmaster knows that potentially one can earn much more on international affiliate programs due to a larger reach of potential clients, compared to local affiliate programs.
MyBaliTrips.com does not limit you to a narrow segment of one language. You can significantly increase the number of potential customers by working with audiences that speak different languages ​​(English, Russian, German, Chinese, etc.). We offer our partners a higher commission and a wider range of services compared to other affiliate programs.
The range of services we provide will satisfy even the most demanding customers. We not only offer popular tours - climbing the Batur volcano, tours of Bali and nearby islands - but also provide high-quality transfers around the island. On our website customers can also buy tickets to neighboring islands, various entertainment programs and luxury segment tours.
Having sent a client to us, you will earn your commission and we will make their holiday unforgettable!
One of the main advantages of MyBaliTrips.com is that we are located in Bali and have full control of the quality of services we provide. We constantly improve our tours by working directly with the contractors and offering a very high level of service.
Over the past six months, we have increased the number of positive reviews to 90%.
So you decided to make money with MyBaliTrips.com. Great!
The first very important step is to leave a link to your resource during registration. This is necessary so that we can analyse it and offer you the most effective earning strategy, based on the characteristics of your resource and your audience.
We are constantly in touch with our partners and promptly respond to any questions or suggestions.
The following step would be to get familiar with our products.
TOP best selling products on MyBaliTrips.com
Подобрать подходящие для вашего ресурса промо-инструменты.
We wrote an article on how to post information on your resource, work with promotional tools and earn more. Read it here:"How to earn more with MyBaliTrips.com affiliate program"
All tools are displayed on the page of each individual product.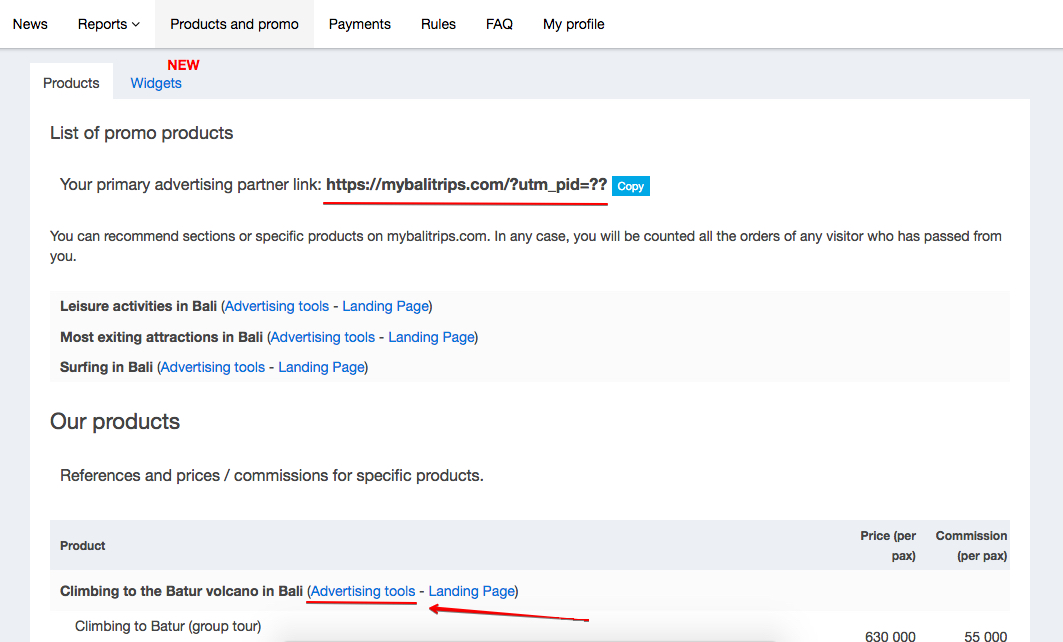 To integrate the promotional tool into your website, copy the code with your partner number and post it onto your resource.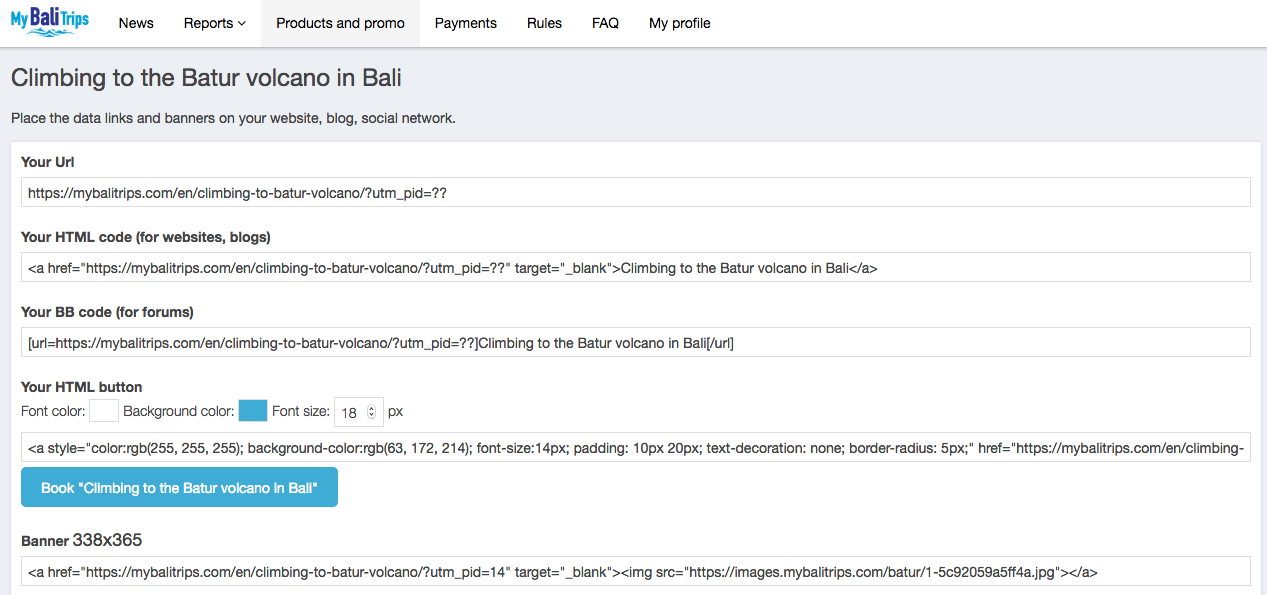 Please note that we recommend adding and using UTM-tags, so that you can get more information and analyse the statistics on your traffic. We wrote an article on how to do that and why it is important: "Why is it important to use and analyse UTM tags in an affiliate link?"
Widgets are one of the most effective affiliate tools. They are located in a separate tab.

When using a widget, you can use our selections or create your own widget, tailored to your content and your audience.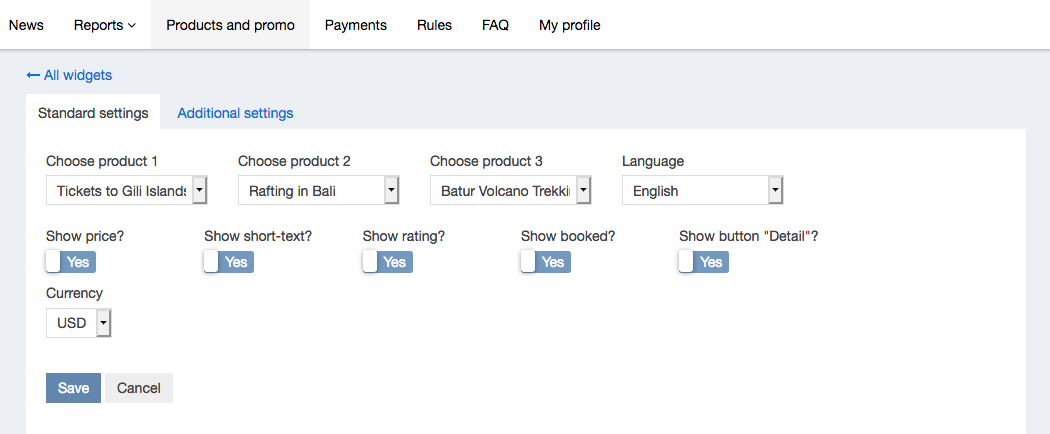 How do travel agencies work with us? Easily!
In addition to bloggers, owners of various resources and administrators of social media groups, we also successfully work with travel agencies.
So, if you are a travel agent, you can make money with MyBaliTrips.com by recommending us to your customers.
You can provide your customers with an affiliate link, which they will use to place an order, and you will receive your commission. Alternatively, you can place an order for your customers through our website, using your own contact information, if for any reason you do not wish to send us their personal data.
If you have a group of tourists in Bali, contact us regarding preferential terms of service.
Tracking orders
You can keep track of all orders that come through your affiliate link on the "Reports" page. Information appears there in real time.
If the order has either "Order failed" or "Refusal: another reason" status, then hover the mouse over it to see the reason for the order being unsuccessful. If you have any questions about your orders, email us at partners@mybalitrips.com.

Make sure you fill in your payment details on your Profile page and read the detailed information about payments in our FAQ
Please note that we accept almost any traffic, except for branded traffic to our website in contextual advertising systems. This means that you cannot place contextual advertising (e.g. in Google or Yandex) which leads directly to mybalitrips.com domain. Illegal traffic is also prohibited, which includes spam, any unauthorised mass emailing, web spam, etc.