Things to see in Ubud
If you are first time in Bali, you will probably be surprised, how large is this island. There are so many places to see and so many things to do, that it's often difficult to choose. If you stay in Seminyak or Ubud, choose the sightseeing in this part of the island. You can go to famous rice terraces and ancient Hindu temples, hidden in the tropical woods or located on the seashore. You can either walk along Campuhan Ridge Walk and take a short photosession, or go to Bali swing in Ubud! You will have a wonderful time, learn many new things, get impressive experience and take cool pictures for your Instagram. Specially for you we made the list of top-5 must-see places in Bali!
Rice Terraces in Tegalalang
If you like beautiful landscapes, collect amazing sunsets and are interested in photography, you should definitely visit this place. Such terraces are in Pejeng and Champuhan, but the most stunning are in Tagelangan. You can go down a tiny path to the creek, and then go up to the other side of the terraces. You are going to meet a Balinese peasant on the way. You can drink cool coconut water, buy traditional hat or take a picture of his stuff for a small donation. You can get wonderful shots on the swing with the view on these fields and at the sign "I love Bali" – there are many of them for each taste. You can enjoy gold and green shades of the sunset. It's such a breathtaking picture, when the sun goes down at one level with this field. The warm light is spread along this greenish landscape and it feels like fairies are going to come out and play. But it's definitely worth seeing rice terraces in Tegalalang than read about it. Grab your camera and go there!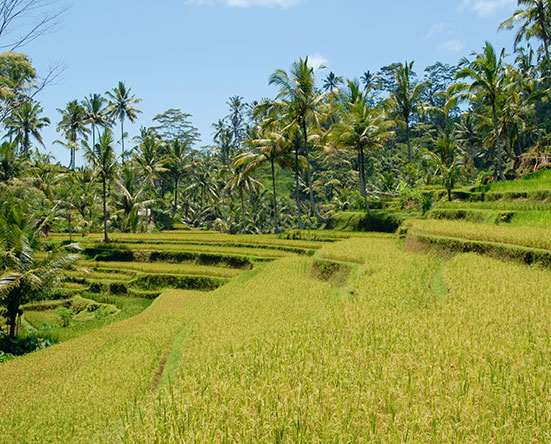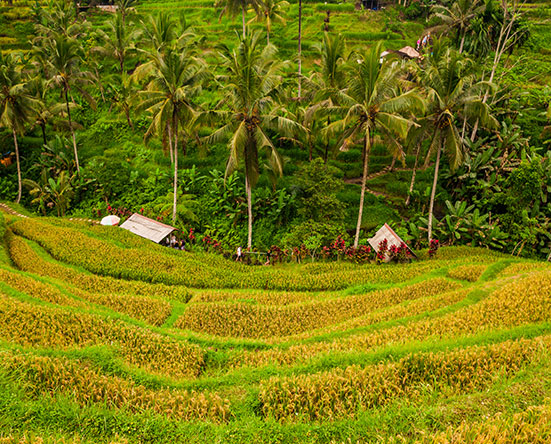 Campuhan Ridge Walk in Ubud
You can also meet another name of this place – Bukit Campuhan. This famous place is located in the center of Ubud, it goes along the main street of the town and the Vos River. It's very convenient, as it's within walking distance from pretty much anywhere in Ubud. The walk starts in the beautiful jungle and goes to the valley and rice fields. On the sunny day you can see Mount Agung over the trees. You can walk to the end of ridge walk, which takes 1 hour, and turn around. The point is to get back before it gets dark. If you want to get pictures of this amazing landscape without people, come early morning. On the sunset there are many tourists and local people here, and it's more difficult to take such pictures. Though it's nice and cool here in the evening.
At the start of the walking path there is another amazing place, Balinese Temple Pura Gunung Lebah. It's mostly visited by locals than tourists. According to the legend this temple was founded by the wandering Indian Hindu holy man, Rishi Markendaya. He also credited with bringing Hinduism to Bali and the creation of a string of temples across the center of the island. It is supposed that powerful energies of the Earth come through Pura Lebah and also it is considered as the place where Ubud was founded.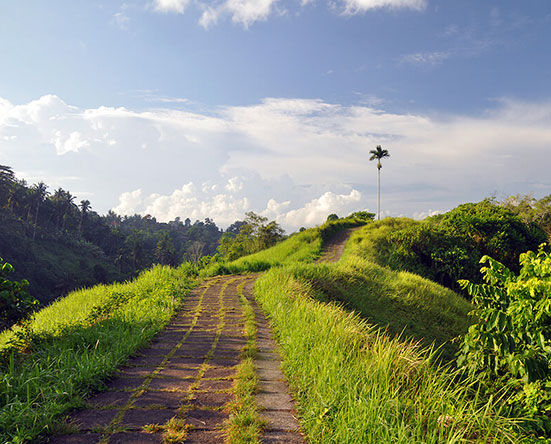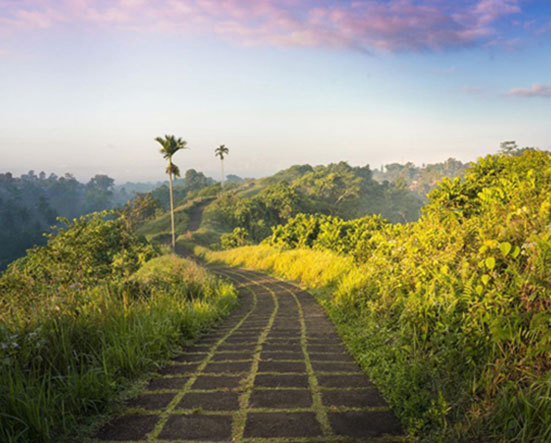 Saraswati Temple in Ubud
Saraswati Temple is located in the center of Ubud. You can start from that point to learn more about the culture, traditions and architecture of this town. You can meditate at that amazing place or just enjoy the beauty around you and take some nice pictures. There are two water ponds filled with pink lotuses in the area of the temple and there is also an amphitheater decorated in oriental style there. There are dancing shows in the evening, you can buy a ticket to see them. Since early morning a lot of tourists come to visit the temple. So, the only chance to take pictures while there aren't any tourists is early morning.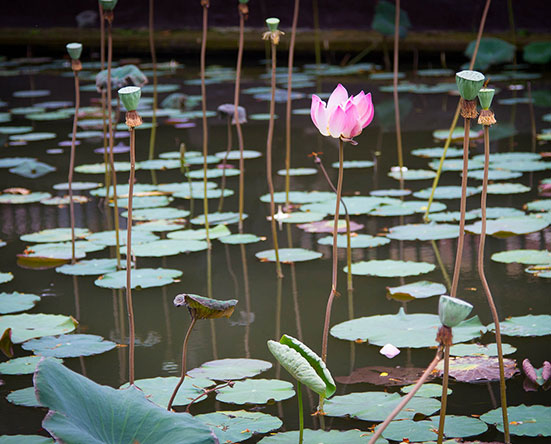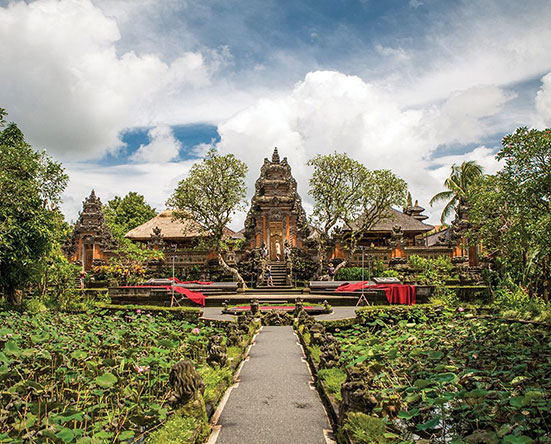 Tanah Lot Temple
Tanah Lot Temple delights you with its powerful beauty. You should visit this amazing place. The name of the temple literally means «small island floating on the sea». This is the most popular place in Bali and you can see it in many postcards. Pura Tanah Lot is one of the seven temples, located on the southeastern seashore. They were all designed as a chain, so that each one has a view on the neighboring buildings. For example, from the top of the cliff, where Pura Uluwatu is located, you can see Pura Tanah Lot. Come to this place at the lowest tide, so you can take a walk on the seashore and enjoy amazing view of the sun rising from behind Tanah Lot. It looks wonderful!
Visit the temple during the tour "Sacred gems of Bali".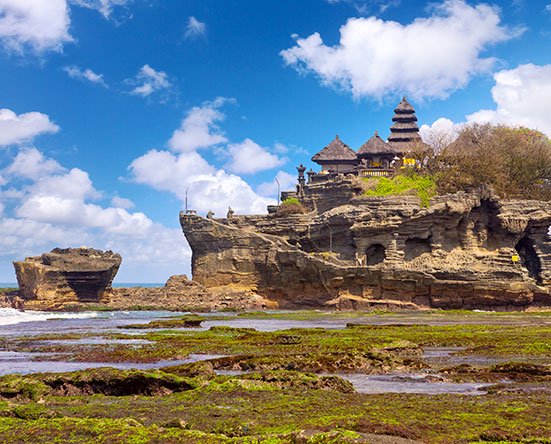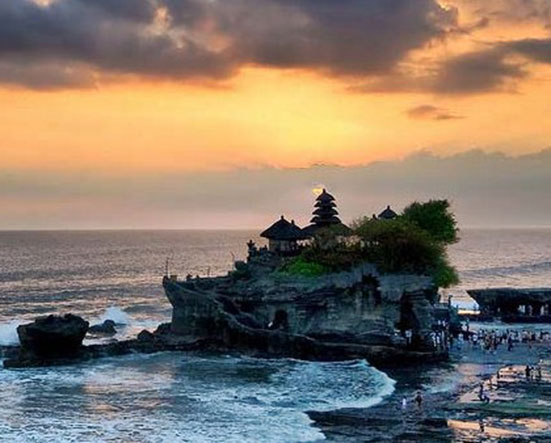 Bali Swing in the Jungle
Have you ever tried to swing over the abyss? It looks like Bali swing could be a tourist trap. But in fact it's an amazing attraction! Imagine that you are floating over the abyss surrounded by the fantastic nature landscapes! It's breathtaking! There are several location of such swing in Bali. If you don't want to risk, but would like to get hundreds of likes, Bali swing in Ubud is exactly what you need. The highest one is above 78 meters above the ground, so you are going to have a thrilling experience. There is a trick for girls to get dreamy romantic pictures on the swing, wear a long super flowy dress. Don't forget to put on shorts as well, as the dress flies up with the wind. You can take your time after extreme photosession in one of the cafes in this park, where delicious food is served!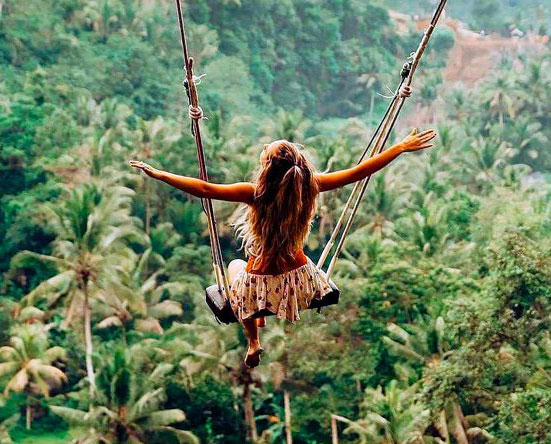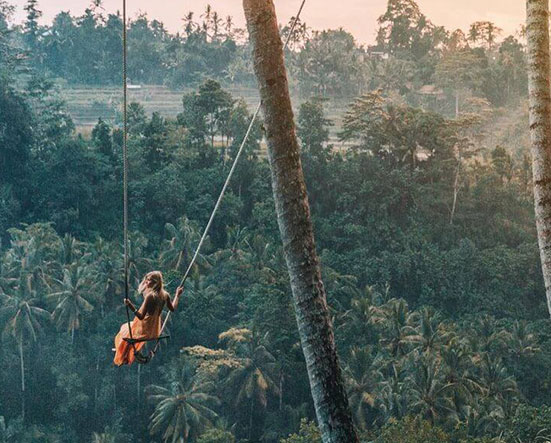 Explore More of Bali with Us: