10 Must-Visit Attractions in Bali
What associations do you have, when you hear about Bali? Is that pictures of tropical paradise? Bali is a popular tourist destination, and everyone who has once been to Bali would tell you that you couldn't see all its sights in such a short period of time.
It's more a benefit than a disadvantage thought, because there are plenty of reasons for you to get back to the island. On the other hand it's very difficult to choose which sight to see of all big range of amazing locations. It's a must-see.
We have chosen 10 places must-see places and 10 things to-do in Bali.
Taman Ujung Water Palace
This Water Palace, located in the East of Bali, is a picturesque complex of pools, fountains and figures of fantastic and real animals, it also includes many buildings and constructions that will impress even experienced travellers.
The construction of the palace started in 1909 and finished in 1921. The Water Palace is in ideal condition, to the delight of visitors and locals, who visit it regularly. If you would like to vary your vacation with learning Balinese culture and history, you should see Taman Ujung Water Palace.
You can visit the Palace on the tour «Royal Palaces of Bali».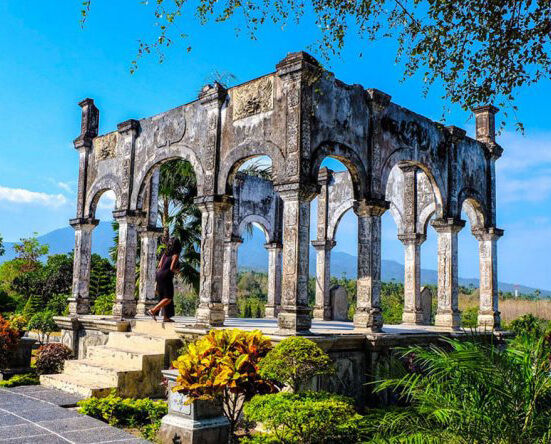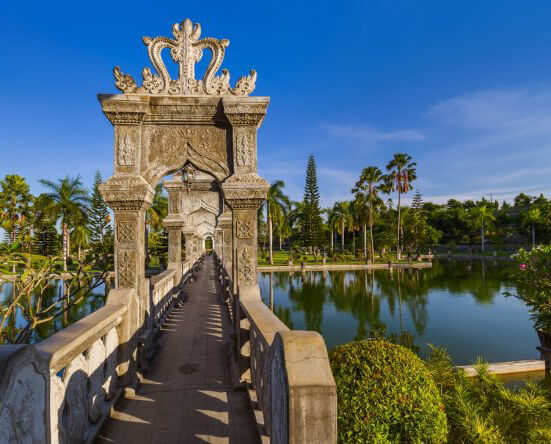 Pura Tirta Empul
This is one of the most important sacred places in Bali because of the holy spring flowing. Local people and tourists can come here to free their spirit. Internal fountains take water from the spring to the long rectangular pool, which is the place of purification.
Remember that like in most Balinese temples you have to wear a sarong if you want to go inside and take part in the rituals. Local people gather in Tirta Empul during the holy ceremonies, so the lines to the temple can be very long. You should keep it mind, if you don't have much time.
You can visit the Temple on an Instagram tour.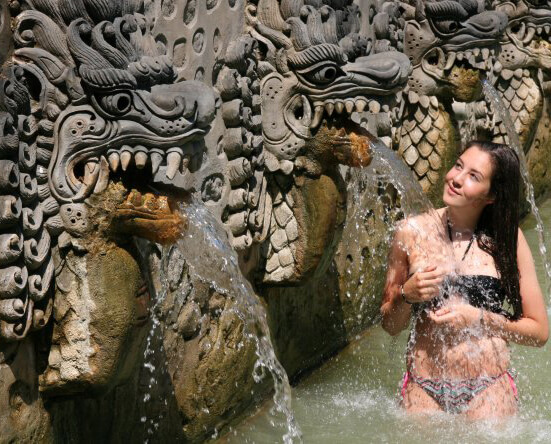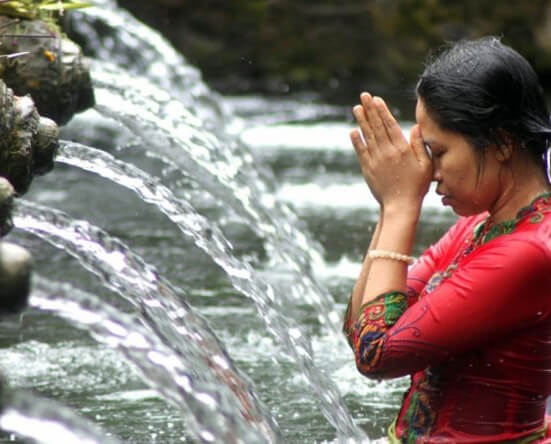 Pura Tanah Lot
Tanah Lot located of the cliff, is one of the most important and popular temples of Bali. Many tourists visit it every day. Presumably it was built by fishermen in XVI century as the place to worship Dang Hyang Nyrarta, and it is one of the 7 water temples built on Bali coastline. If you enjoy amazing sunsets (who doesn't?), you should come here in the afternoon, because Pura Tanah Lot is a perfect place to enjoy the epic view of the sun going down the horizon.
You can see the temple on the tour «Sacred gems of Bali».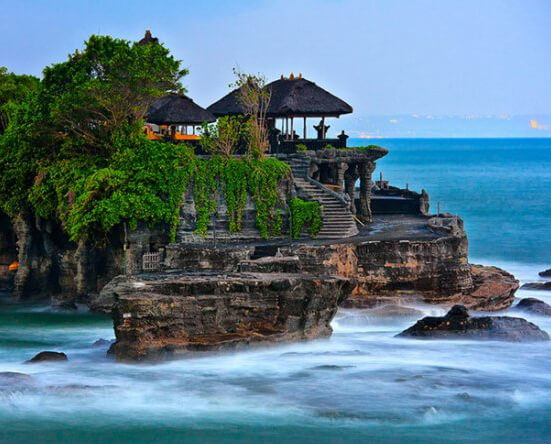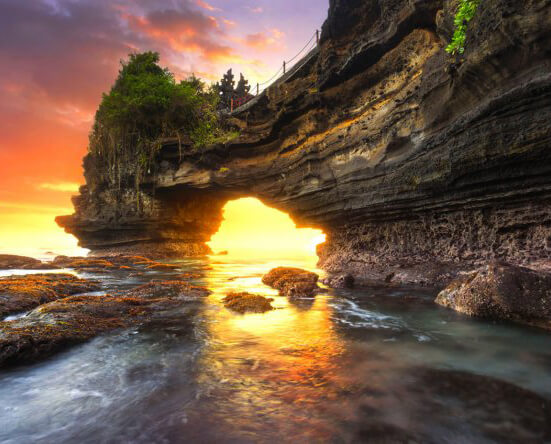 Tegalalang Rice Fields
Take your time to relax and enjoy the greenery of nature, sit on a terrace with with a cup of hot tea and a plate full of Balinese treats (if you don't have tea and treats, it means that you are doing something in the wrong way!) Stunning views on the rice fields reveal from cafes and small restaurants. You should be careful when you choose a restaurant, because the good view doesn't mean you are going to have a good food there. Trust our professionals and visit the rice fields with us.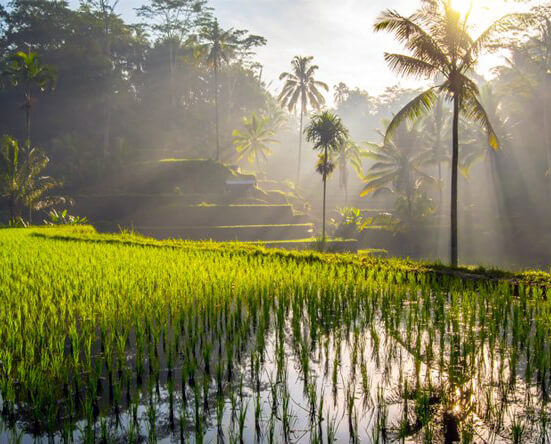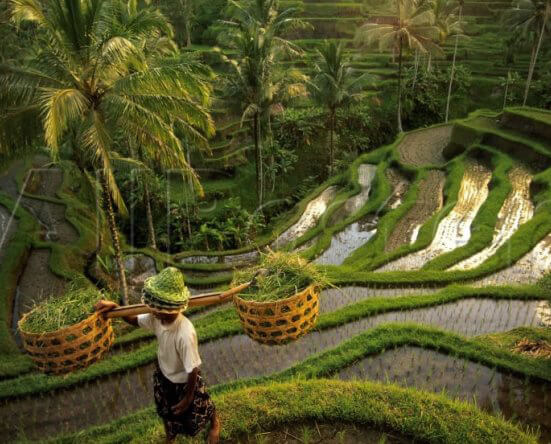 Volcanoes in Bali
You must arrange to visit one of the active volcanoes of Indonesia; you can go to Java and see Ijen with all its frightening beauty, or meet the dawn at Batur volcano in Bali. If you don't want to climb the top of volcano, you can enjoy beautiful views of Batur from the restaurants in the neighboring Kintamani village (don't forget about the issue of "good view" restaurants and choose precisely the one with good cuisine).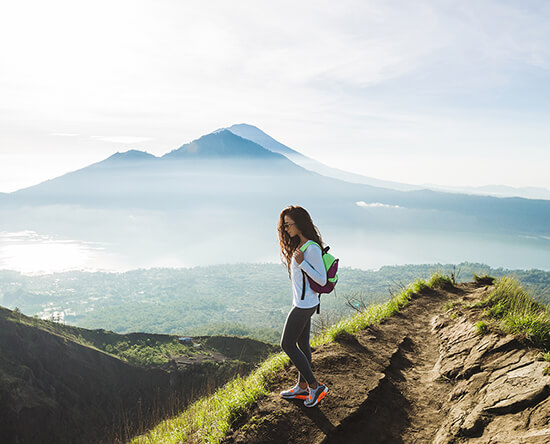 Sekumpul Waterfall
This is the place whose photos make you want visit it. It is known as the most beautiful waterfall in Bali, and it's a must-see for all who travels to the island. The walking path leads to the waterfall; it's quite simple, but very colorful and fascinating route, so there is nothing to worry about. You can meet friendly monkeys and see amazing views of the rice terraces and temples, and also look how local people work.
Let's go to the waterfall together with MyBaliTrips.com!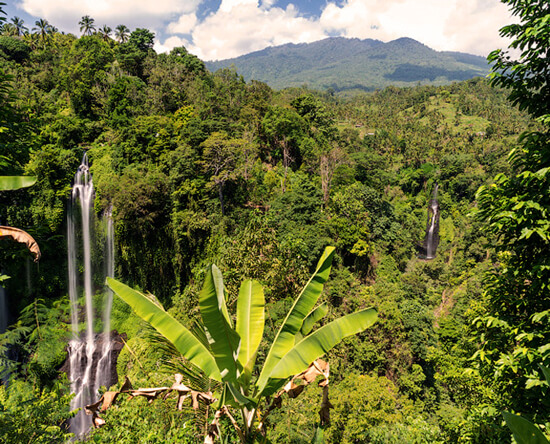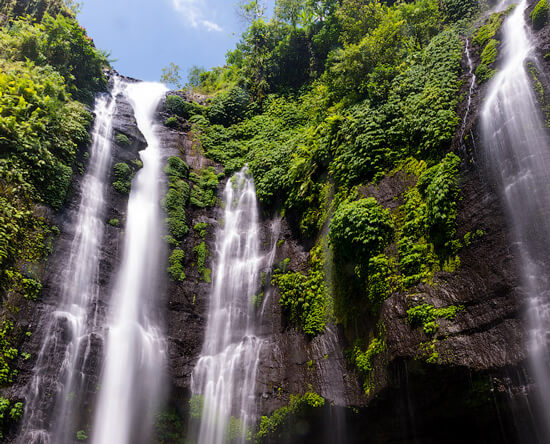 Monkey Forest in Ubud
In Ubud, the famous heart of Bali, you can find many different temples, stores and small handicraft shops, and also a monkey forest (Padangal Mandala Wisata Wanara Wana Sacred Monkey Forest Sanctuary). This is the place you need, if you dream to see hundreds of monkeys around you! Almost 700 monkeys live in the forest. The ticket allows you to see also three temples, located on the territory of the park.
You can visit monkey forest on Ubud and Bird Park tour.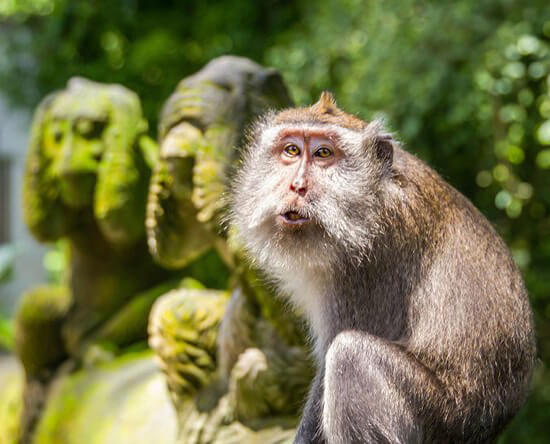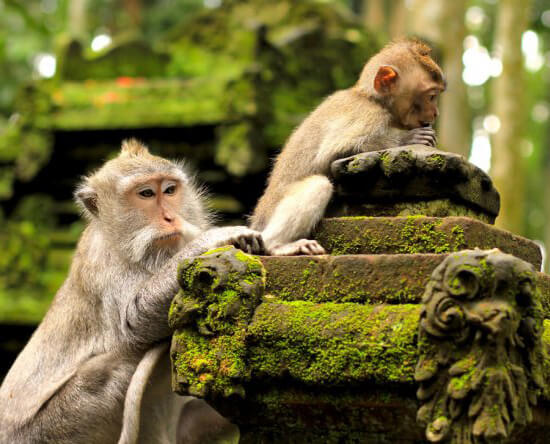 Pura Luhur Uluwatu
This Hindu temple is located on the top of a cliff on the coastline; it's a brilliant piece of architecture. From here reveal outstanding views, the best time to catch them is at dawn or sunset. Every evening you can also see the traditional Kecak dance show; if you'd like to see the dance, try to be here by 6 pm.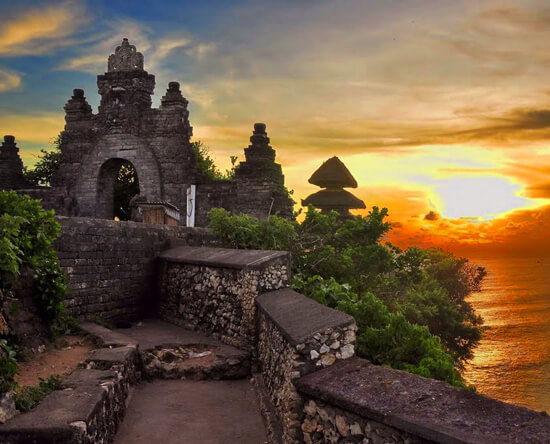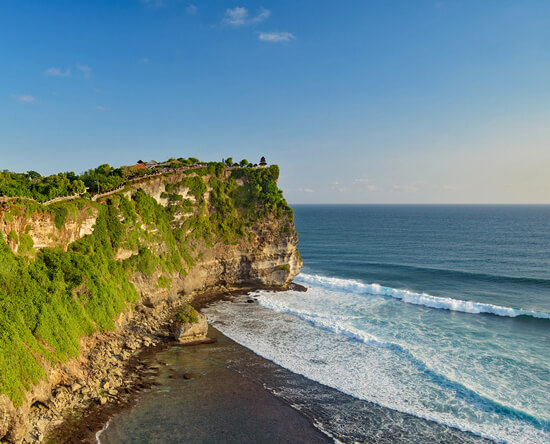 Goa Gajah Elephant Cave
Goa Haja, also known as the Elephant Cave Temple, is located not far from the city of Denpasar; it is one of the most important Buddhist sites in Bali. You can see amazing Balinese architecture, intricate carvings and statues, as well as some well-preserved relics in this temple. Go to explore this stunning place. Don't forget to stop here to drink fresh coconut water, which is not compulsory but really refreshing in Balinese heat.
You can visit Goa Gajah on Ubud and Bird Park tour, and also if you prefer more extreme activities on Kintamani and Hidden Canyon tour.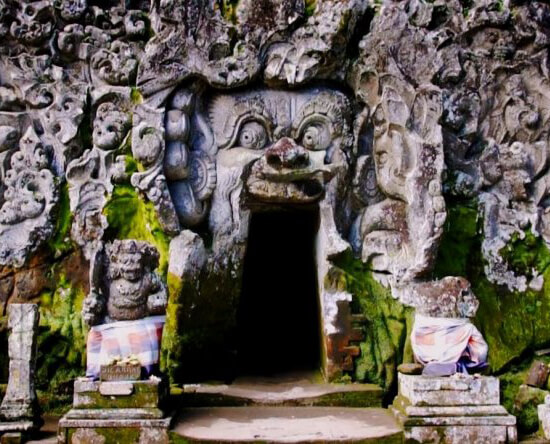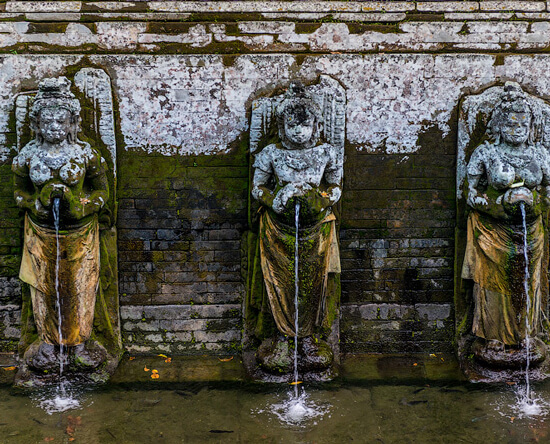 Seminyak
Seminyak is a must-see in Bali. Sunsets over the untouched ocean and sandy beaches make you fall in love with the place; those who love action and entertainment will love this place very much. It has well-developed infrastructure; you can find a lot of shops, bars, restaurants, clubs and other places here. There are also pharmacies, ATMs and currency exchange points. The sea here is wavy all year round; it's a surfer's dream, that's why mostly young people visit Seminyak. The coastline is wide; it's perfect for sunbathing and playing sports. Living here is not so cheap, so if you're looking for cheaper accommodation, find something further from the sea.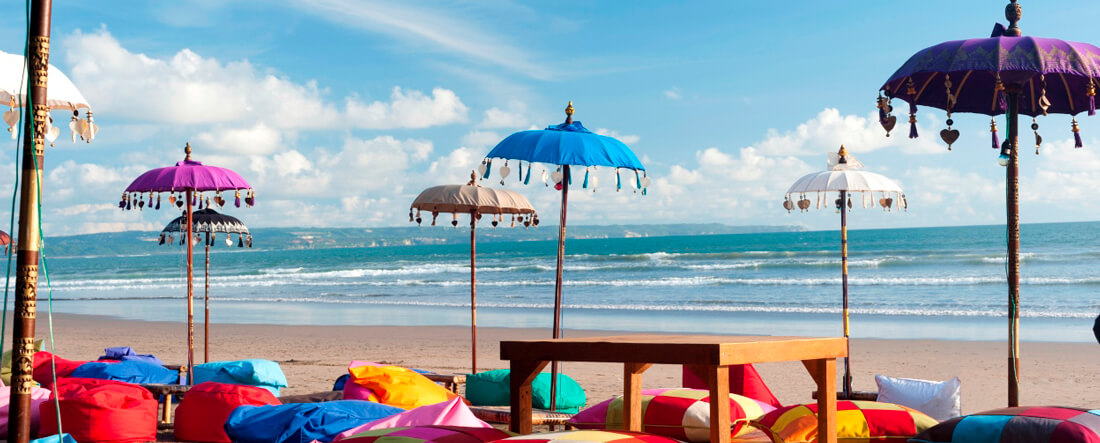 It's not an end to all amazing places in Bali, but the ones you can't miss. Choose a tour with a guide on our website and go to explore the island!
Explore More of Bali with Us: