A Guide To The Bali Swing Places
Bali Swing is a gift for all photography lovers and Instagram fans. You must have seen atmospheric shots of girls in long wind-blown dresses and beautiful couples flying over the abyss. Bali swing photos are exactly what you need if you are looking for fresh ideas for photo session and wish to impress your followers. Cute photos are guaranteed!
Feel free to explore the island and take amazing photos! To make planning of your trip easier we prepared a review of the main points where the most interesting swings are located.
1. Bali Swing
In the center of the island, not far from Ubud there's a mini-park Bali Swing. Three local companies share the territory of the park so the tickets are rather expensive. Enterprising Indonesian people made several photopoints above the breath-taking abyss. The swing is flying at a very big height. Wear airy dresses and get ready to capture stunning pictures. You can take more photos in special sets for social media lovers after that. Also you can take great photos in woven nests with the view on the beautiful surroundings.
Ticket price: 35 usd / 500 000 idr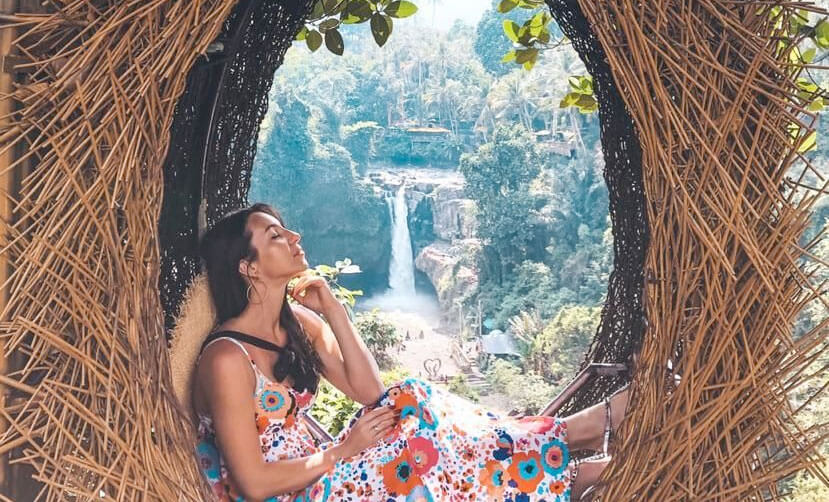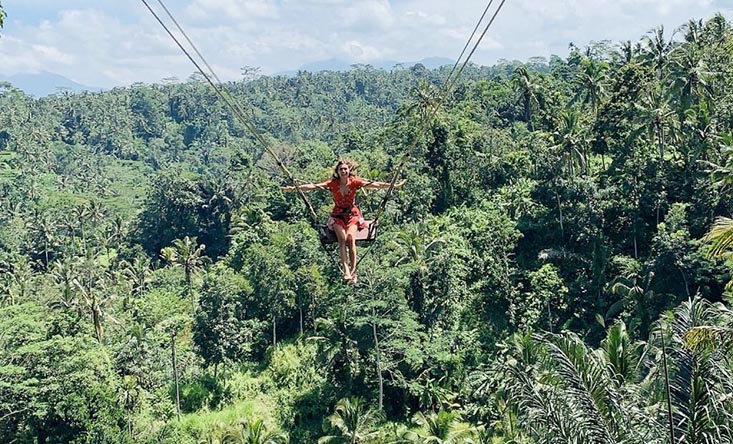 2. Charlie Chocolate Factory
In the east of the island next to Candidasa is a Charlie Chocolate Factory. That's a special factory. There are several fancy bamboo houses located in the jungle, where delicious chocolate and fragrant soap is produced. You can go there to see the whole process, drink hot chocolate and ride a large wooden swing, which is fixed on a coconut trees on the beach. Take a comfortable sit, hold the ropes, sway harder and enjoy wonderful landscape around you – the wild beach, the vast ocean and beautiful nature. Also a famous goose lives on the Factory that you can pet and take in arms. He welcomes visitors every day.
If you're not only interested to visit the Factory and take amazing shots but also see other sights in this part of the island, take a trip with us around eastern Bali: "Bali Royal Palaces".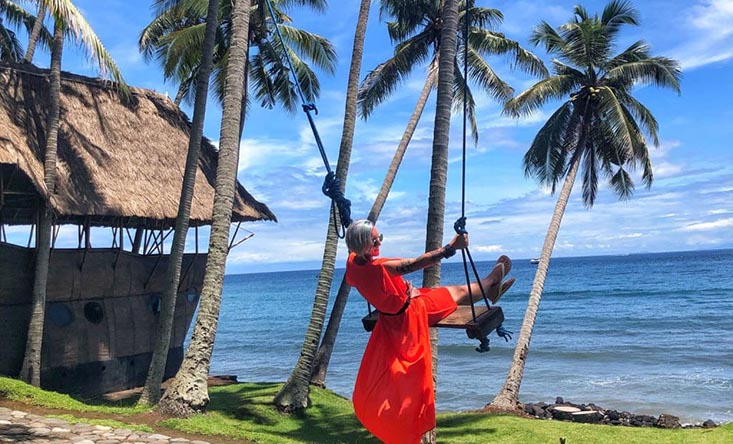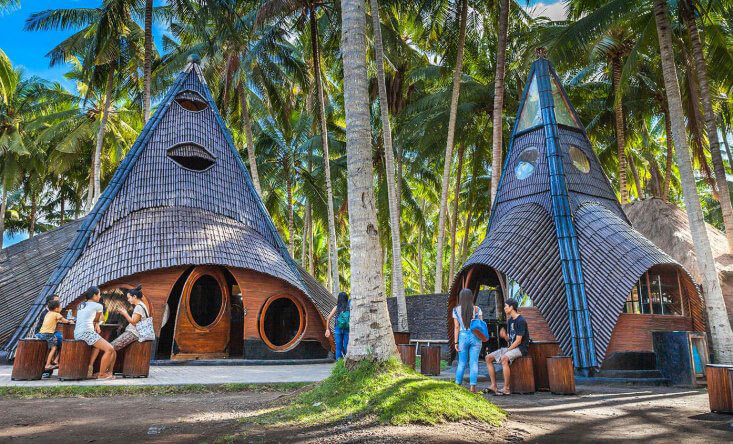 3. Rice terraces Tegalalang
Not far from Ubud there're famous rice terraces Tegalalang, which are worth going just to see them. There's a lot for those who love nature and good walks. Go through the canyon along the vast green territory. There are several swings at the terraces – in points with picturesque view around, and also closer to cafes and small restaurants. You can get a perfect view of green waves of the terraces and the jungle. They all are not free, so if you decide to take a ride, you should pay a small fee. There are also several wooden sets there: nests, bright signs with the name of terraces and traditional «I love Bali». You can see them all on our "Instagram-tour".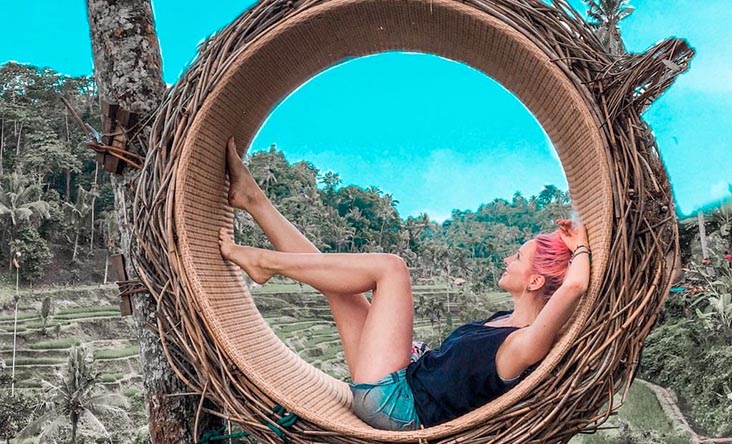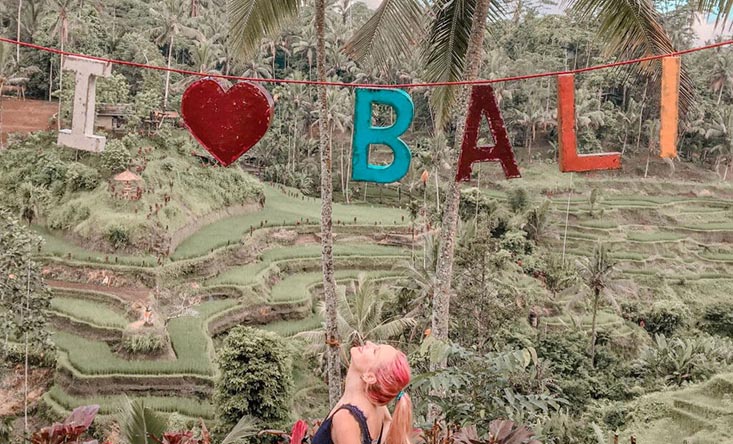 4. The view point located between lakes Buyan and Tamblingan
In the north of the island you can go up to the view point located between lakes Buyan and Tamblingan. The road there runs through the mountains to the city of Bedugul with its special architecture and beautiful gardens. Also on the way you can see some important sights, for example, lake Bratan and famous water-temple Pura Ulun Danu. The viewpoint is located behind lake Buyan. It's called Wanagiri Swing or Wanagiri Hidden Hill. The swing will admire those who are looking for beautiful photos and extreme emotions. The swing is hanging right above the abyss; so you can see fog, wide open space of the northern Bali and Mountain Lake underneath your feet. There is no safety wire, so adrenaline that rises in your blood and the beauty all around you is breathtaking. Locals have built here also other sets such as nests and boats. They are all made of straw and wood and fit the whole mountain scenery perfectly. You can see all this amazing things if you go on tour to northern Bali: "The Magic of Northern Bali". We will visit the best photopoints in this area. Wonderful photos are guaranteed!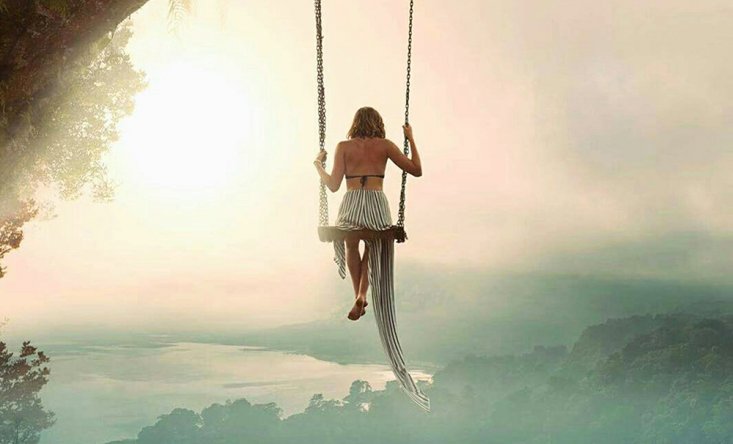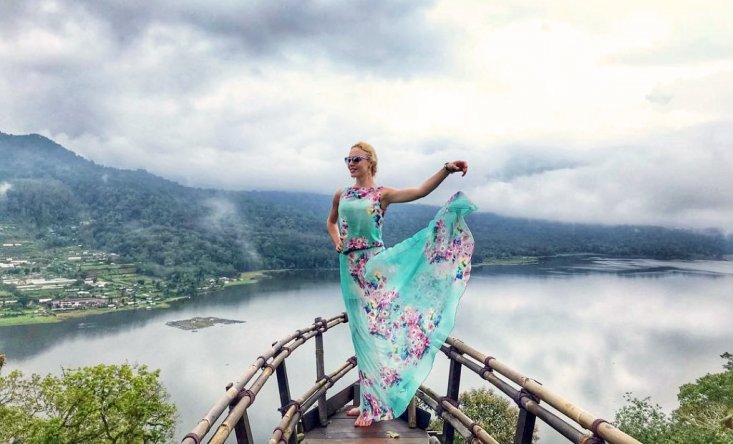 5. Gili Trawangan
If you want to extend the geography of your photo-shooting and «flights», you should go to Gili Trawangan, neighboring island to Bali. Vacations on a small island is quite relaxing: you can lie in the sun, swim in the ocean, go snorkeling and diving, drink delicious cocktails, dance and enjoy the moment. Swing in the west of the island is a super bonus for those, who visit Gili. There're lots of swings almost at any bar-own, carved, and intricate or primitive made of plain wood. They're all interesting and unusual. There are also several hammocks for those who would like to swing comfortably. Meet the sunset and take pictures with the pink and purple ocean and the sky in the background.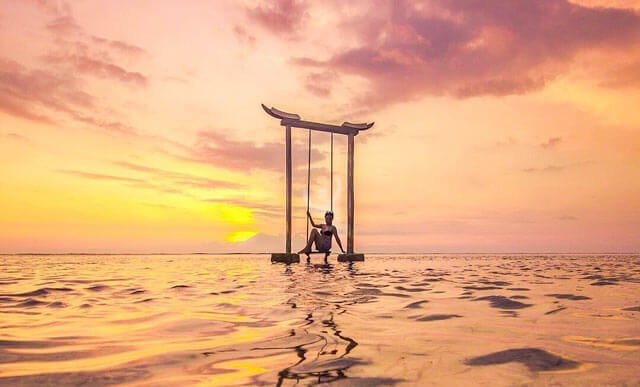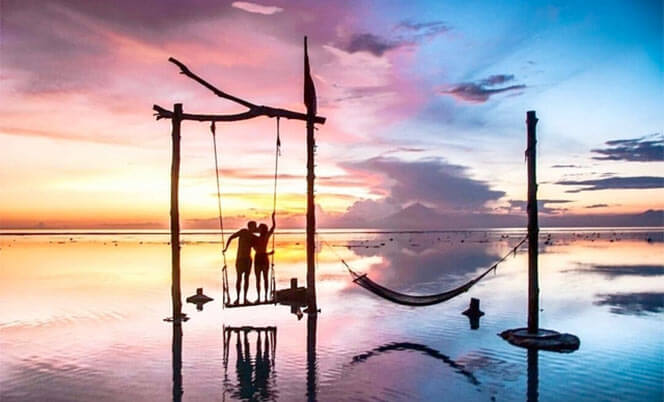 6. Gili Air
If you'd like to be united with nature, searching for calm and meditative atmosphere, go to Gili Air. This island is smaller than Gili Trawangan. It's very calm all around – there aren't many bars and activities so nothing will stop you from switching off the city hustle, relaxing and tuning into nature vibes. The swing on the beach looks magical. It reminds you of the vast ocean and infinite starry sky.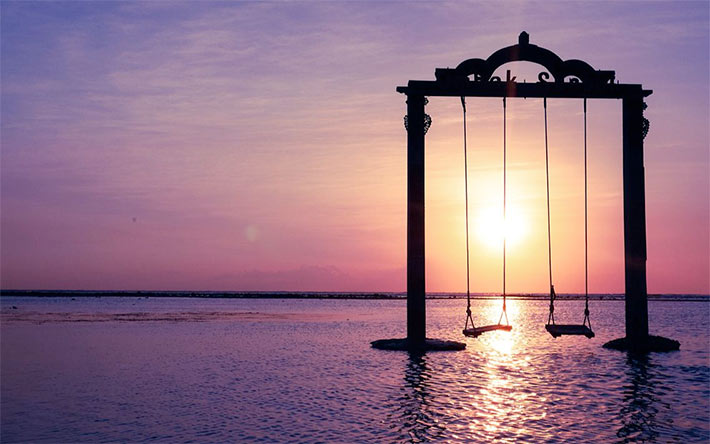 Choose a route according to your liking and enjoy the moment, fly and meet your dream. Bali swing is waiting for you!
Explore More of Bali with Us: