Nusa Penida Island
Have you ever dreamed to turn out in a tropical paradise? You have all the chances to do it! There is a small island Nusa Penida in Indonesia, located an hour away from mass and busy Bali. Here you can see the most breathtaking viewpoints, that look almost unreal, crystal clear water and wonderful sea creatures. You can even swim together with them! This place is made to get away from the bustling Bali vibes and to have a retreat. Feel the wild beauty of nature and get new impressions and energy on Nusa Penida.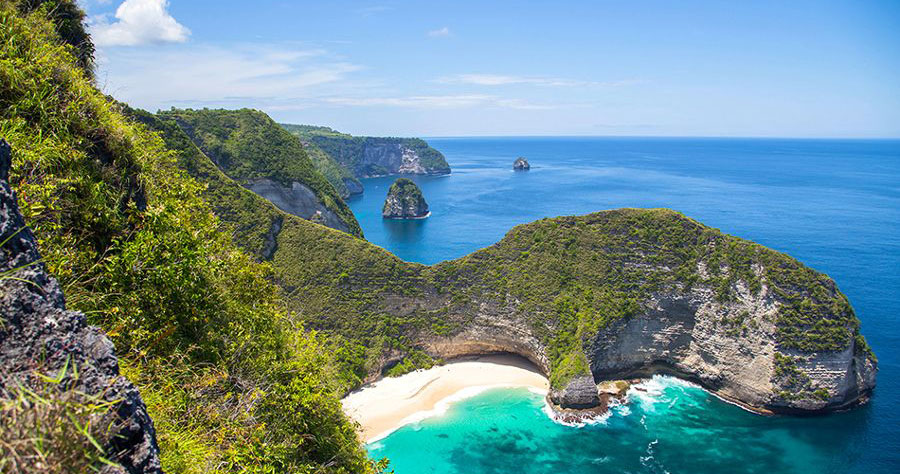 How to get to Nusa Penida
There are different options to get to Nusa Penida from Bali. You can go to Padang Bay and take a fairy. This is the best way to get to Nusa Penida with your scooter. But the easiest and fastest way is to take a boat from Sanur. Just 40 minutes and you are there! Book tickets to Nusa Penida here.

What to do in Nusa Penida?
What can you see on Nusa Penida? Though the island is not big, it is not enough to take one day to explore its wonderful sights.
We made a short-list of the most beautiful places on Nusa Penida, which you have to see first of all. Here we provide you a track with the main island beaches. Get ready to see the most wonderful scenery of the huge rocks and big waves, hitting the cliffs. You should also be ready to walk a lot – you need to go up and down the narrow stairs in the rocks to reach your destinations. But the impressions you get is worth it!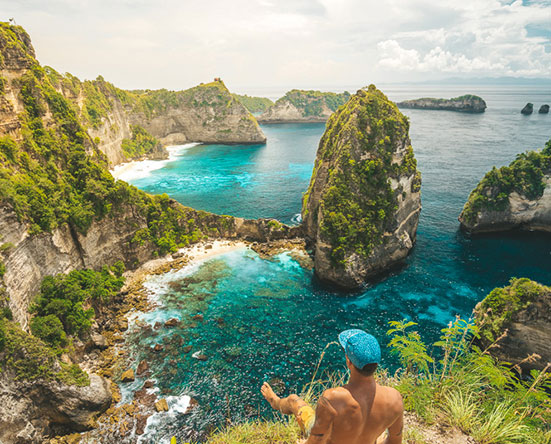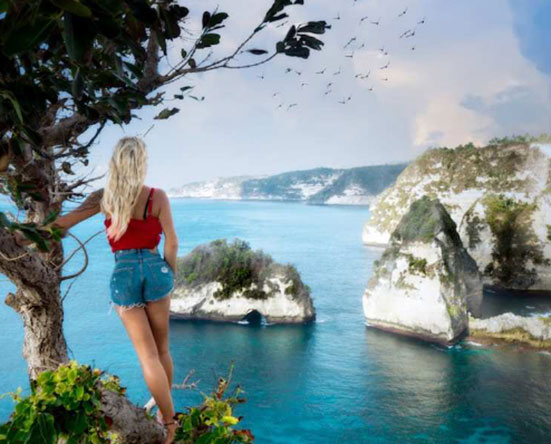 You can start the trip from Atuh Beach located on the eastern coast. This is a perfect place to see the sunrise. Here is a wonderful ocean view with the giant cliffs and rock formations, that change its colors while the sun is rising up. Then you can go to Thousand Island Lookout, the most famous place in this part of Nusa Penida. Here is another beautiful viewpoint. After that go to Rumah Pohon Treehouse, a hotel located in the jungle with the rooms built on trees. Don't forget to take a perfect shot for your Instagram!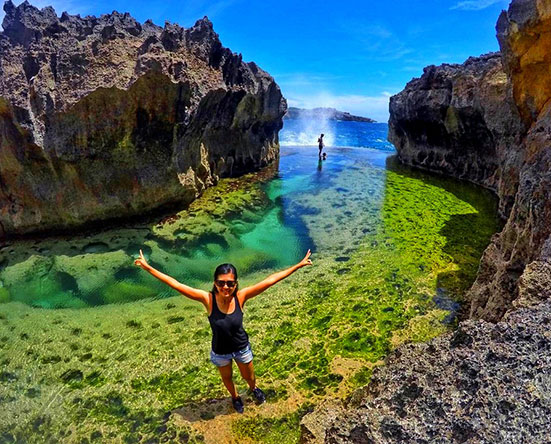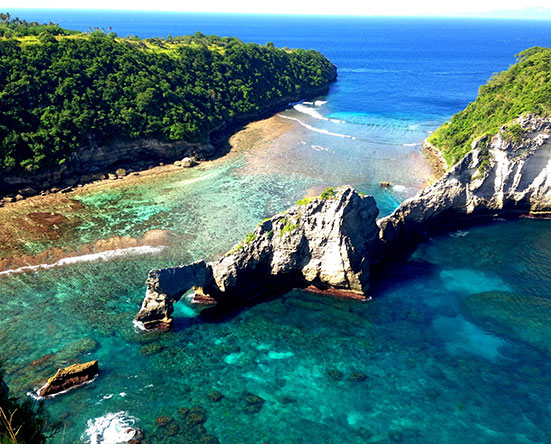 Take your time and relax in the natural infinity pool that overlooks the ocean – Angles Billabong. Ready to get back on track? Then go to Broken Beach on the eastern coast. Make a stop on the way at Manta Point Lookout. Get another amazing ocean view! It is better to come here morning time. If you are lucky – you get a chance to see manta rays from above. Giant ocean creatures are floating in the sea, very close to you, can you imagine that?
Broken Beach is located on the eastern coastline of Nusa Penida. Its name comes from a huge rock shaped as an arch. The contrast of a white sand and deep blue water makes this place special. You can't swim here, but you can walk along the top of the arch and take beautiful pictures.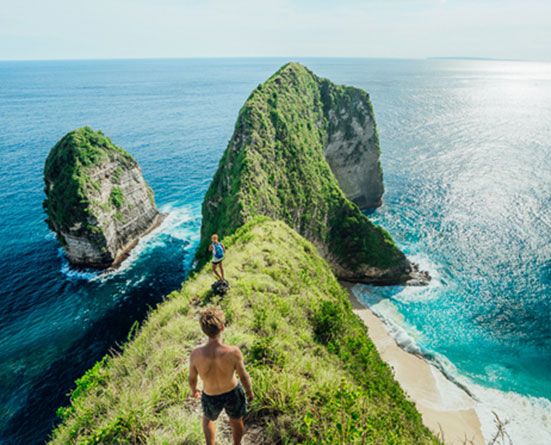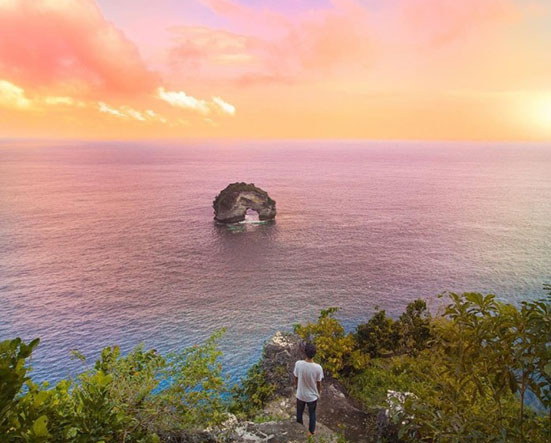 You probably know by some photos Kelingking Beach. One of the most famous sights of Nusa Penida is located on the southern stretch of its coastline. Tourists come specially to Nusa Penida to see it. There is a walking path running along the crest of the peninsula. Take a walk down this way and feel the calm in the space all around you. Enjoy the wonderful colors of this landscape!
The best spot to see the sunset is Banah Sunset Point located on the way to Kelingking Beach. It is a perfect viewpoint to see the giant cliffs in the pink colors of the Sun going down.
On the southern coast of Nusa Penida there is also Peguyangan Waterfall. The hike down the waterfall includes 700 bright blue stairs, bit if you are not up for a challenge just go down the half the way and check the great view. Once you reach the bottom there is a sacred temple, so make sure you pack a sarong. There is also a small pool made by locals.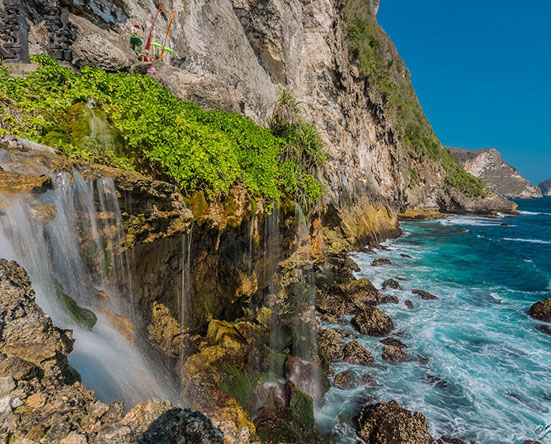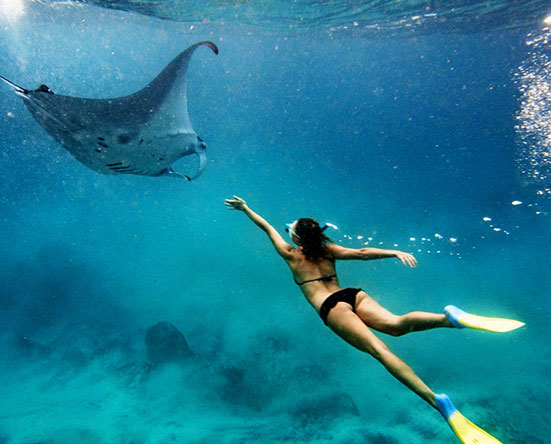 You should ultimately try snorkeling or diving on Nusa Penida. Here is a great spot with the coral reef and amazing world for an epic underwater experience. You can experience swimming with giant manta rays!
Finally to relax and enjoy the beach go to Crystal Bay with clear water and white sands. Have a cool coconut or smoothie in warungs (local cafes). You can see there are cockfights as a part of Balinese culture. But if you are not into it, just enjoy the wonderful ocean view.
You can explore Nusa Penida Island yourself or take a Tour to Nusa Penida with MyBaliTrips!
New experiences are looking forward to you!

Explore More of Bali with Us: