9 things to do with kids in Bali
You came to Bali with your family. You have already relaxed, got a tan and swim enough. What else to do besides lying the entire vacation on the beach? Here is a list of interesting and exciting places that will like not only children but also adults.
Safari park in Bali

The picturesque Marin Safari Park covers an area of more than 40 hectares. Wild and semi-wild animals of Indonesia, India and Africa live here in natural conditions. There are 400 species of various mammals, fishes and birds: from elephants and tigers to toucans and Komodo dragons.
The transportation during safari is on a specially equipped vehicle: tourists are transported in glass closed or with grid trams and cars. The duration of the ride through the natural habitat of animals is about an hour.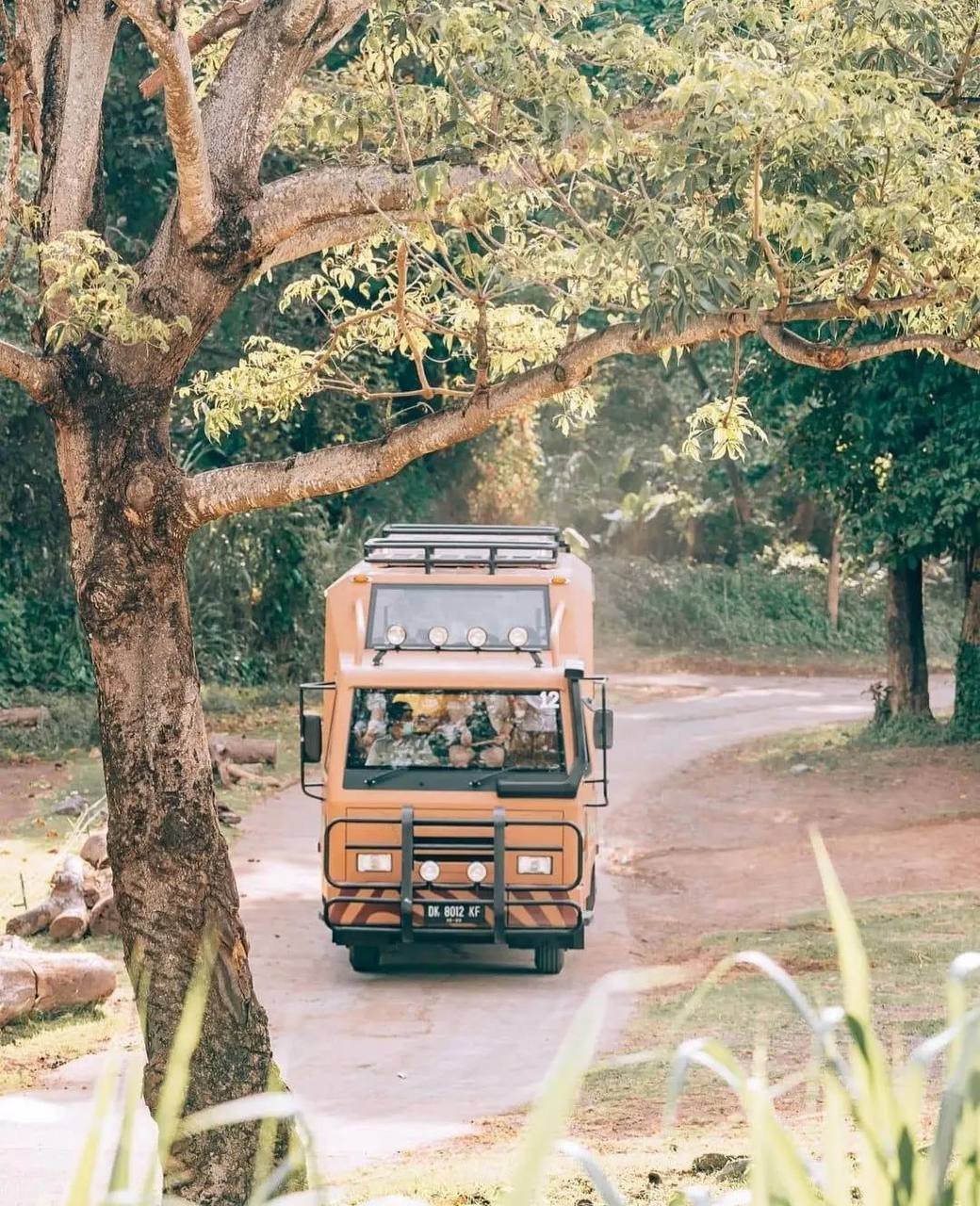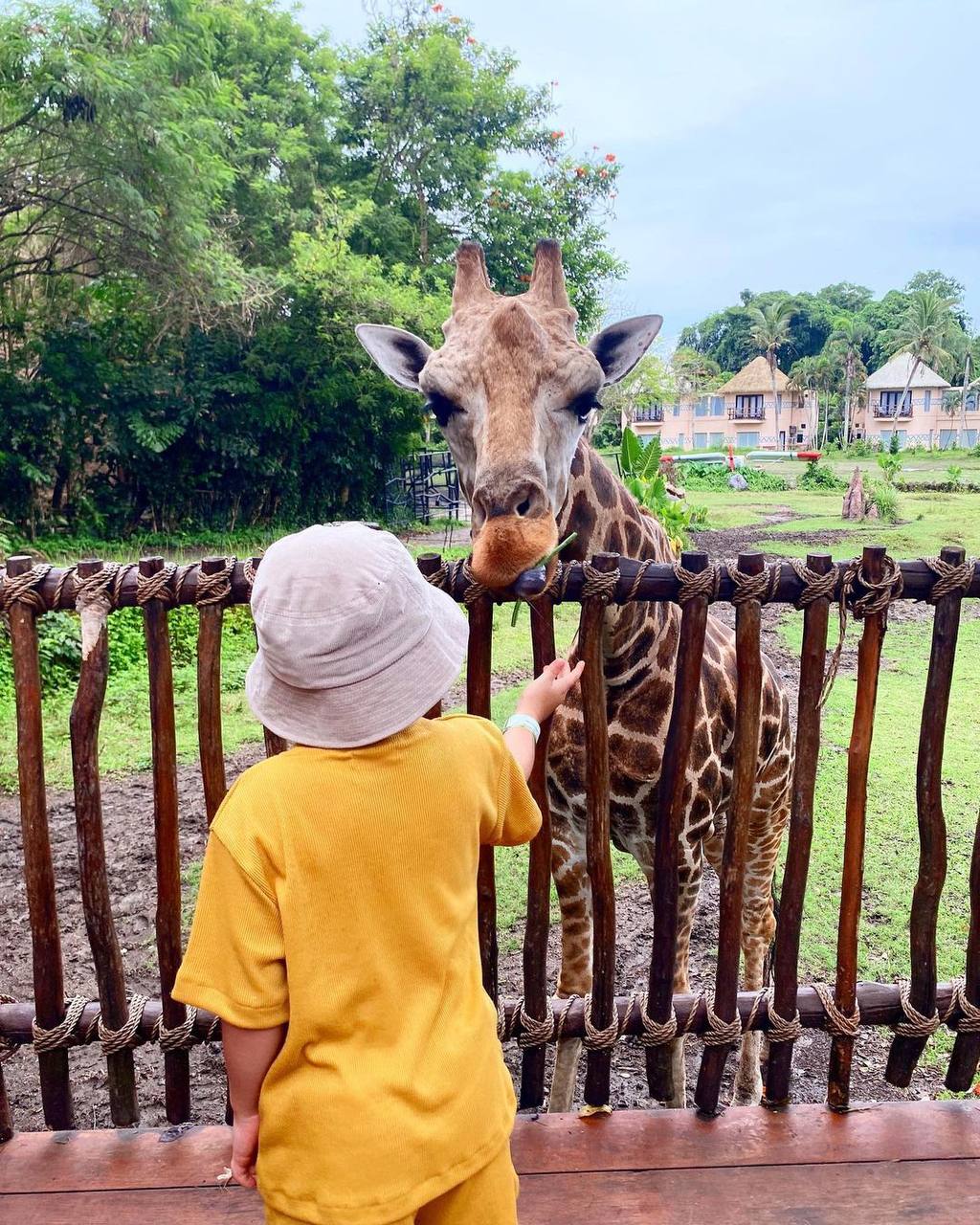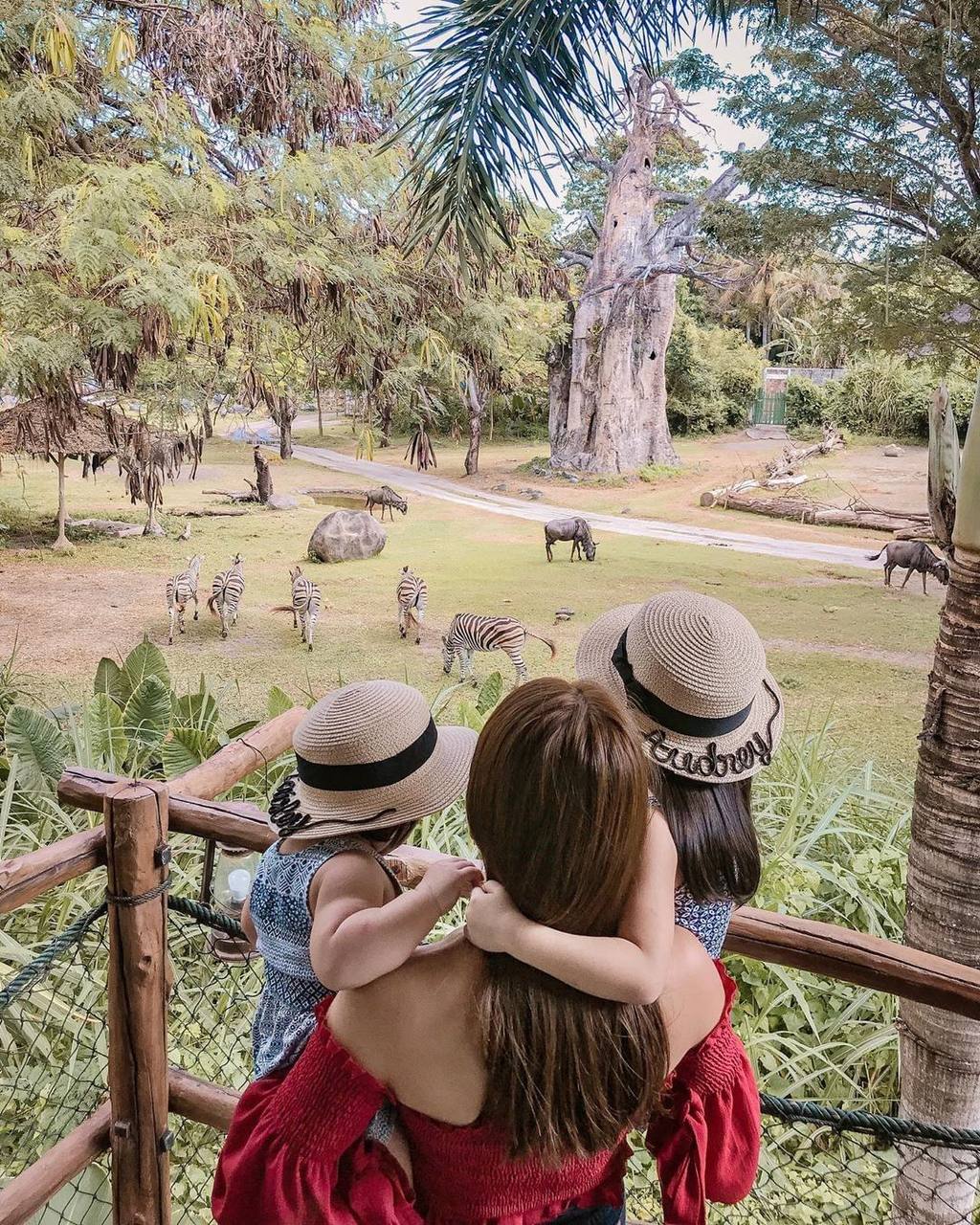 Besides the informative part of the trip (the Park's stuff tells inspiringly and in detail about rare species of birds and mammals), there is also some entertainment in the Park. There are organized elephant shows, tiger feeding and animal shows at fixed times. Children will be able ride an elephant, feed predators (even piranhas!) and take a free photo.
Near the Park there is an entertainment area and a cafe. If hungry go to a nearby restaurant (various cuisines are offered). Here through a huge and safe glass you can watch the lions get fed.
Attractions are made with the latest technology. The choice is quite good: rafting on a boat on an artificial river, driving cars like on a real highway or riding a water slide.
In the center of the Park there is a local theater that accommodates more than 1,000 people. Shows with dancers and animals are held daily. There is also a puppet theater.
Safari Park is open from 9 to 17. If you have not purchased tickets in advance, it is recommended to come to the opening hour, so as not to stand in queues. Please take into consideration that you are going to spend at least three hours in the Park. If children are small, it is better not overburden them, choose a tour guided by needs (check whether there is a water Park in the program and animal shows).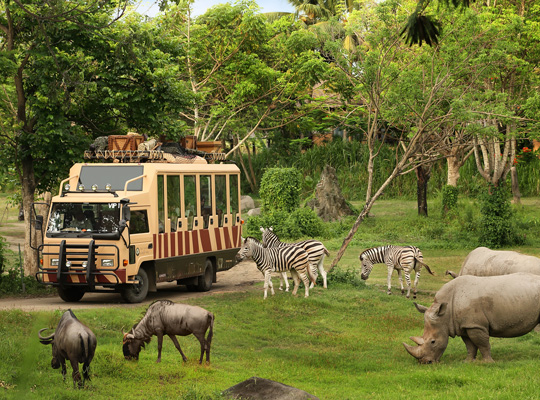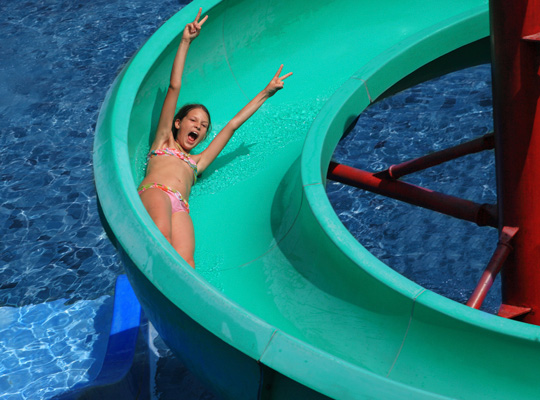 Bali Zoo
Bali Zoo is one of the top destinations for families with children. It is considered the best zoo in Indonesia and is located a 20-minute drive from Ubud. More than 350 species of animals, birds, and reptiles inhabit the huge green area of ​​12 hectares. Here you can see representatives of the fauna of Asia, Africa, and Australia: African lions, Komodo dragons, small wallaby kangaroos, tigers, elephants, bears, several species of primates, including orangutans, and many other animals.
At the Bali zoo, you can watch animal shows that take place several times a day;
Ride elephants and then take care of them under the guidance of a zoo employee;
Feed herbivores by hand, and the lions with chicken on a long stick. You can also visit a petting zoo and even hold small animals in your hands.
In addition, lectures about animals are held daily on the zoo's territory, which are interesting for both adult and young visitors.
Take a walk between the enclosures on the shaded paths of the zoo and take a jeep ride, when you are tired.
Opening hours: 09:00-18:00 on Wednesday and Saturday, open until 21:00.
Additional programs need to be booked in advance as the number of tickets is limited.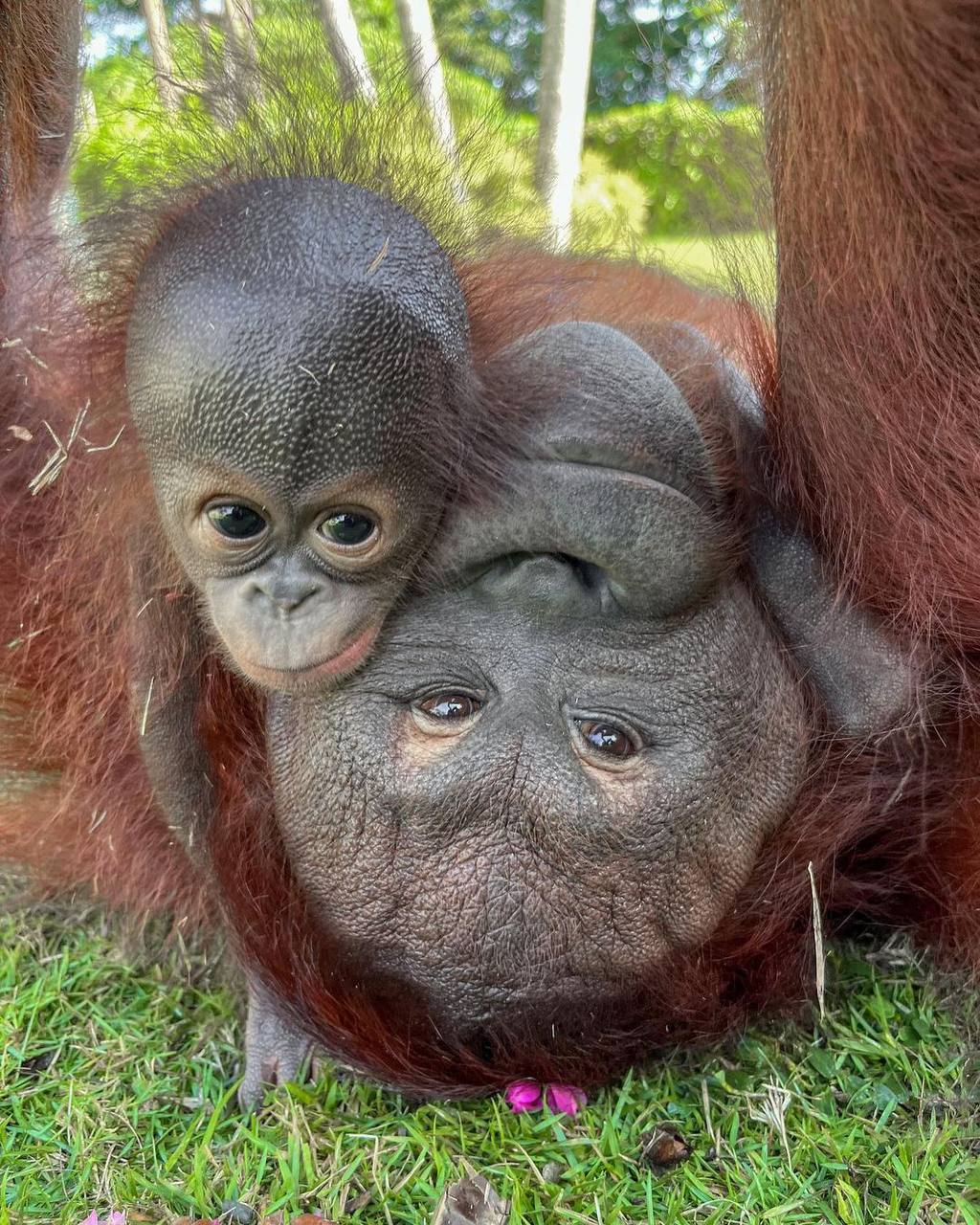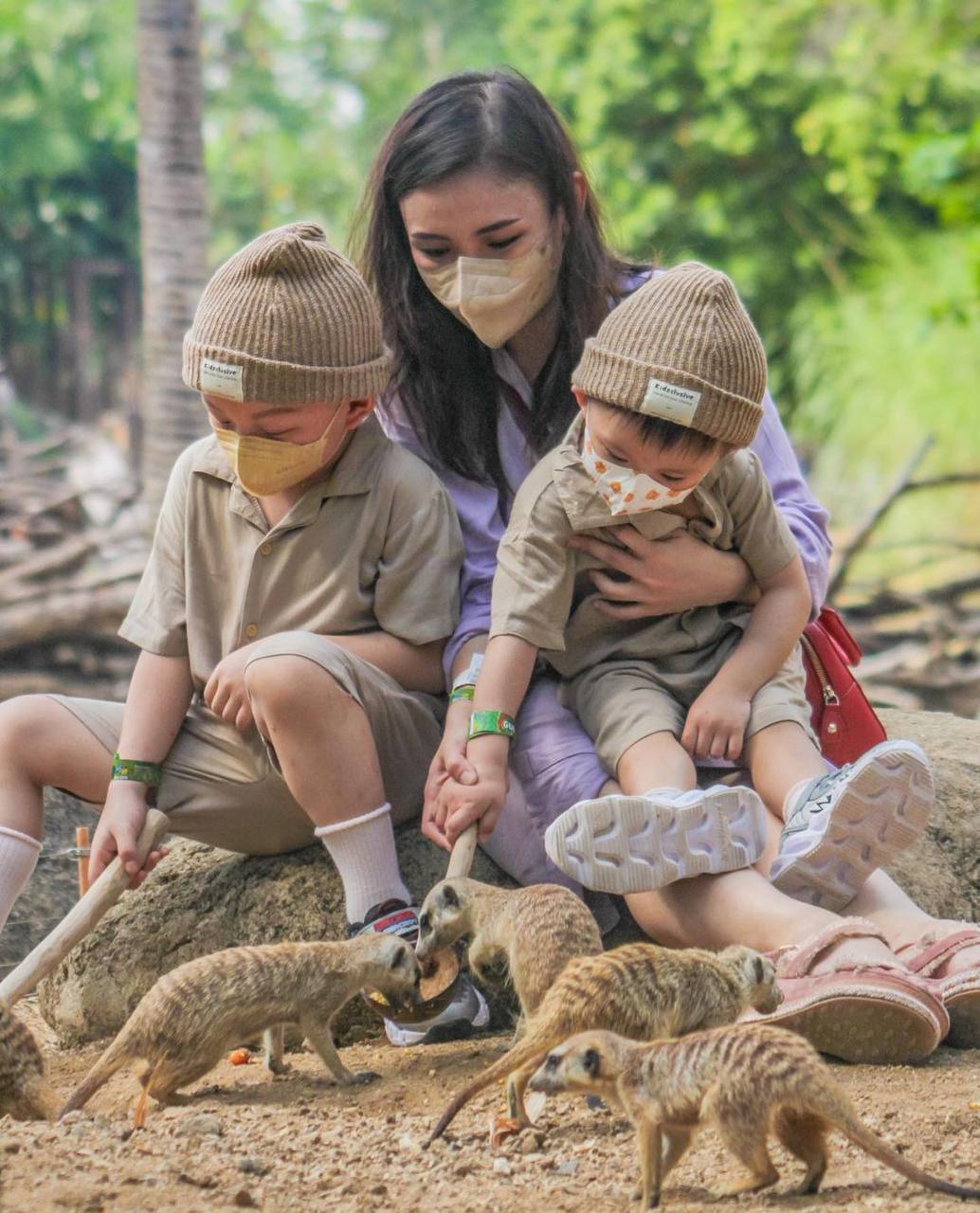 Waterbom water park
Not many people know that there is a large and cozy water park in Bali, and it is located in the heart of the tourist area of Kuta. Waterbom is an excellent place to spend a day with family or friends, and it is suitable for any weather.
There are over 100 attractions for all ages located on a spacious green territory, including 17 water slides of varying difficulty levels, sports fields, a children's area, and even an artificial wave zone for surfing. Every member of the family will find something to enjoy and be delighted with the water park. While younger children ride on inflatable rafts, thrill-seekers experience sharp sensations from free-falling on the craziest slide Climax, and those who appreciate a peaceful rest can enjoy spa treatments and Balinese massage.
The Waterbom water park is open daily from 9:00 am to 6:00 pm. It is best to arrive early in the morning and stay for the whole day to enjoy all the attractions. We recommend purchasing tickets in advance to avoid queues.
On our website, you can learn more about the Waterbom water park and purchase entrance tickets at a discounted price.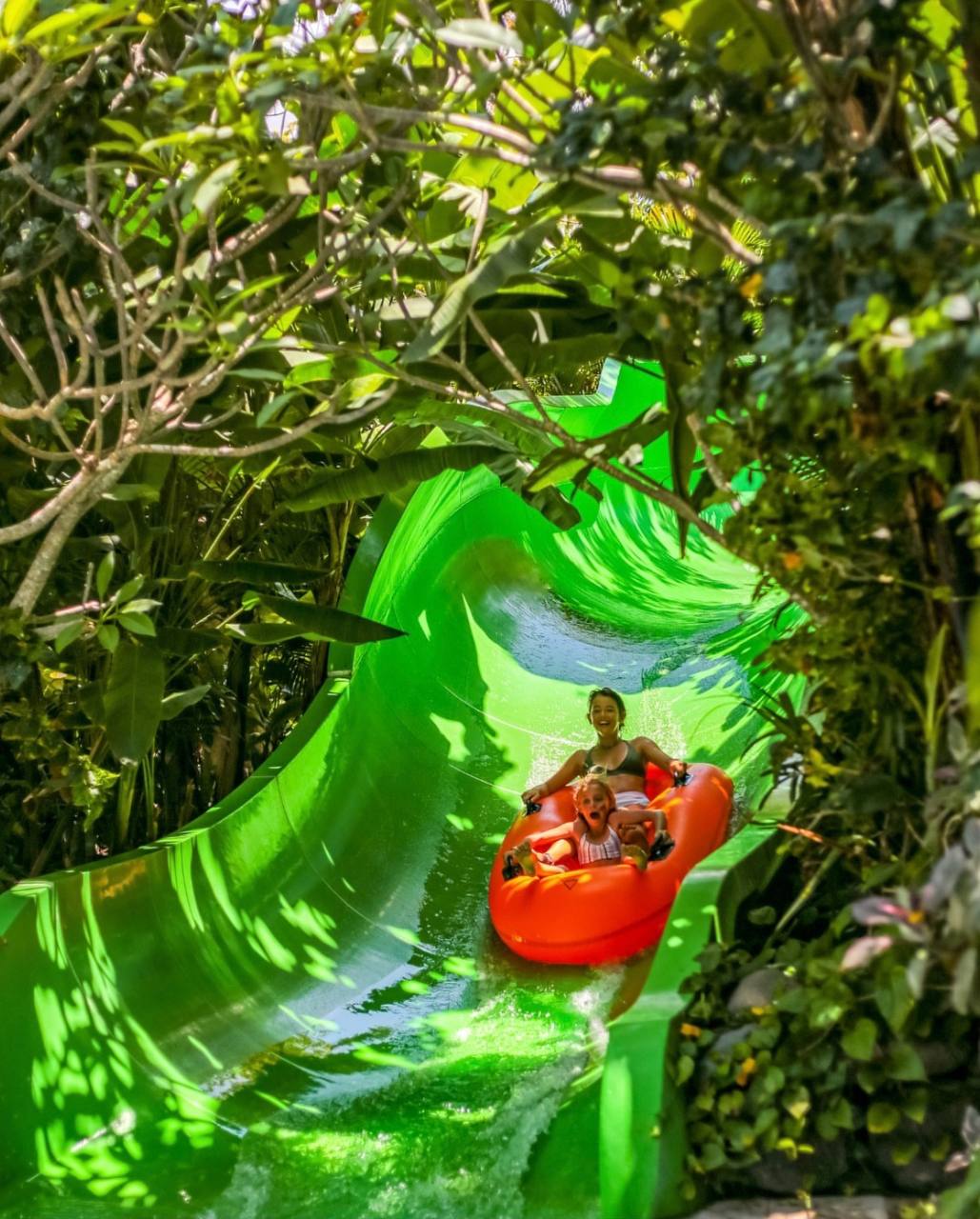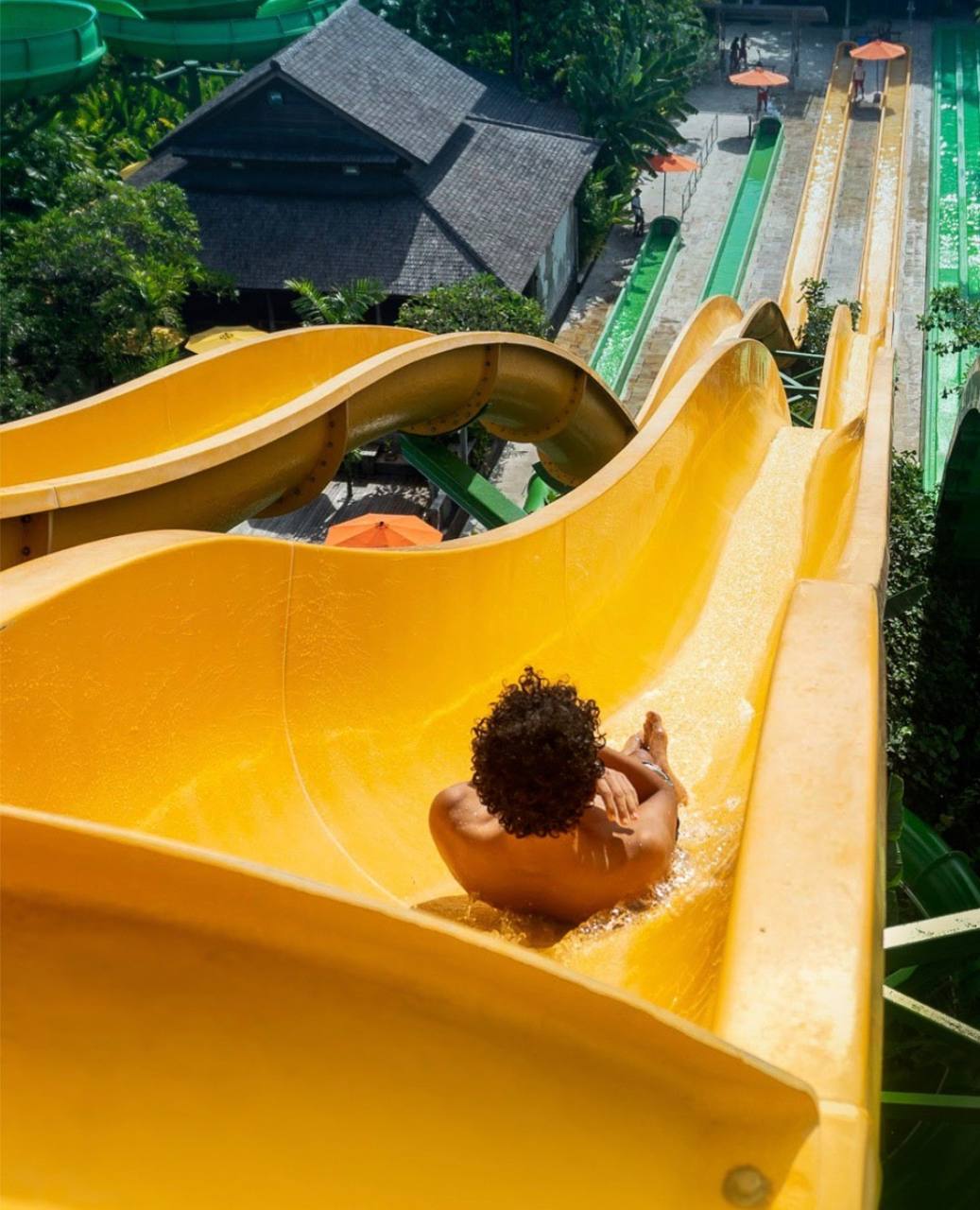 Elephant safari park
Elephants do not naturally inhabit Bali, but you can see and interact with them at the Mason Elephant Park & Lodge. Unlike zoos or safari parks where different animals coexist, this place has become a home exclusively for 30 Sumatran elephants. These animals were rescued from extinction on Sumatra in the 1980s, where their natural habitat was being destroyed by deforestation.
Now these intelligent giants live in love and care on the park grounds near the village of Taro in Bali. Visitors can ride elephants, feed them, wash them, and even swim with them. The animals are very friendly and love to interact with people.
You can choose a program and buy tickets to the elephant park on our website.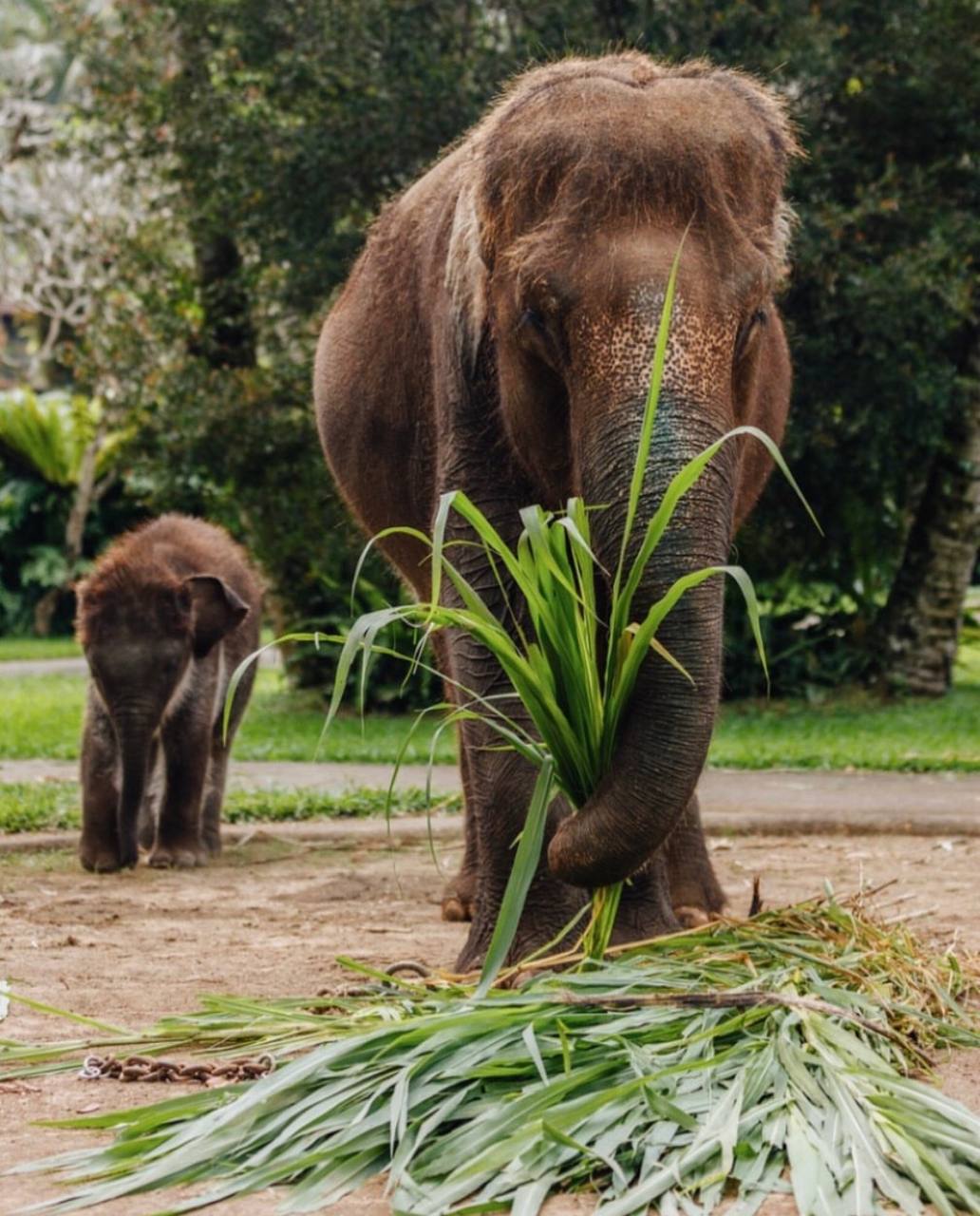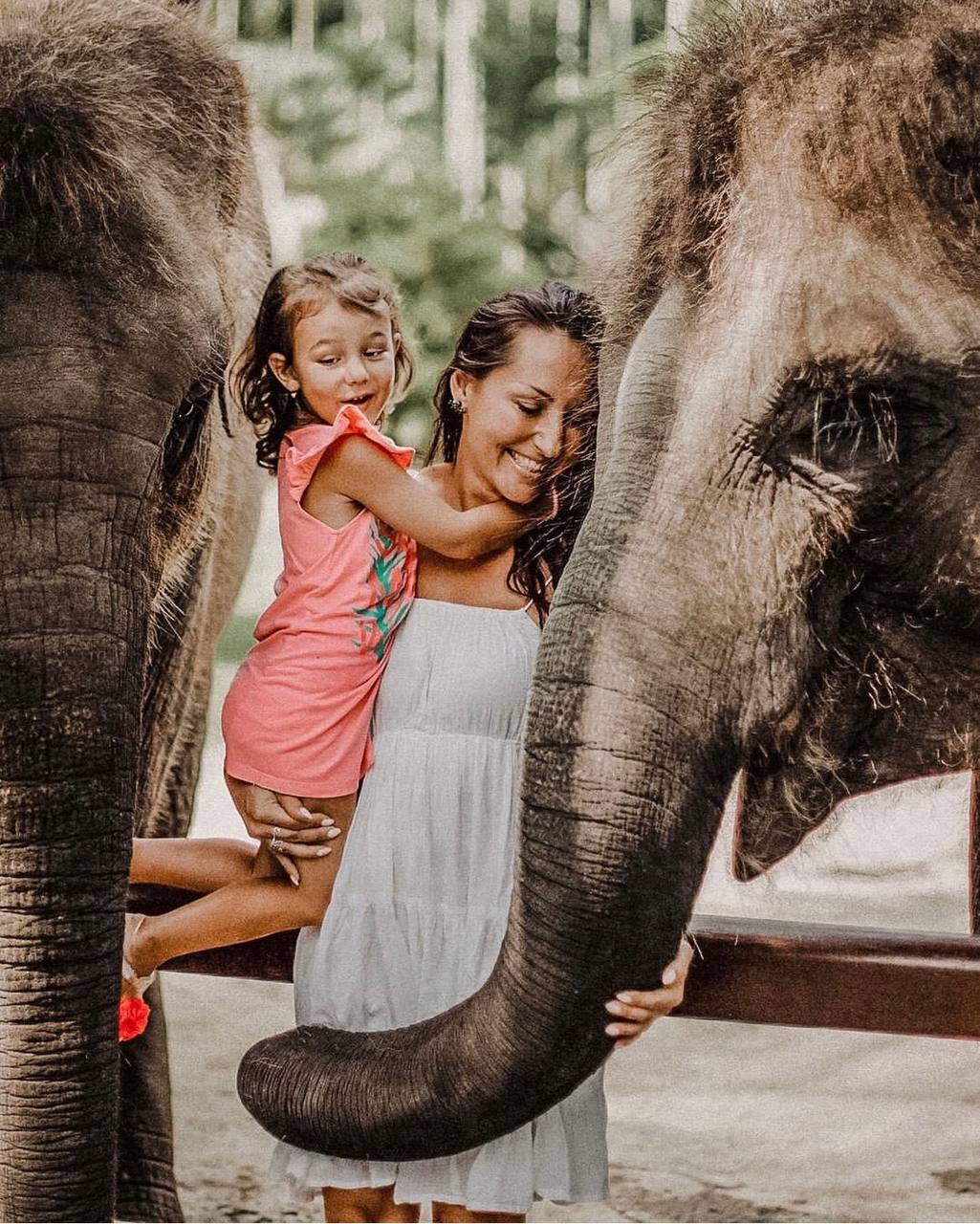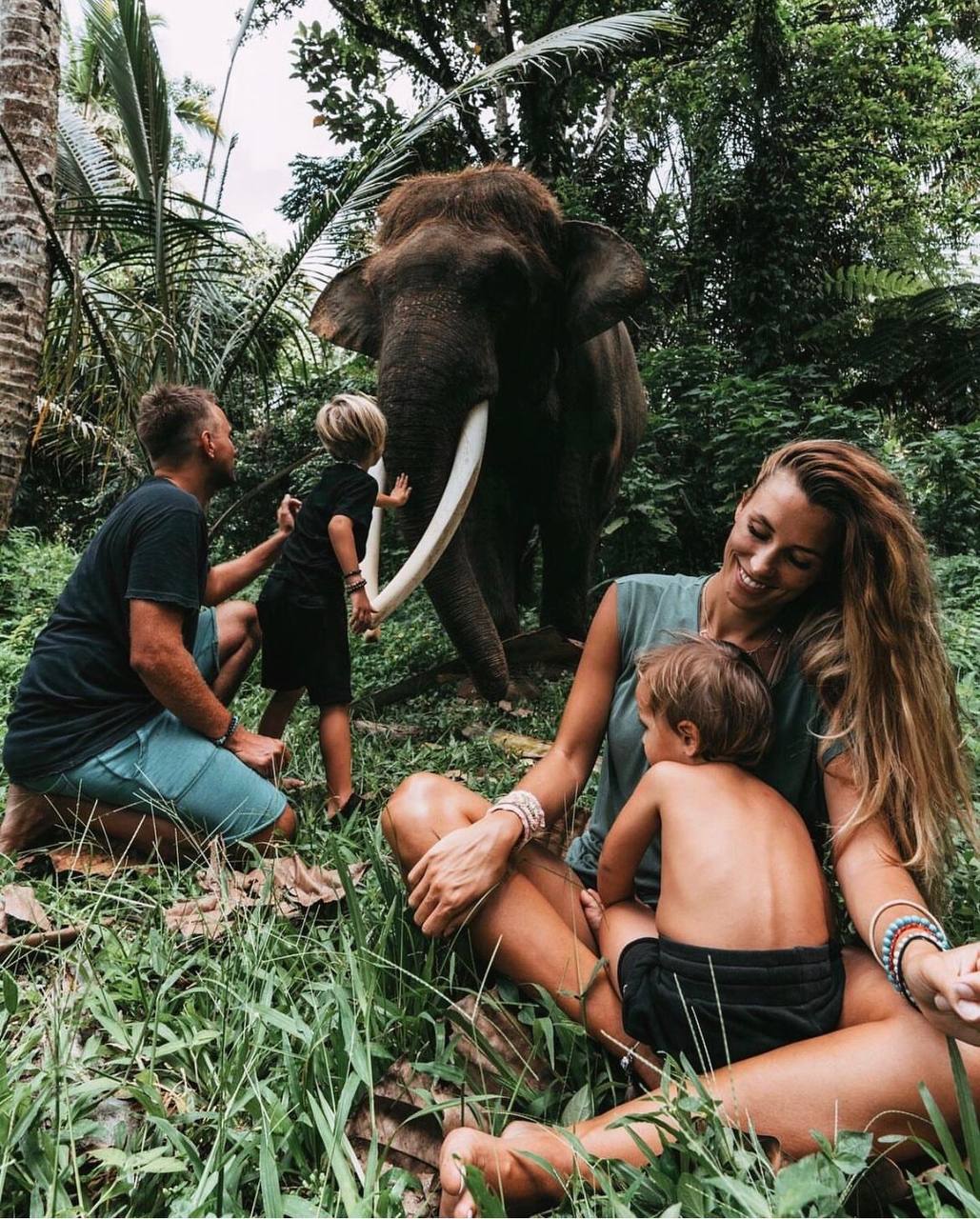 Surfing in Bali

Surfing with kids? Is it possible? Yes!
Nowadays parent's lifestyle undergo some changes. When taking children to remote destinations, you do not think that you have ruined your vacation, then you should definitely try surfing with kids.
Bali is the best place to try this sport: perfect waves in the ocean, and the water is constantly warm about +26 +28 degrees.
Children can start learning surfing from the ages 5-6, but the most optimal age is 8. At this age parents should be with their children: their example will work better than words. According to instructors  there is almost no difference between boys and girls in terms of learning to surf, although boys sometimes due to their natural activity learn a little faster than girls. It is important that a child is not afraid of water, and it will be better if he or she already knows how to swim and dive. Children over the age of 14 are taught in adult groups.
In Bali there are a many surf schools with Russian-speaking instructors who will help you and your child to conquer the waves on surfboard. Training consists of several lessons, where each lesson includes theory and practice. First lessons for beginners are usually taught in the pool.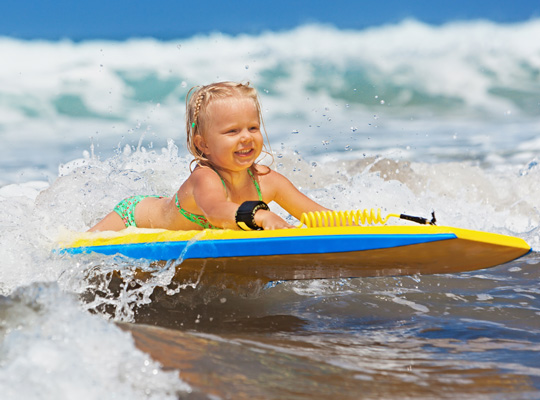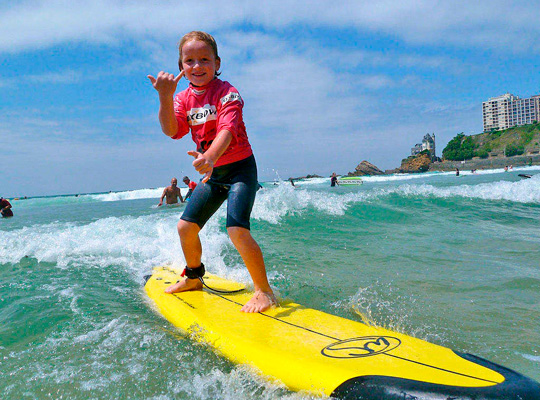 Bali Bird Park
The Bird Park in Ubud is another interesting place where you can interact with animals, if they can be called that. The park is mainly inhabited by birds and reptiles. Here you can find the most interesting representatives of the bird kingdom from all over the planet: South America, South Africa, Sumatra, Borneo, Papua New Guinea, Java, and the island of Bali.
In addition to birds, the park is also home to Komodo dragons, various species of snakes, crocodiles, iguanas, and turtles.
The Bird Park is conveniently located on the way from the coast to Ubud, so we have included a visit to it in our tour of Ubud.

Monkey forest
The Monkey Forest in Ubud is another place where you can observe the life of tailed creatures in the wild. Right in the middle of the jungle tourist area is a huge park where thousands of monkeys live.
It's nice to walk through the Monkey Forest in the shade of sprawling trees, especially when it's hot, and observe the lively daily routine of the monkeys. You can even feed them and take selfies with them, but it's better to remove all jewelry and glasses, hold onto your belongings tightly, as the monkeys may snatch them away.
You can visit the Monkey Forest as part of a program that includes a bird park. Click on the link for detailed information about the program.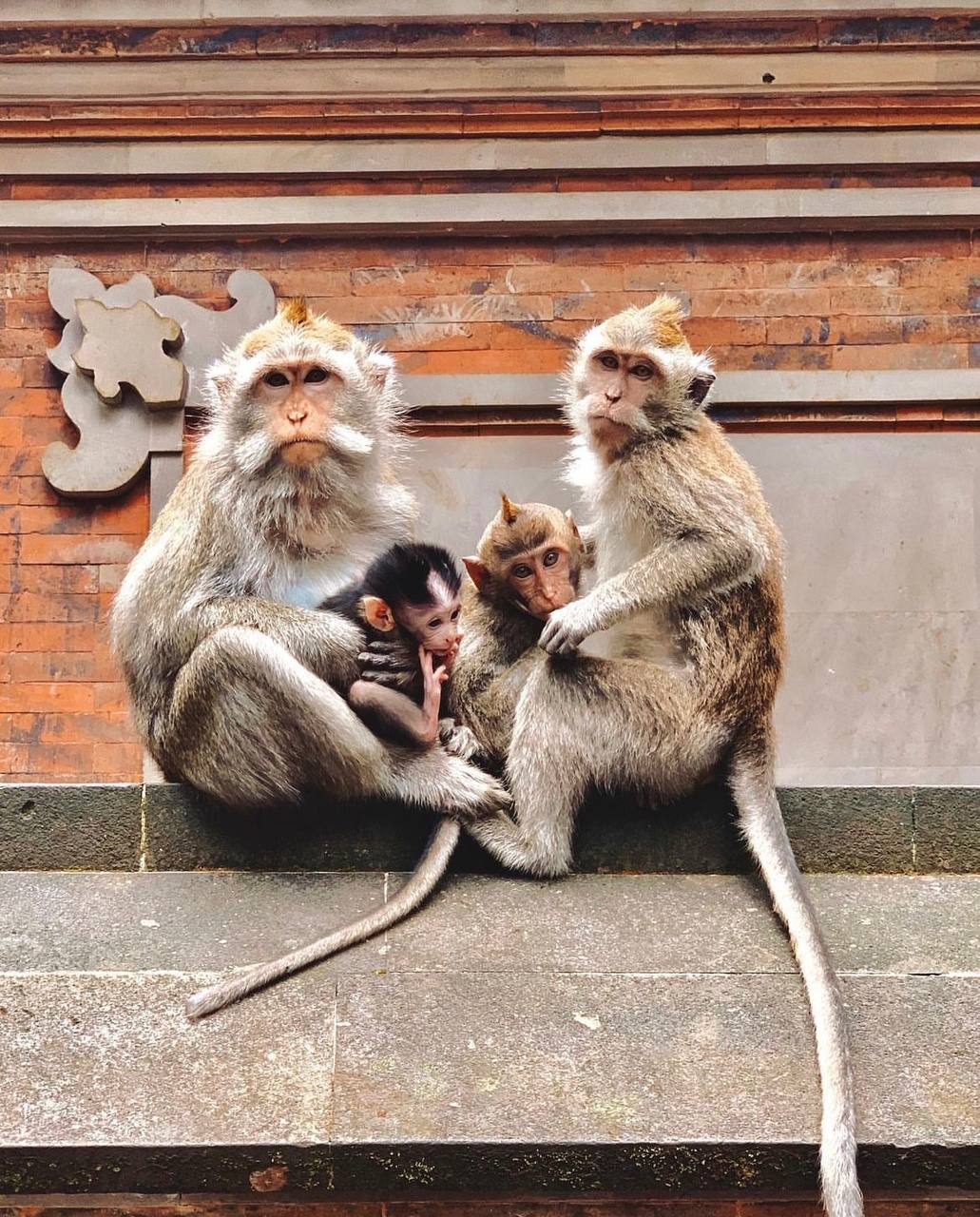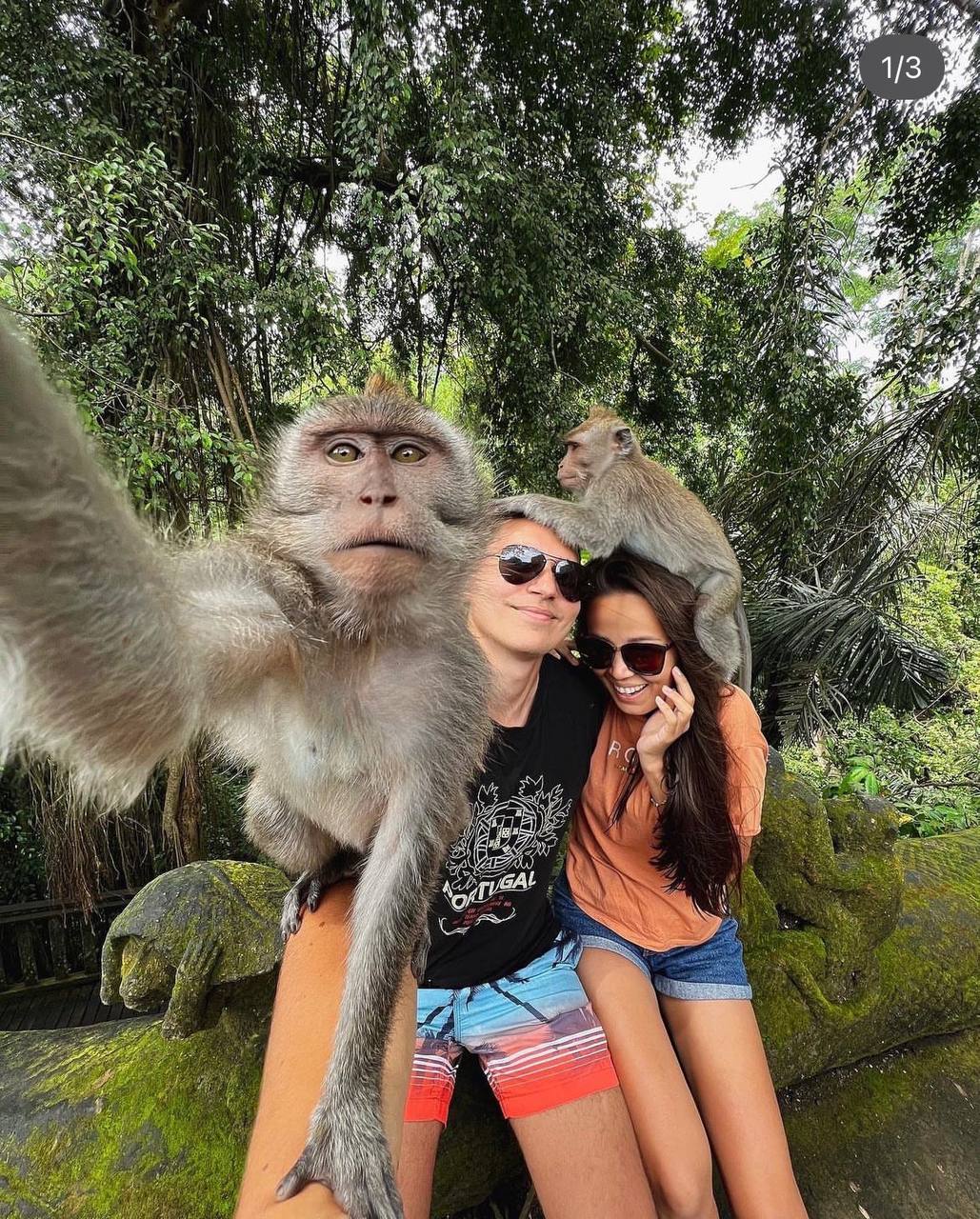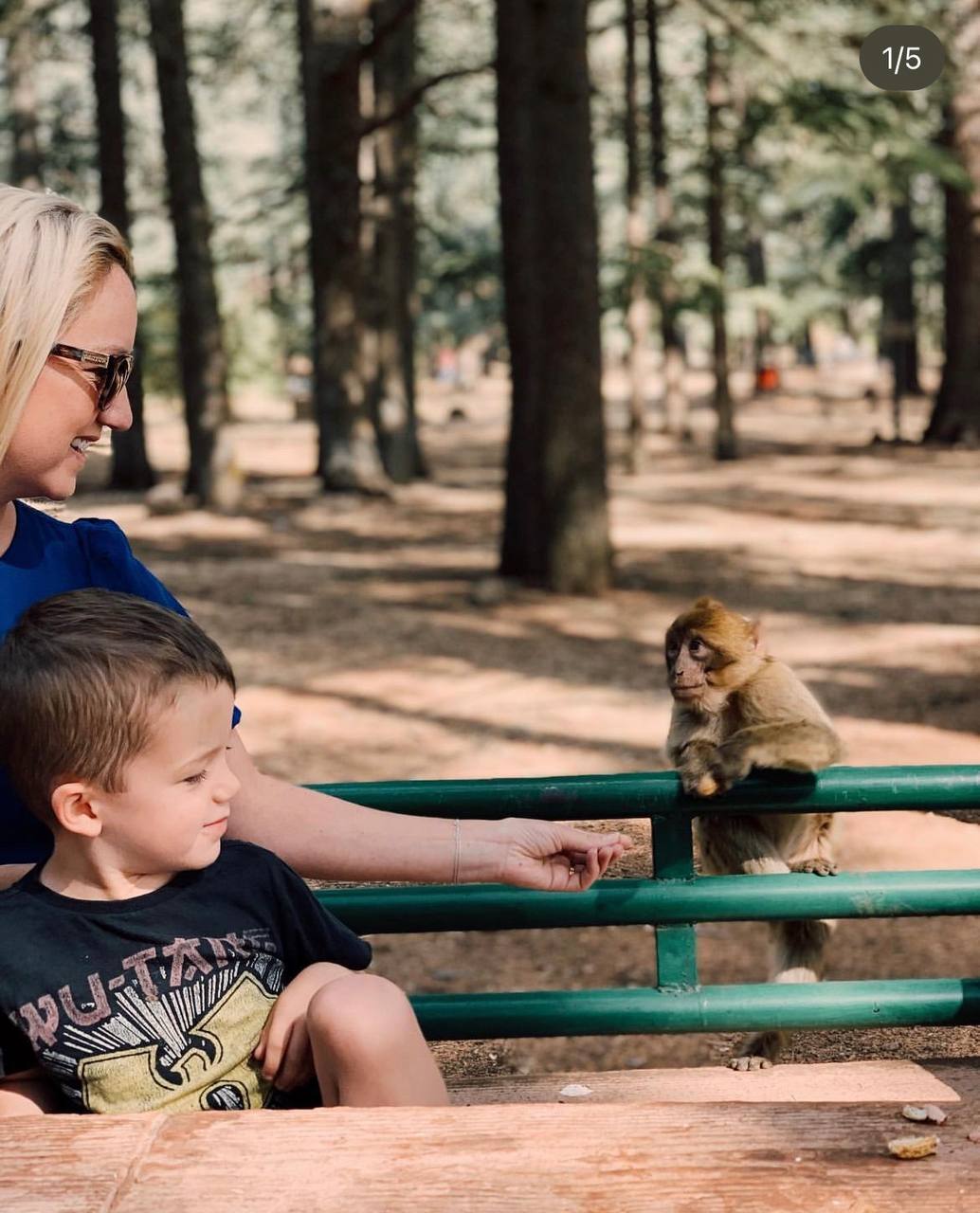 Cycling around Ubud

If you are a fan of outdoor activities or you are tired of tanning on the beach, explore the Balinese sights on a bike. In Bali it is possible to rent a bike or go for a bicycle tour, where everything is already planned and organized. By the way, if you use the services of tour operators, you can not worry about safety: high-quality bicycles, equipment and clothing are included in the program. Food and shower to freshen up after the ride are also included. Depending on child's age a kids bikes or a child seat are at disposal.
Traditional attractions: Balinese village, the life of which is better to explore not from the car window, but when riding a bike. To see how rice is harvested, how it grows on special fields will also be more interesting in such trip. Tropical jungle will add adventure to your trip. And if you get thirsty, coconuts will hit the spot.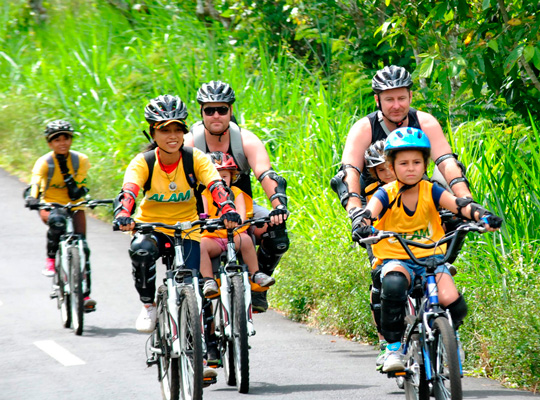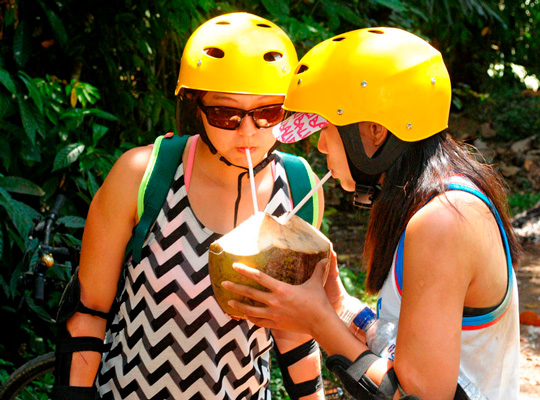 Nusa Lembongan island Cruise
Have you seen all the sights in Bali? Why not take a trip to the nearby island of Lembongan, which can be easily reached by a modern speedboat. Lembongan is impressive with its dense vegetation and almost untouched natural beauty, as well as its beaches.
The yacht docks at a floating pontoon. The water attractions on it will capture the attention of all children. Here there is a large, 35-meter water slide and a platform for jumping into the water. Among the fun activities are banana boat rides and diving with a special helmet or scuba gear (the water is turquoise and extremely clear: you'll see schools of fish swimming beneath you).
The climate on the island is drier and hotter than in Bali, so children will particularly enjoy spending almost the whole day in the water. At the appointed time, a motorboat will pick you up and take you to a beach club on the beach of Lembongan Island, where you can jog, relax by the pool with breathtaking views of Bali's volcanoes. However, if swimming gets boring, take a stroll to the local village and see how its residents live. The local population is friendly and hospitable, and they have a special affection for young children. The main activity of these people, apart from tourism, is cultivating seaweed.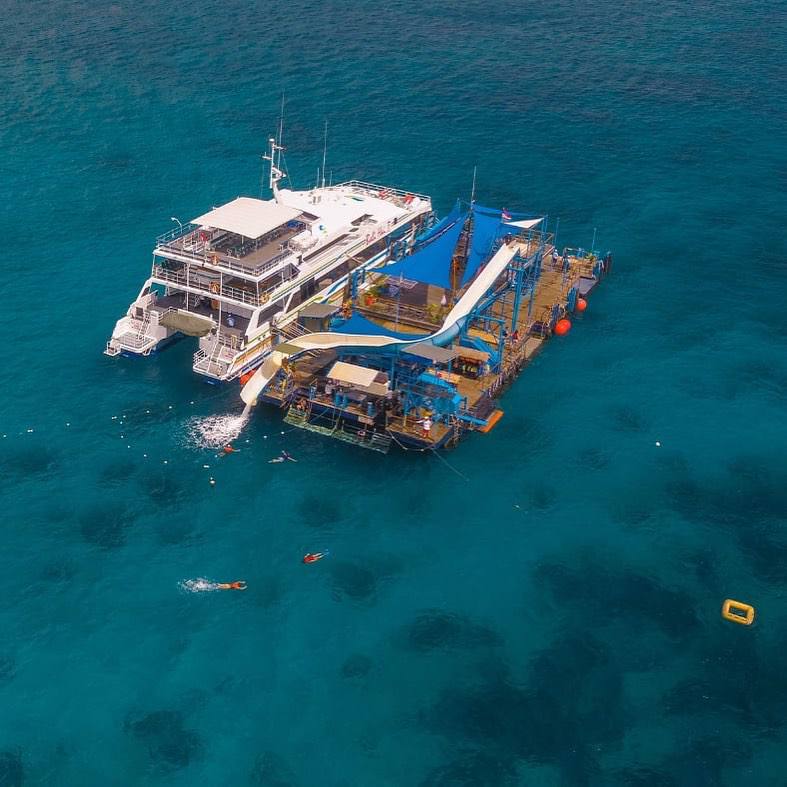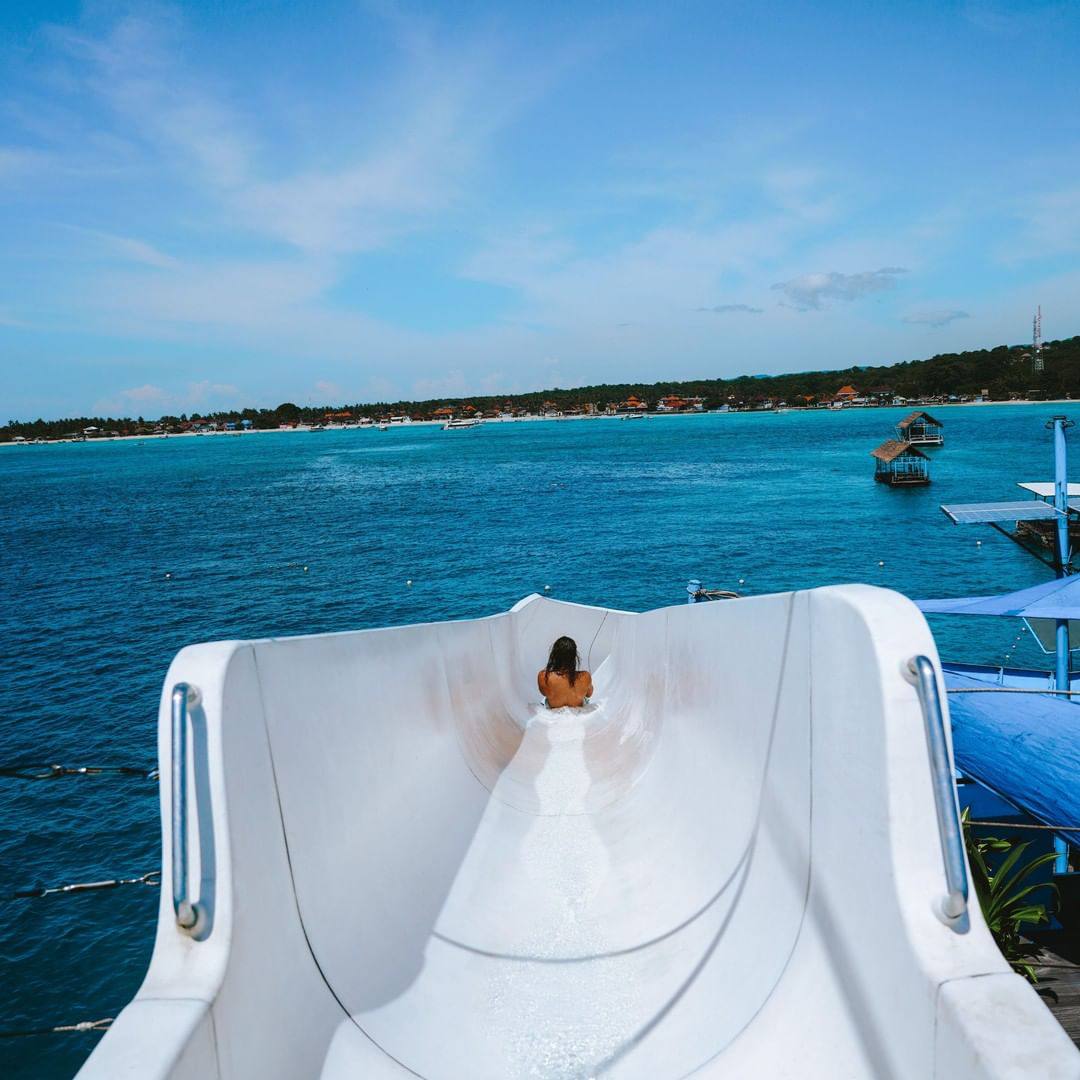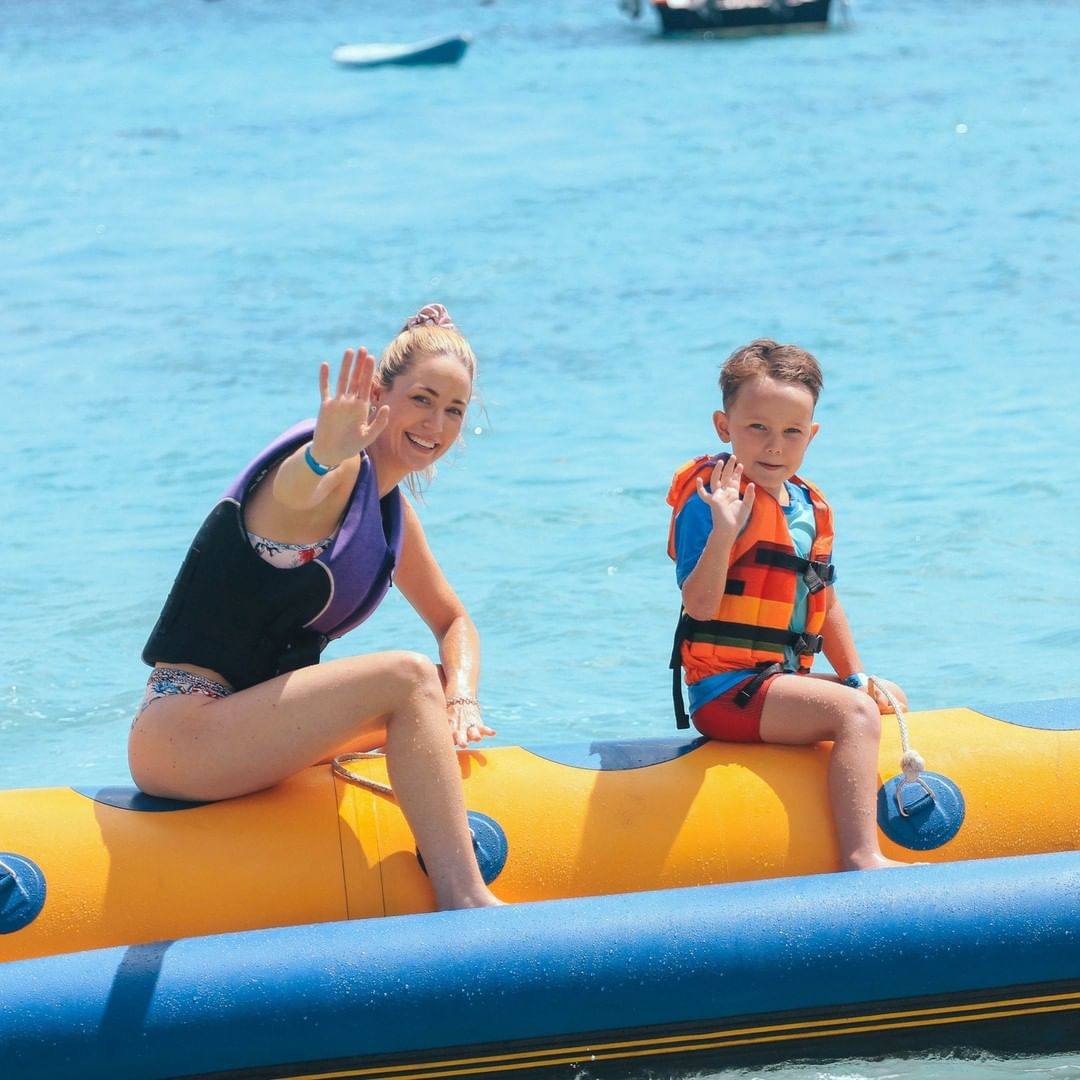 Do not forget to swim in the ocean and sunbath, wander through the jungle, plant rice and go to famous Ubud.
Enjoy the holiday with your family and leave it to professionals to organize an unforgettable vacation of your life!
Explore More of Bali with Us: