Rice terraces Bali: Tegalalang and Jatiluwih
Indonesia is a large country spread over many islands. Most people only know one island, Bali, so famous and so beautiful. It attracts both those who love to relax and surfers from around the world. However, it is not that fascinating to spend the whole holiday breaking waves on the surf or basking on a sandy beach. Why miss the chance to get to know this beautiful island and experience all its inviting magic?
When planning your Bali holiday, it is a good idea to include a visit to its rice terraces. There are several reasons for that.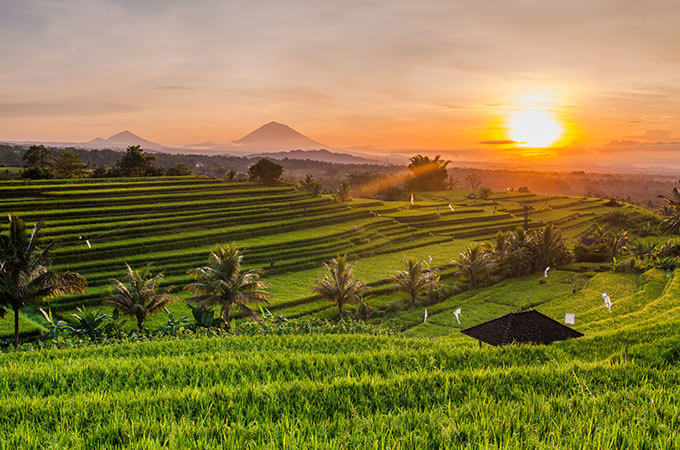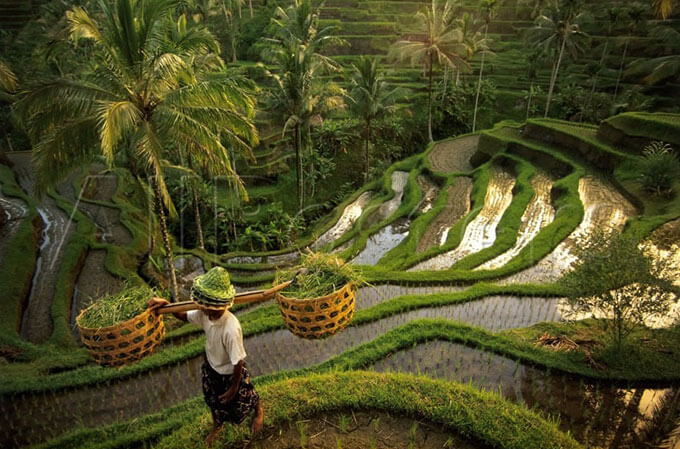 It is beautiful and very unusual. Rice plantations in Bali are not just flat fields that we are used to. On an island where space is limited, rice has long been grown on hillside steps. This unique irrigation system is called Subak. Unusual rice plantations resemble giant staircases, seamlessly blending in with the natural landscape; they look like being there since the times of some ancient magical civilization that disappeared many millennia ago. To some extent this is true, as some terraces are over 1000 years old.


Rice terraces are constantly changing. Modern varieties and a favorable climate can significantly reduce the rice cultivation cycle. If you visit the terraces at the very beginning of rice growth, after the shoots have been planted and flooded with water, you can see a stunning view - hundreds and hundreds of water mirrors seem to descend along the hillsides, reflecting the sky on their surfaces. Many tourists, photographers and nature enthusiasts seek to seize the moment and see the terraces at this time. However, wavy steps with bright green stalks of rice that has already risen, or coloured in golden yellow right before the harvest, look no less amplitudinous and attractive. Do not be upset if the sowing season of the terraces did not coincide with your vacation - it is difficult to predict this period, as it in no way corresponds with the European calendar.



Rice is not just a food product, but also an integral part of the local culture. This is the reason why in the local dialect one of the meanings of the word "rice" is "food". Many legends are associated with this plant, the lifestyle of local farmers is built around the cultivation of this cereal; growing rice is a local philosophy. You need to visit the rice terraces if you want to get familiar with the Balinese culture and immerse yourself in the distinctive aesthetics of this unusual place.
There are several terraces in Bali. The largest and most interesting are Tegalalang and Jatiluwih. We will explore them in detail.
Tegalalang Rice Terraces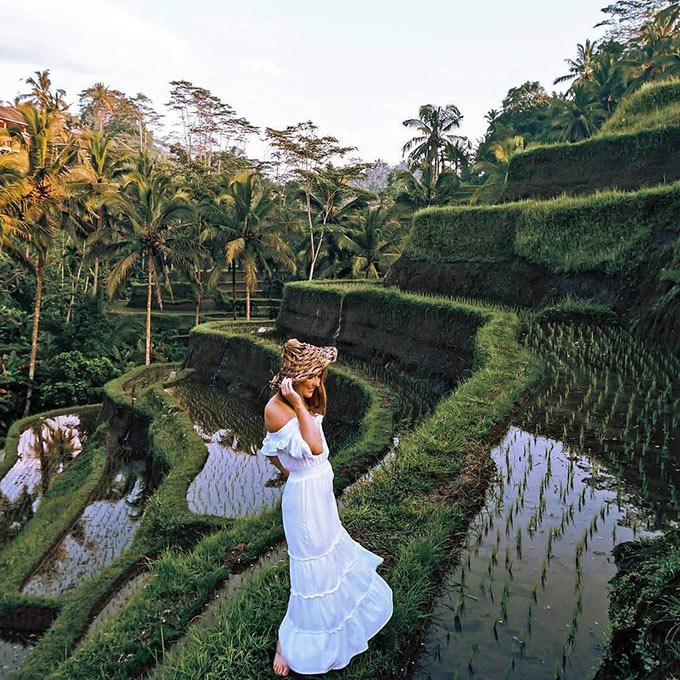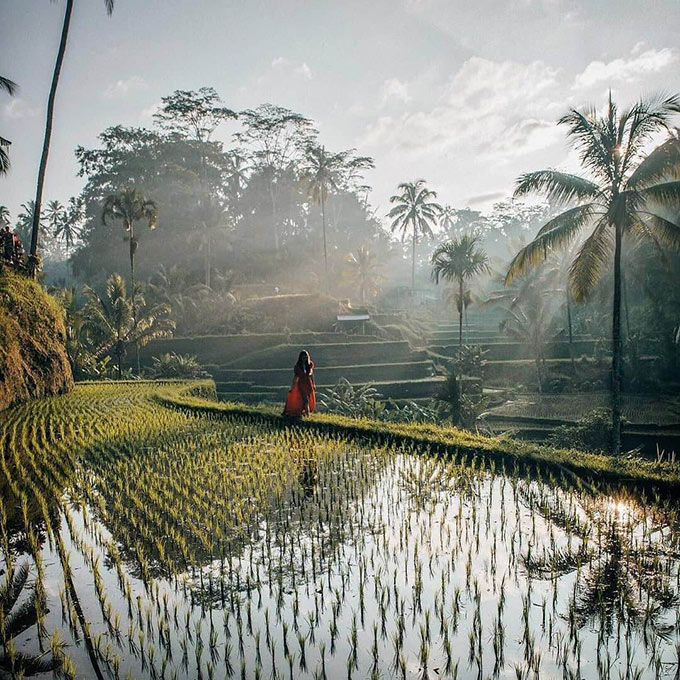 Tegallalang rice plantations are spread on the hills 800 meters above sea level, just a 20 minute drive from Ubud. It is easy to get here by car or motorcycle. These terraces are popular due to their location. Next to them is a road on which anyone can stop and admire the panoramic view. But it is one thing to watch from the road, and a completely different thing to walk the path circling between the steps of the terrace, go down, and then climb from the opposite side of the hill. The route is not very difficult, however, you might want to stock up on strong and comfortable shoes - the path may be wet.
You need to buy a ticket to enter the terraces, but sometimes on the terrace paths you can meet locals who ask for some additional donation. Terraces is a private area where local farmers live and work. They tidy up the paths and take care of all the surrounding nature, so do not get angry at their donation requests. If you still do not want to donate and want to enjoy the beauty alone, then it is best to come to the terraces early in the morning. At this time, the fields are still covered with dew, there are very few tourists, and local residents are busy with their own affairs and do not ask for extra money - you only need to pay for an entrance ticket. By the way, in the morning it is also much easier to find parking, as in the afternoon the road near the terraces is filled with cars and tourist buses.
Entrance to Tegalalang terraces is through several cafes where you can quietly relax with a cup of coffee and enjoy the view. By the way, one of the terrace paths leads to a small coffee plantation, where people can taste various varieties of local coffee and see how it is grown. You can easily find it following the sign. For visitors tired of walking, small tables and benches can be found right at the back of the terraces.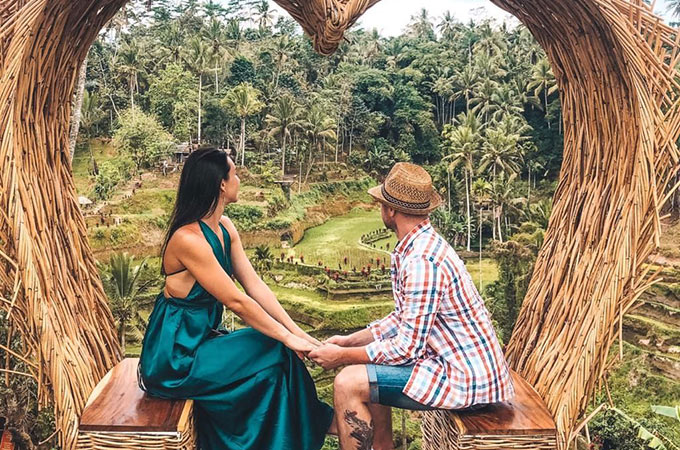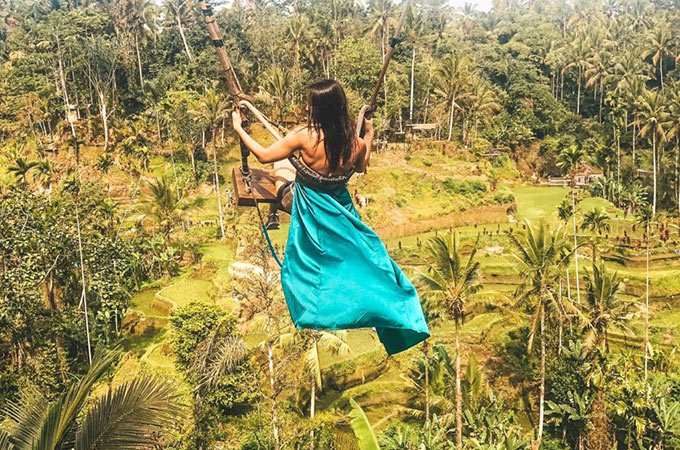 For those who are bored of walking along the wavy steps of the hills and gathering in local cafes, Tegalalang terraces have swings with views of the rice fields. Photos from these swings appear on Instagram of most people who have visited Bali.
Jatiluwih Rice Terraces
Jatiluwih rice terraces are spread at the very center of Bali, at the foot of Mount Batukaru on an area of ​​more than 300 hectares. It takes around an hour and a half to drive from Denpasar to Jatiluwih terraces. You can get here either with a guided tour (for example, our excursion "Sekumpul waterfall trekking") or by renting a car or a motorcycle. It is worth knowing that the road to the terraces leads through a narrow mountain serpentine, so those who are not sure of their driving skills should use drivers' services.
These unusual rice fields are breathtaking. It is hard to imagine how the ancient inhabitants of the island created these unusual wavy steps on the hillsides. In 2012 these terraces and the entire Balinese irrigation system were recognized by UNESCO as a World Heritage Site.

The territory of Jatiluwih terraces is huge, but thanks to the system of well-groomed paths, bridges and signs it is impossible to get lost in here. There are several routes for walks of different durations, so everyone can choose the most comfortable one. Some lanes even allow to ride bicycles.
Here and there on the terraces, you can find small shrines to the goddess Dewi Sri. Locals believe that she is the patroness of fertility in general and rice in particular. Near these shrines, local people often leave donations to the gods.
Jatiluwih rice terraces are located in the central part of the island, where rains are frequent. If you do not want to spoil your impression of a walk, it is a good idea to stock up not only on comfortable shoes, but also on an umbrella or a raincoat. In addition, when visiting the terraces in the evening, take a mosquito repellent with you. Rice fields are abundantly watered, so mosquitoes are found here in large numbers. This advice applies not only to Jatiluwih, but to all other rice plantations as well.

Near the terraces you can find several comfortable hotels for those who decide to stay for a few days. In addition to hotels, terraces are surrounded by many restaurants where you can savour dishes with rice grown right here in Jatiluwih, enjoying views of the wavy green steps.
Long time ago people of Bali did not realize that their method of growing rice could become famous throughout the world. Stepped rice fields made by humans seamlessly blend into the surrounding nature and attract millions of travelers from all over the world. This is not surprising, as people want to see such beauty with their own eyes to get closer to understanding and feeling the spirit of this beautiful and mysterious island of Bali.
Bali's rice terraces are undoubtedly worthy of attention and are certainly worth a visit. Do not get upset if during a visit it turns out that the rice has already been harvested. Each plantation has a unique cycle of growth, which does not coincide with the others. If one terrace is already bare, then on the other terrace you may well find rice immediately after it has been planted.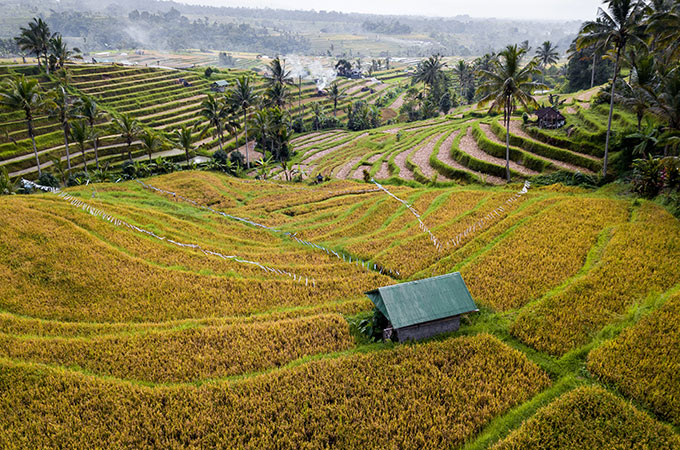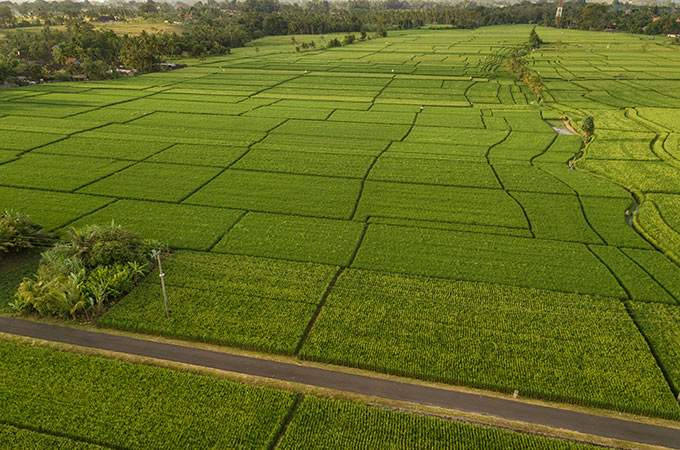 Explore More of Bali with Us: