Motorbike guide for beginners
In Bali your life is quite  difficult without a bike; whether you go to the beach, to a restaurant, shopping or travel around the island – this two-wheeled friend will be of service everywhere!
If you have never tried motorbike riding, then you surely need to understand that this is a dangerous vehicle and the process of learning and driving of which should be taken very seriously.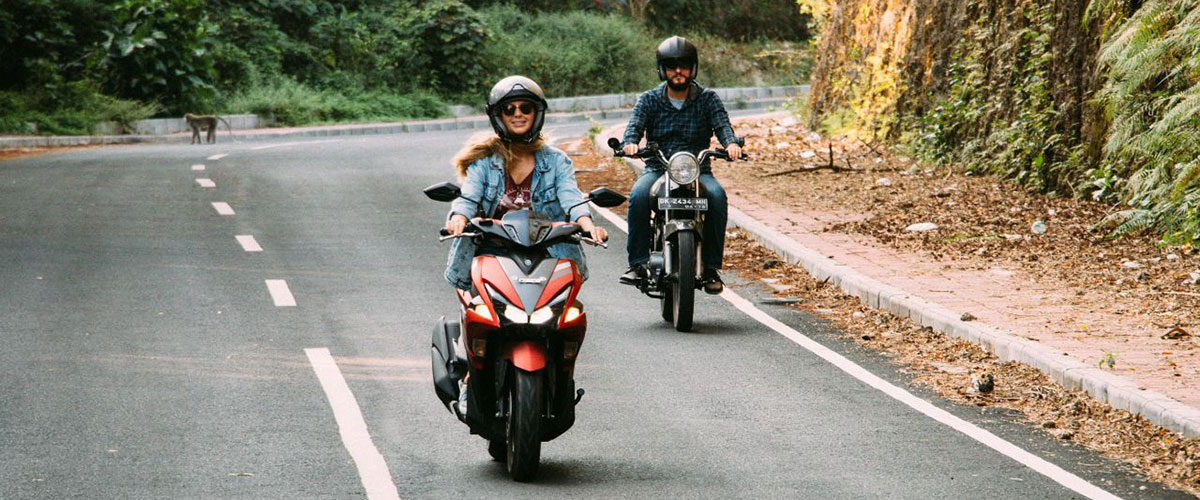 Safety
Bike is not a car. It requires special safety measures and an extreme caution.
Therefore:
Be sure to wear a helmet. Even if you like feeling the wind in your hair, do not neglect the safety and do not save on it. Even if you are going to drive only 5 minutes to the beach or two quarters to the shop – make as a rule always wearing a helmet!
There are both cheap and high quality helmets. But it is not something you should skimp on. You'd better have a' full face' helmet that covers your chin as well.
Make sure you have the right size of the helmet that is not loose or too tight; it must be comfortable.
Be sure to fasten your helmet. If the helmet is not fastened, then in case of an accident it will come off and will not protect you. For some reason many riders neglect this rule.
Make certain to wear closed-toe shoes, a long sleeve top and long pants. Sneakers, jeans, jacket or skintight top will protect you from minor injuries; it is especially important at the training stage.
You also need glasses that will protect the eyes from getting gnats and sand.
Ensure that you have a first aid kit (plasters, hydrogen peroxide, bandage) in the trunk, as well as a printed insurance policy. We hope that you will never need them, but you'd better have them just in case.

Before leaving, check the overall condition of the motorbike: whether the brakes are working, may be you have a flat tire or leaking oil. Wipe the headlight.
Driving techniques
It is better to learn motorbike riding  from experienced drivers. Choose empty deserted areas without cars, where nothing will disturb you.
We also advise you to learn to ride a bike not in the heat. The perfect time for training is in the morning, when the sun is not so strong, and you'll not burn yourself out.
After sitting on the bike, take away the footboard, try to tilt the bike left and right, so as you can feel the weight of the vehicle and the inclination at which you can hold it.
On unstarted engine try to twist the throttle so as to learn to feel it; first you need a quarter. As you see the throttle moves to a quarter, start the engine, hold the brake , try a little to twist throttle to feel the engine reaction and speed change.
Then try to release the brake, and smoothly twisting the throttle feel the moment when the bike starts to move; repeat it several times until the process becomes clear and you learn to control the throttle.
Start the drive, slow down, trying slightly to push the front and rear brakes so as to feel the brakes and their course. You can stop by pushing the front brake, finishing with rear one, as the front brake is much more efficient. We brake, especially at first, ONLY when the bike is moving straight, not in a slope, without a turned front wheel.
Please remember: do not brake with your feet, although at first you will have such reflex. In case of emergency, do not throw the steering wheel and do not twist the throttle, it is dangerous.
To work out the correct braking, understand when to use the rear brake, when the front one, and when to use the both; while training ask your assistant to shout "Stop!" from time to time. You need to learn how to stop quickly and correctly. For example the front brake is used on flat asphalt. On uneven surfaces-bumps, soil, slippery surfaces – the rear one. But usually you will use both brakes, and this requires training. Moreover, avoid  braking on sand or gravel, move smoothly, quietly.
When you get used to ride straight, try turning. You can try a "snake" exercise by placing any items and moving between them.

Next work with mirrors. Be sure to look at both mirrors when maneuvering and changing the lane. Always use them to follow the situation on the road. Learn to look at the mirror without losing control while driving. This is also a very important skill.
Learn to work with turn signals. Turn them on and off before and after the maneuver.
For the first drive on the road we recommend to choose very unbusy streets. Calm down, get yourself together and go. Do not make abrupt movements, drive quietly, take your time and do not get distracted.
Do not ride with a passenger until you feel confident on the bike!
Please note: always turn off the ignition before you get off the bike, otherwise it will drive away from you, while you are holding the handle bar. Do not lean on the handle bar, it is delicate even to slight pressure.
For beginners it is not recommended to drive in bad weather: rain, strong wind, poor visibility- it is better to wait)
Surely, the bike gives a lot of opportunities when travelling, but you should drive it carefully and attentively. It is not a trifle, you should take it seriously.
Specific driving
Please remember: there is a left-hand traffic in Bali! Driving speed is30-40 km/h, the surface for the most part of the country is uneven, road rules are abided arbitrarily. Keep this in mind when driving. To feel an adrenaline rush and emotions it is better to go to a special track and drive under the supervision of an instructor and with special equipment.
Choose a quiet road for the first ride. It is better to keep the left side, but not too close, in 1-1,5 meters from the roadside (quite often there may be unexpected obstacles such as animals, rubble, sand, open sewage).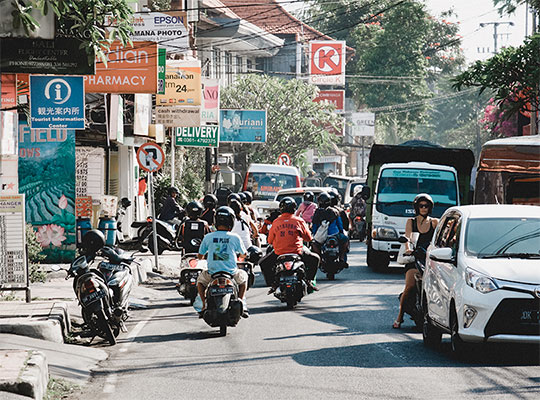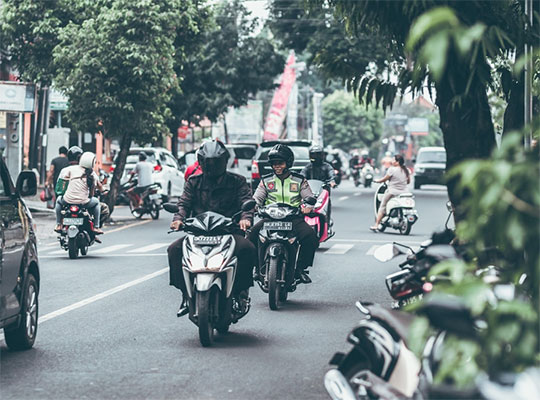 In Bali the traffic is very random and road rules do not always work. A bike may suddenly turn or brake in front of you or do any other unexpected maneuver, try to foresee the situation and think on actions in advance.
Do not forget about left-hand traffic when turning; tourists very often instinctively move into the oncoming lane.
If you are tired, look for a place to stay. Not in 5-10 kilometers, but immediately. Tiredness weakens attentiveness and reaction speed. At the same time stay in a safe place. Choose a curb or car turnouts, but not a turn, descent or ascent. If it is dark, do not turn off the lights. As soon as you stop – do a warm-up, 3-4 exercises, including squats. Close your eyes and sit in this posotion for a while.
Choosing a bike
If you have no experience, it is better to choose small bikes, scooters with automatic-shift gearboxes. Variable-speed drive will help you to concentrate on driving and the road.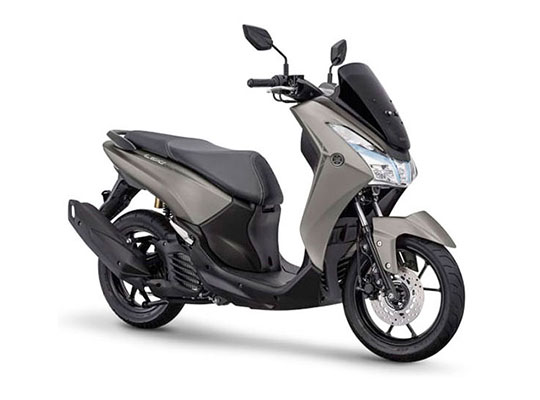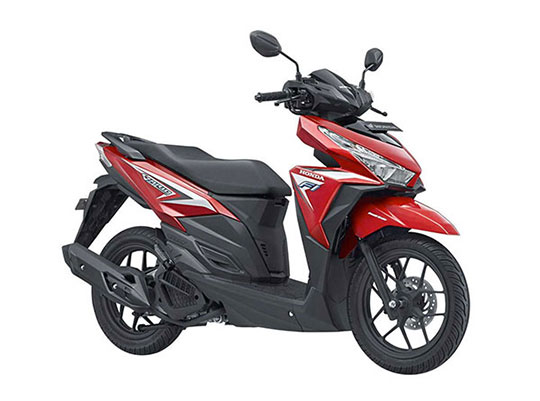 If you rent a motorcycle, check that the tires are not worn out. Tire wear indicators will help you; in addition, if there are some strange attritions, cracks, it is better you refuse to rent such bike or try to ask for tires change. Usually renters do not refuse. Remember that bad tires reduce the braking efficiency in two times, and badly worn tires may burst at the most inopportune moment.
It is better to take a motorbike with Combi-brake – a braking system with two wheels when you press one brake.
Carefully check the brakes, headlights, turn signals.