Mystical Balinese New Year - Nyepi
Bali is a beautiful and mysterious island, with its culture being a complex interweaving of ancient animistic beliefs and Hindu traditions. Balinese people treat all holidays with utmost respect and preparation for them can take longer than a month.
One of the most important holidays in Bali is the New Year - Nyepi, celebrated according to the Hindu calendar Saka dating from 78 AD.
When you hear about New Year, what comes to your mind? It would probably be family feasts and elegant Christmas trees, New Year's songs, chatter and laughter, confetti and crackers…
But imagine a holiday on which all of this happens and nothing happens afterwards. First, the whole island is immersed in ceremonies and festivals, and then comes all-embracing total silence. All music and holiday hubbub disappears and the streets get deserted. This is exactly what the Balinese New Year looks like: it starts with exuberant fun and ends in meditative self-absorption.
The celebration of the New Year in Bali takes several days and each of them is dedicated to a special ritual.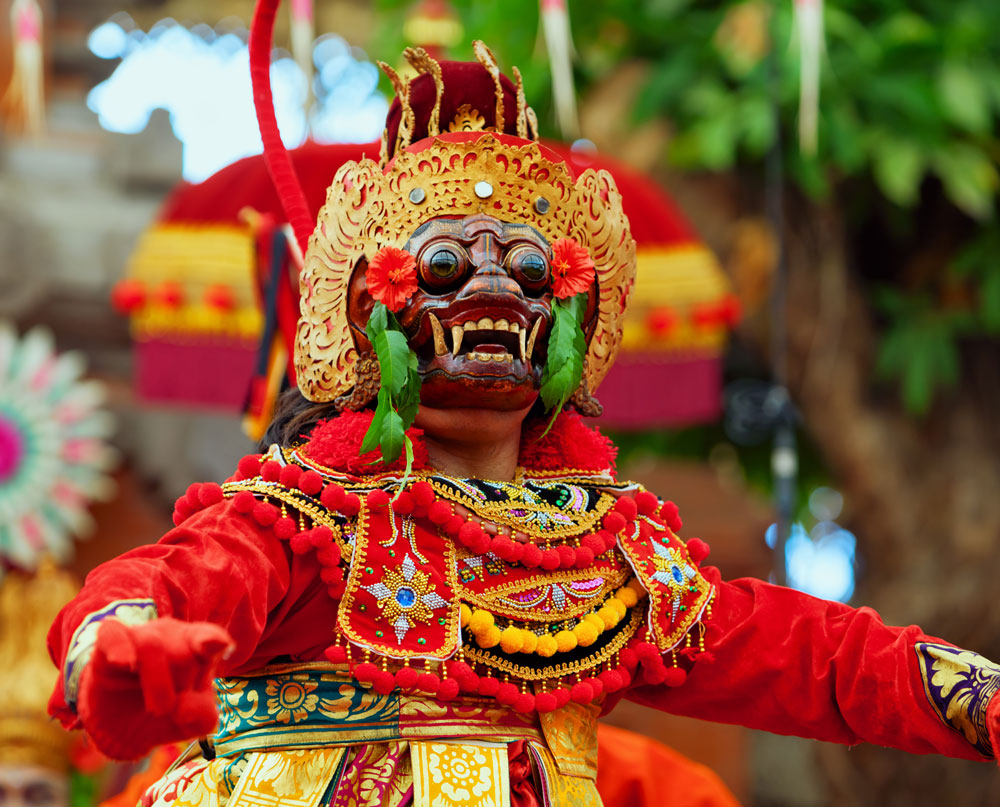 ● It all starts with one of the main ceremonies - Melasti, which symbolises cleansing with water.
The ceremony is made of two parts. To start with, you must cleanse yourself by bathing in the pond - this part is called Bhuana Alit, which cleanses you from evil thoughts and sins.
After this, the second ritual Bhuana Agung cleanses man-made evil from everything around you. For this part you need to submerge temple objects in the pond and sprinkle water on the soil, trees and other things around you.
The ceremony may take a whole day. The brightest and most colourful ceremonies take place in Oolong Danu or Tanah Lot, the main temples of the island. You can also see ceremonial procession on popular beaches like Sanur, Kuta and Seminyak.
Melasti is not just for locals - anyone can take part. However, in you wish to participate, you need to dress in traditional clothes. If that's not available, then women can dress in any white clothing, and men need to tie a strip of fabric around their waist - this is called kamen (a traditional Balinese sarong).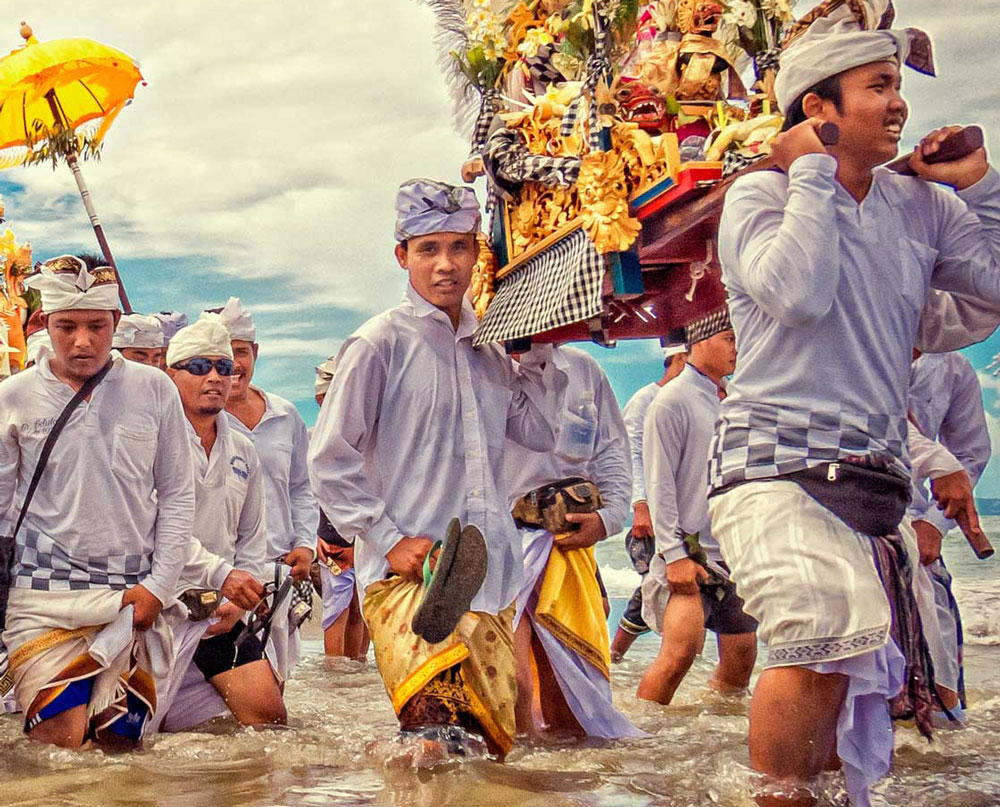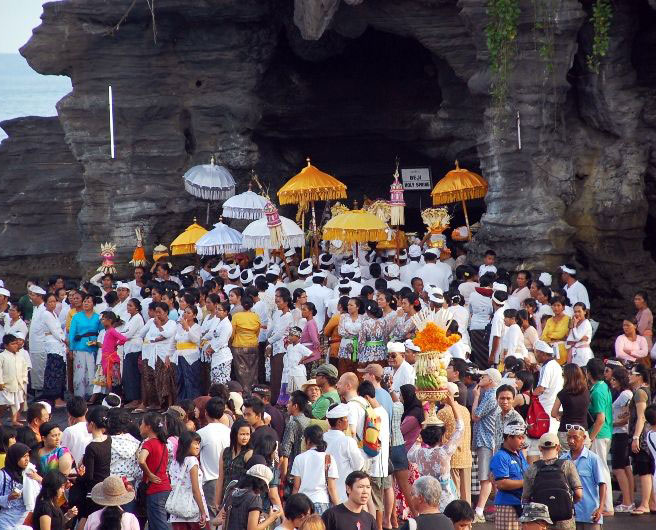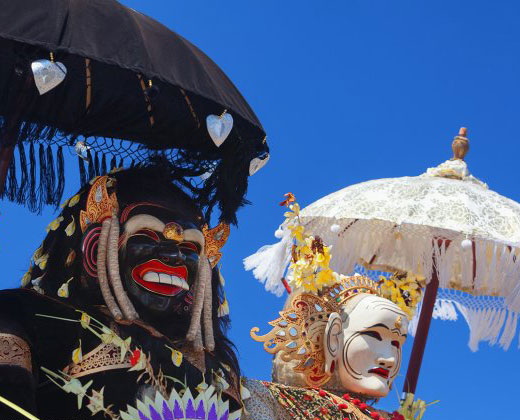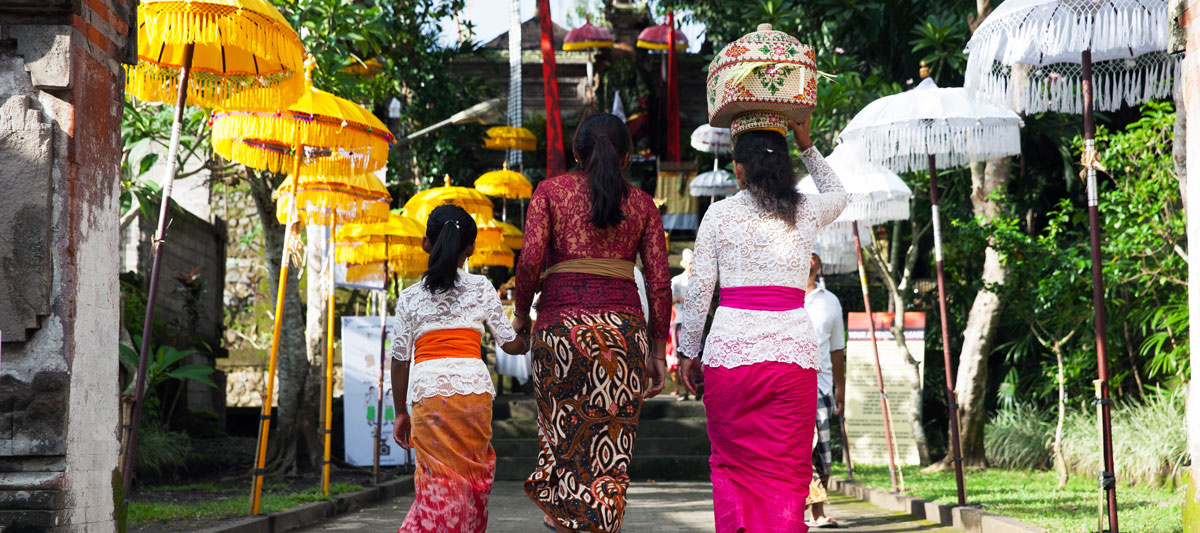 ● After people got cleansed of evil and restored the balance around, it's time for the most spectacular part of the Balinese New Year celebration - a parade of "monsters" begins in all cities and villages of the island. These monsters are huge Ogoh-ogoh figures, taking their name from an Indonesian word "shake" and depicting creepy demons and evil spirits. Some figures are as high as 10 metres and require 10 to 60 people to move them around. People moving the figures try to shake them as strongly as possible to increase the horror effect. The parades are accompanied by hypnotic music of the traditional gamelan orchestra. Special people with long sticks follow these processions - their task is to lift the wires hanging above the road, so that the "revived monsters" do not hook them. Traditionally, monsters are carried along the main roads and twisted at road junctions to confuse evil spirits. Then people either burn or brake them - this symbolises victory over their own demons and the expulsion of evil.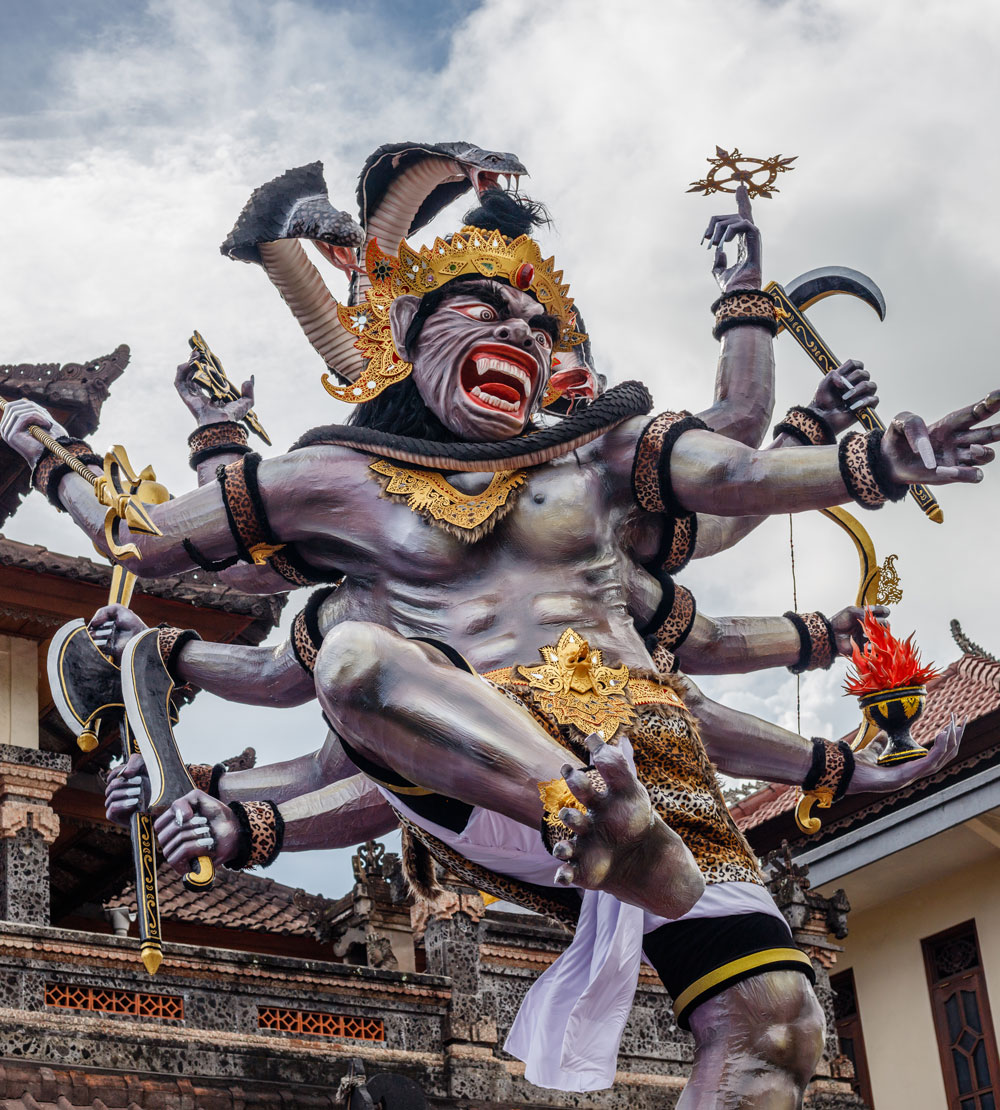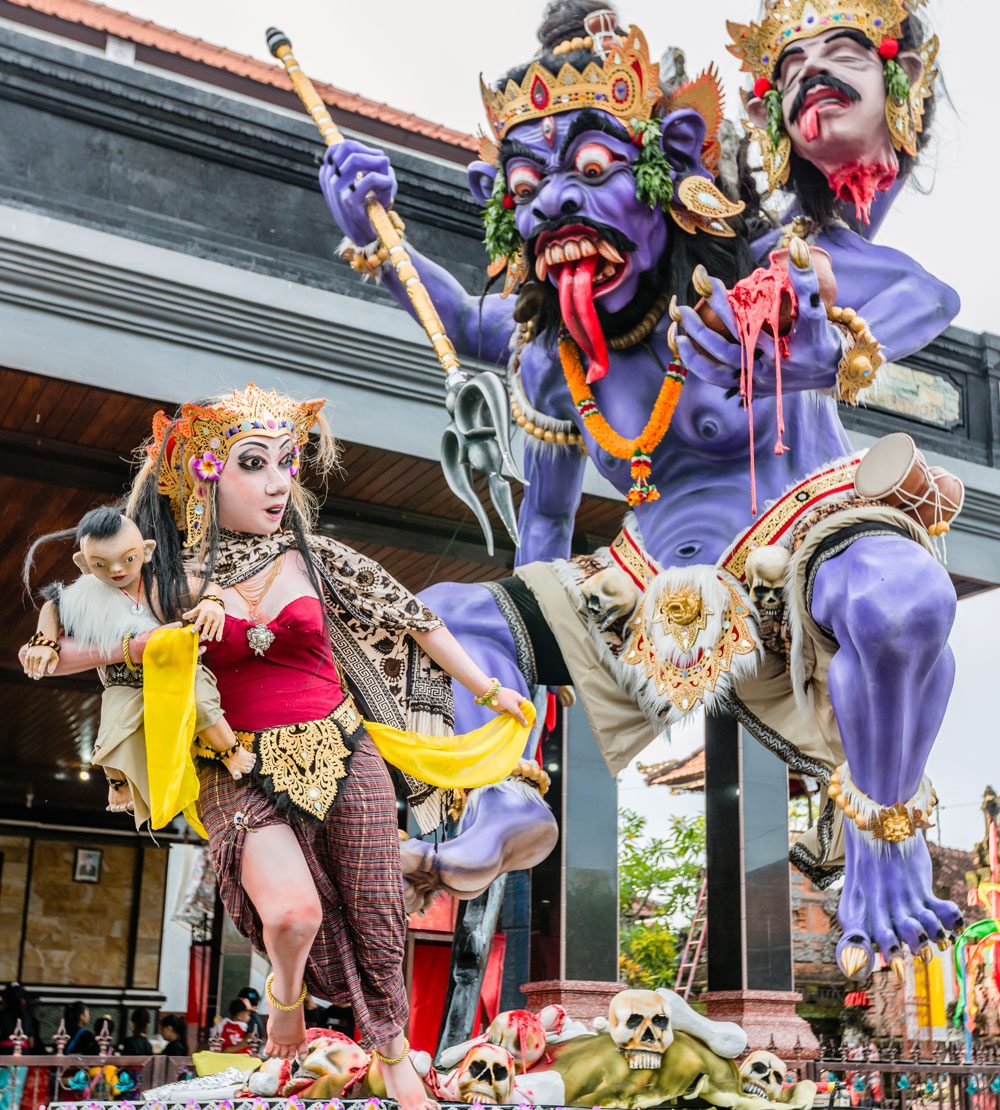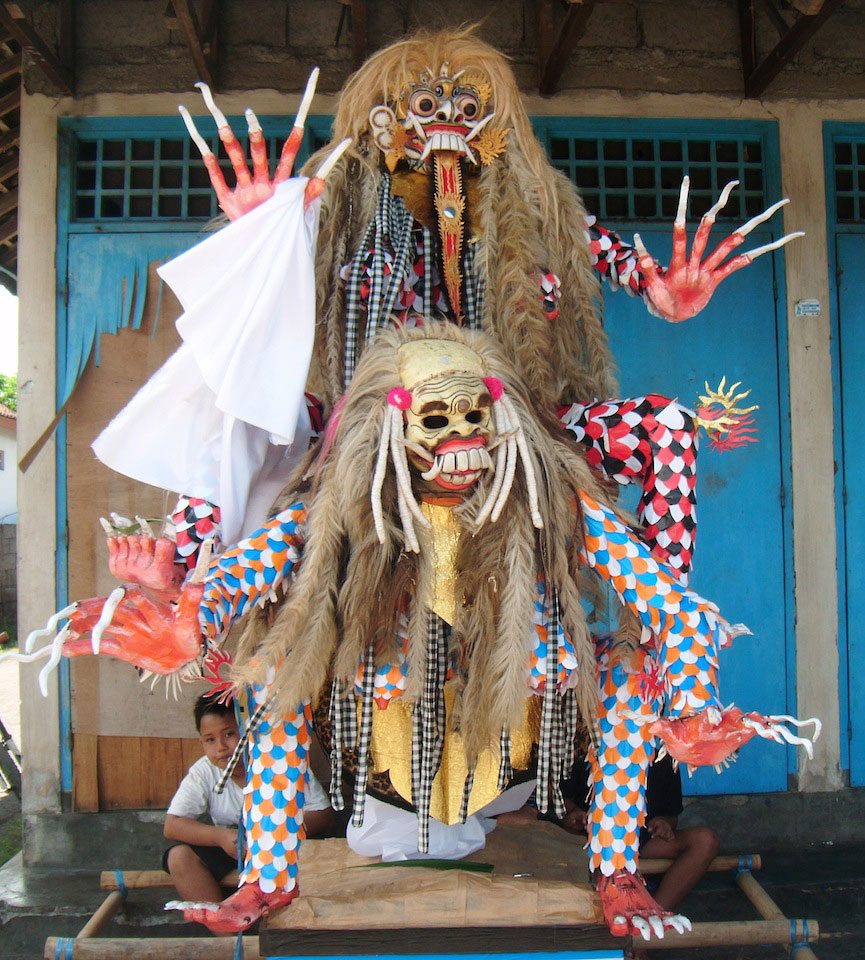 This is the most interesting part of Balinese New Year celebrations and many tourists visit the island specifically to see the Ogoh-ogoh processions. The most ambitious and beautiful parades are held in central Kuta on Legian Street and in central Ubud on Jalan Raya Ubud Street.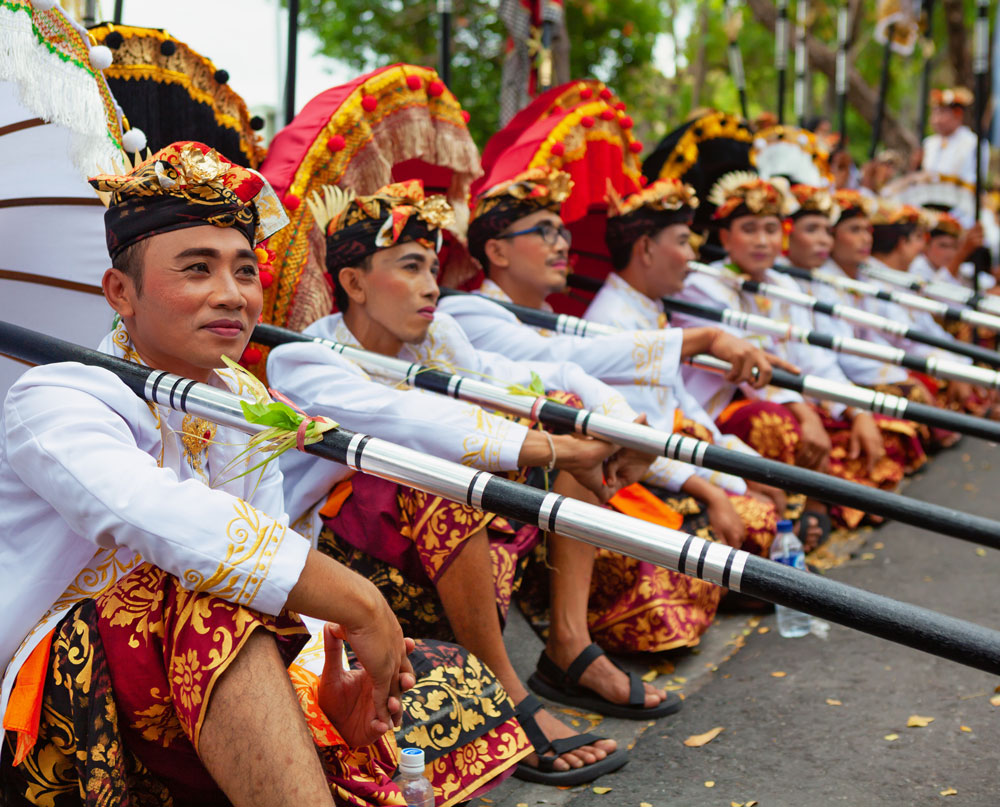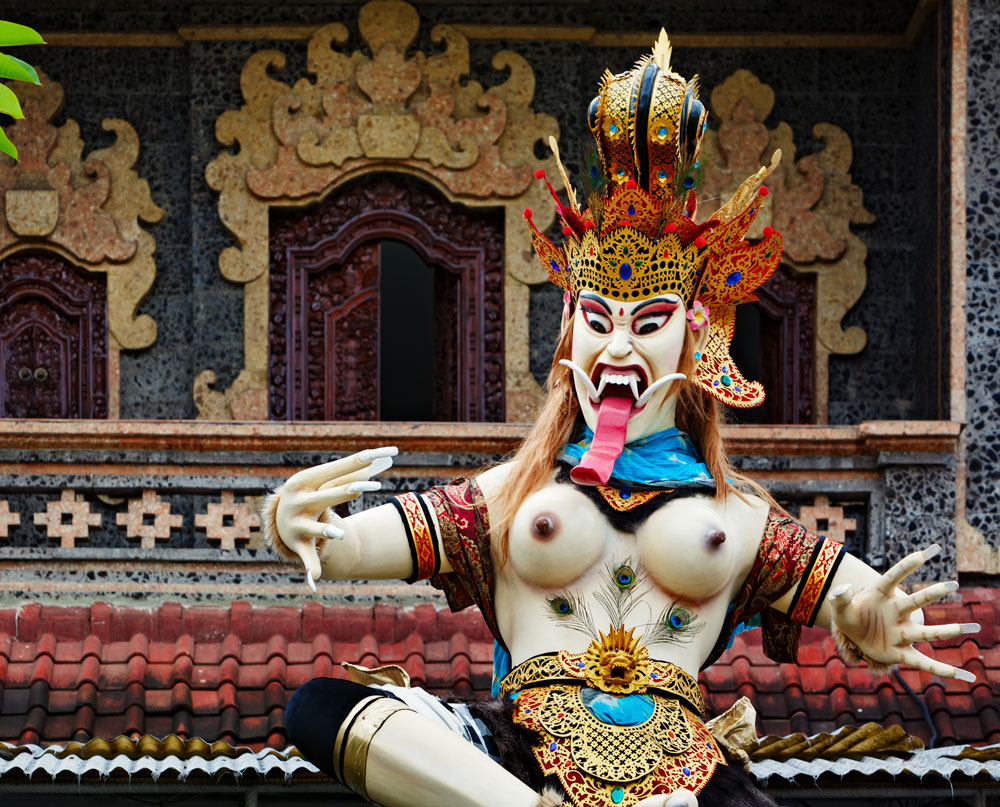 ● The day after the Ogoh-ogoh processions is the most important day of New Year celebrations - a Balinese "Day of Silence", or Nyepi Day.
Its purpose is to make the demons believe that there are no people on the island. On Nyepi Day, for 24 hours the following prohibitions apply to every person on the island, including tourists:

Amati Geni - prohibition to turn on the light and make fires;
Amati Karya - a ban on any non-spiritual work;
Amati Lelungan - prohibition to travel and even leave the house;
Amati Lelangunan - prohibition to have fun.
Balinese people dedicate this day to meditation and thinking. On Nyepi Day many locals don't eat, don't drink and don't talk to anyone and everything on Bali is closed, including shops, government offices, bars and restaurants. Even the airport is shut and the television channels are silent.
Nyepi Day is time for meditation, austerity, or just a day of silence.
Only special squads - Pecalang, or Nyepi Police - have the right to be outside. Just before the Day of Silence they undergo a special ritual allowing them to be on the streets. These people ensure that no one gets out of their house. If they catch someone in Nyepi, this person will be fined and may even end up in prison. The guards don't differentiate between Hindus, local residents or tourists. Everyone should follow the rules. This year the island government strengthened control of tradition observance.
When does this mysterious birthday of the New Year come? The celebration takes place at the new moon, so there is no fixed date.
➥ Nyepi Day in 2020 (1942) - 25rd of March
However, you don't have to spend the whole day doing nothing. You can continue filling your holiday with fun and pleasure even on a Nyepi Day - for instance, you can go to the Gili Islands, where beach life, snorkeling and parties won't let you get bored. You can go on a Gili Trawangan tour or buy boat tickets and get to the islands independently.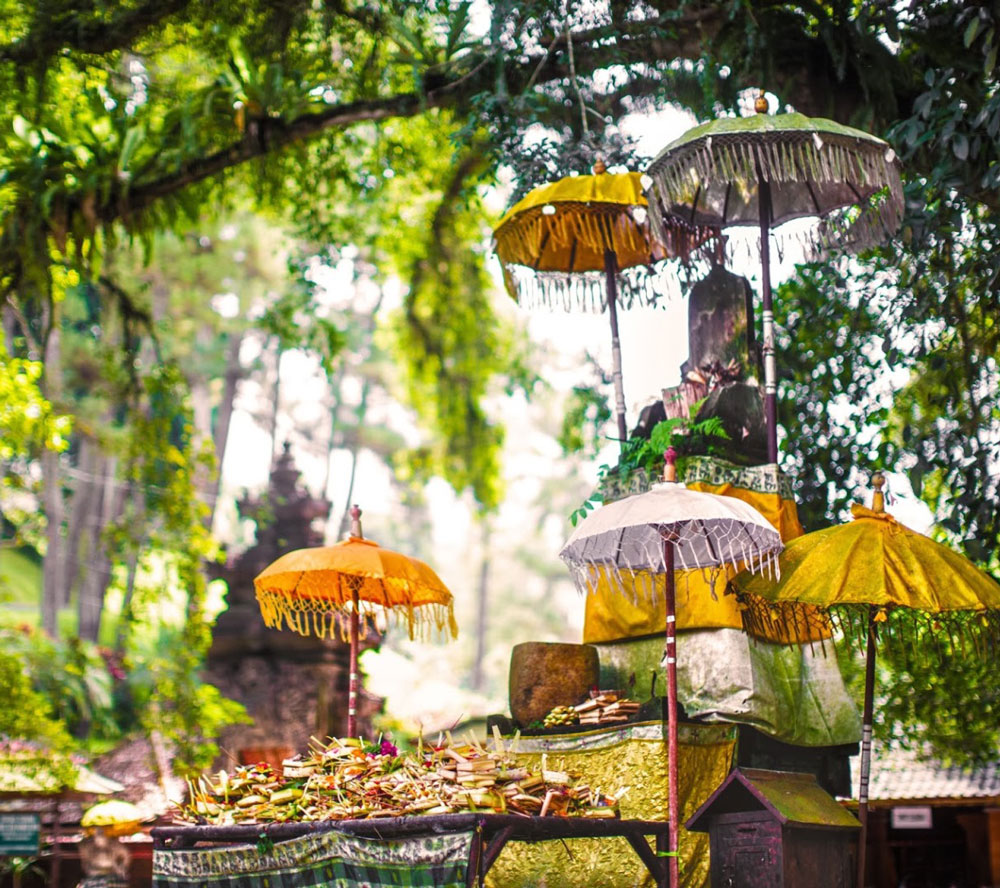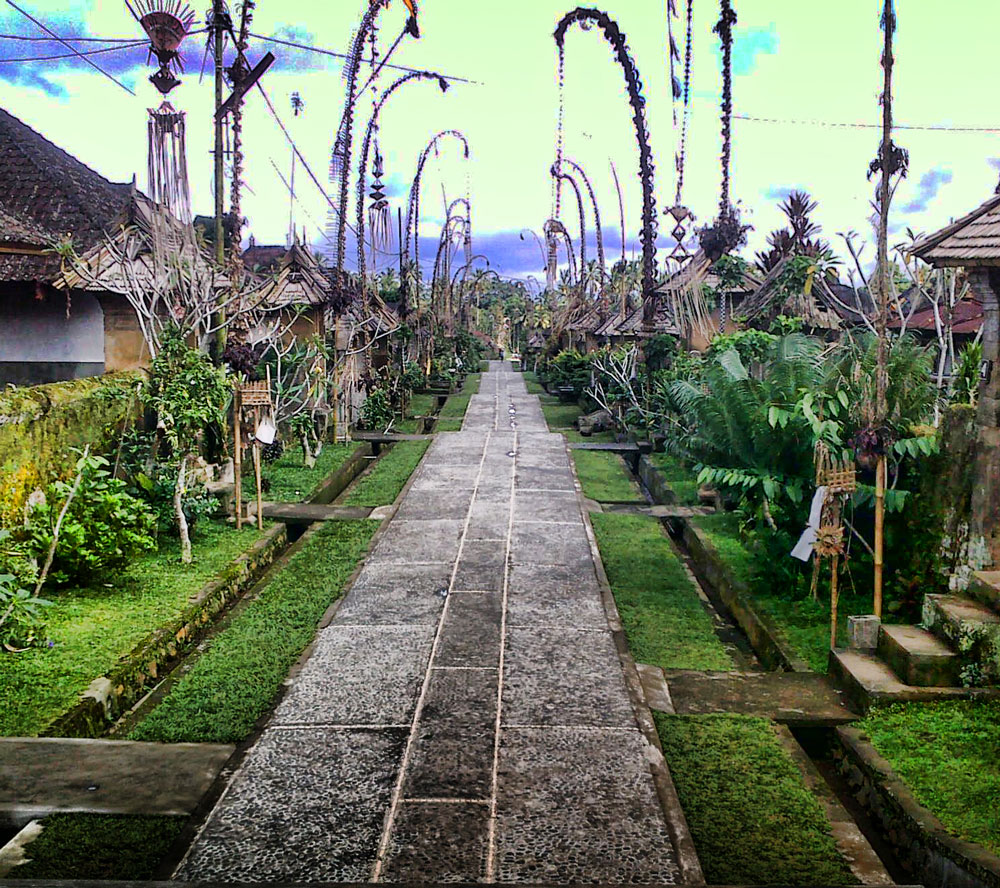 ● The day after Nyepi is called Ngembak Geni. After a day of silence, everyone happily visits their families and friends and asks to forgive them for past mistakes. On this day no one goes to work and all offices and organisations are still shut. Many restaurants and cafes, especially Balinese ones, are also closed.
On this day many villages of the island hold a special event for the young - Omed-omedan, or the Ritual of Kisses. Young unmarried people aged 17-30 gather on the street. First, the street gets watered by senior members of the local community. Then all youngsters hold a common prayer, after which they perform a short version of the Barong dance. At the end, all young people are divided into groups of boys and girls. After they hear a signalling sound, they begin to push each other and those who bump into one another have to kiss. The rest of the community pours cold water on those who kiss.
Witnessing the celebration of Balinese New Year is a memorable adventure. However, on the Day of Silence, if you don't wish to immerse yourself in meditation and fasting, we recommend you to visit the Gili Islands.