TOP-3 holy springs in Bali
Bali is not just a very popular tourist island with beautiful landscapes and exotic beaches, it is also a place where people come in search of peace, inner enlightenment, and spiritual development. This is perhaps largely due to the unique religion that is practiced by a large part of the Balinese people - Agama Hindu Dharma. Their everyday life is inseparable from various rituals and ceremonies. When visiting Bali, many tourists strive to touch the amazing Balinese culture - they visit local temples, consult with shamans, and even participate in various rituals.
In this article, we will talk about a special water purification ritual, as well as three holy springs where it can be performed.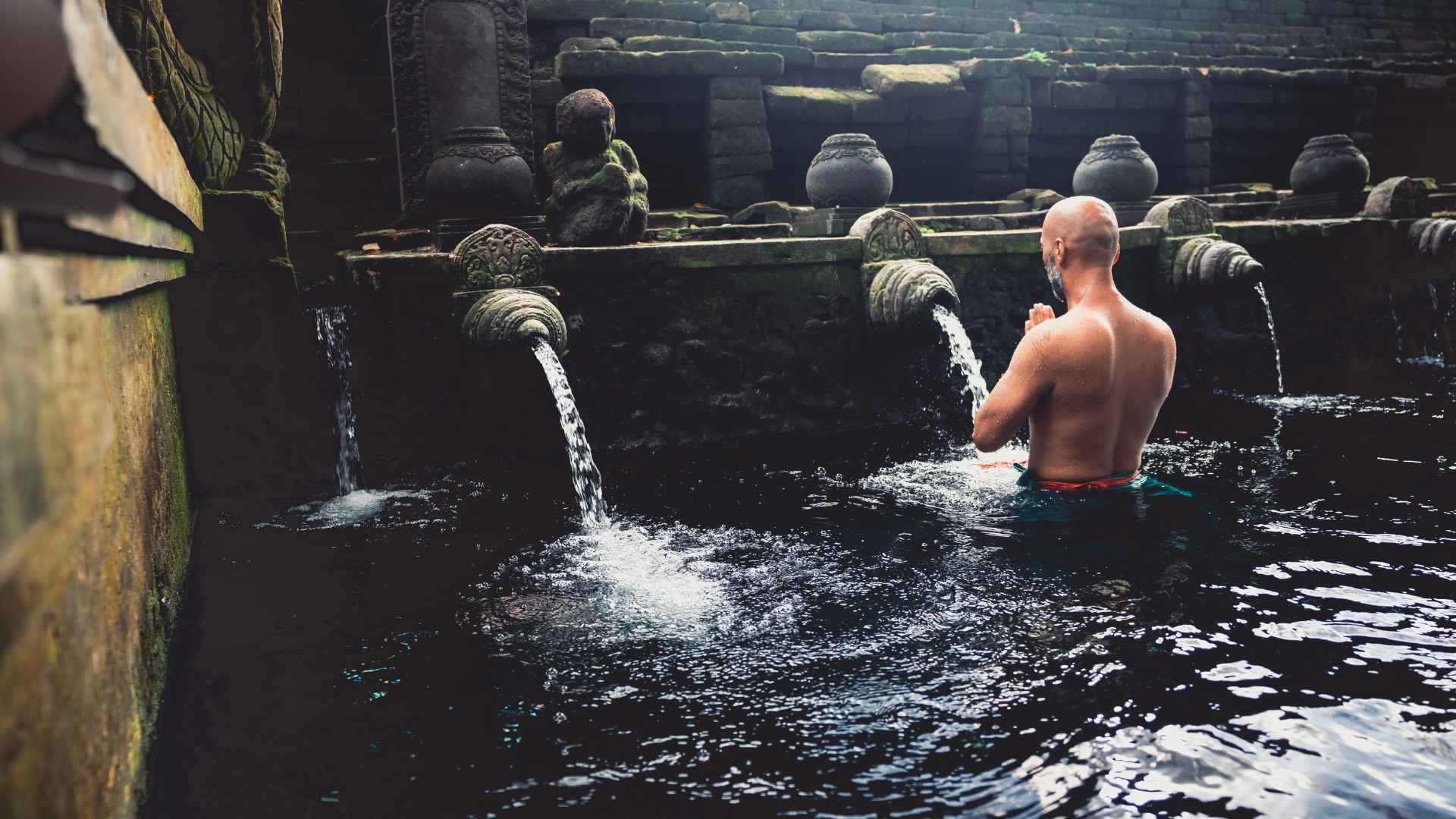 The Melukat Purification Ritual
One of the sacred rituals available to guests in Bali is the Melukat Purification ritual. Usually, it is conducted at holy springs, and the water from these springs is used as a means of purification. The purpose of Melukat is to cleanse the body, mind, and spirit, as well as to rid oneself of any negative influences.
Balinese people believe that this ritual can heal illnesses and spiritual ailments. Regardless of whether this is true or not, bathing in the waters of the holy springs will undoubtedly give you a burst of energy and clear your mind of anxious thoughts.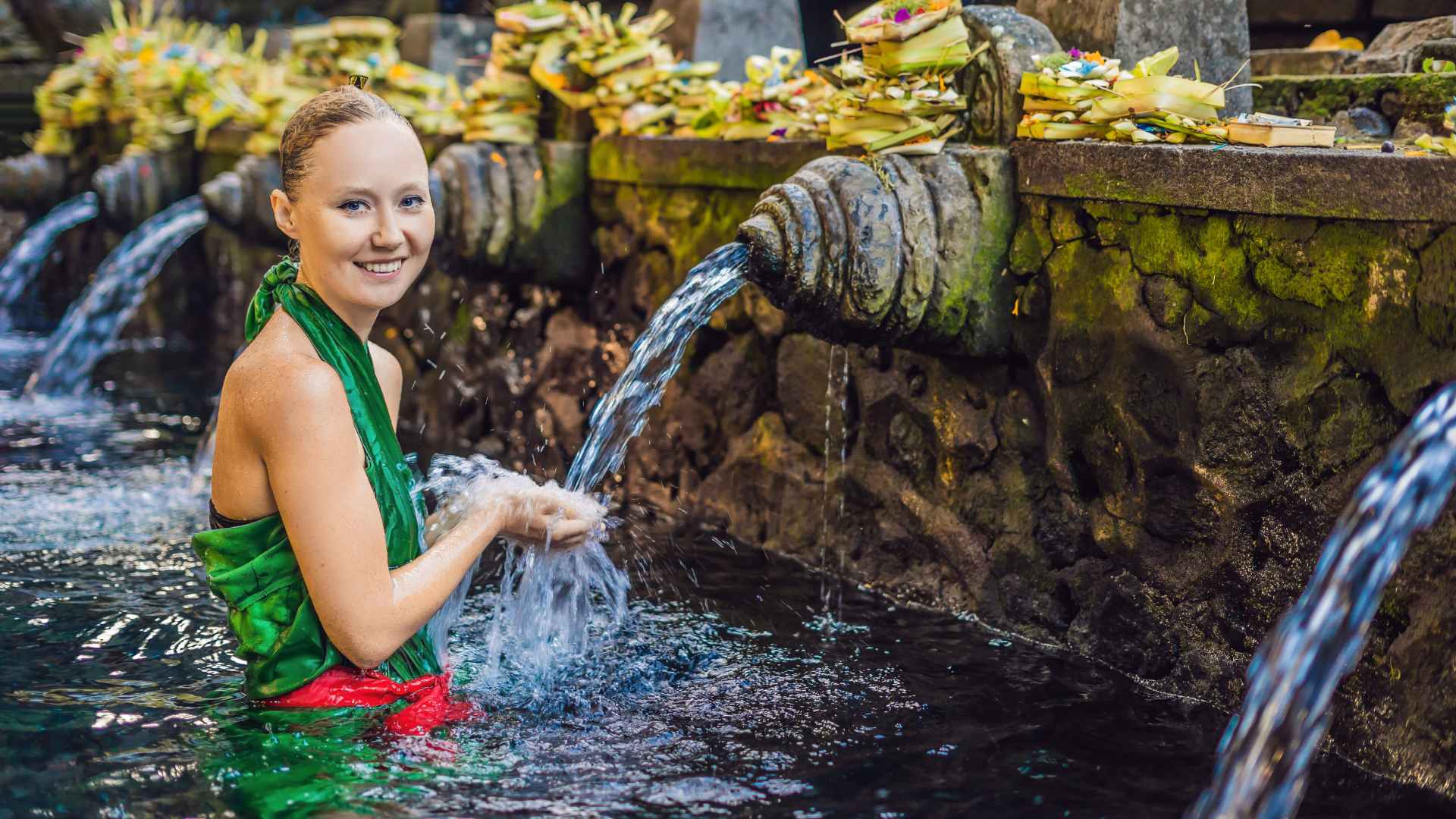 The ritual is usually performed by a Balinese priest or mangku, who guides participants through a series of prayers and rituals. Participants must wear a sarong and follow the priest's instructions.
Which springs can the Melukat ceremony be performed at?
The temple is located in the jungle near Ubud. It was originally built in 962 AD, but has been rebuilt several times since then.
Pura Tirta Empul is known for its sacred springs, which, according to legend, were created by the god Indra. The water in these springs is believed to be healing, so pilgrims come here to perform the cleansing ritual.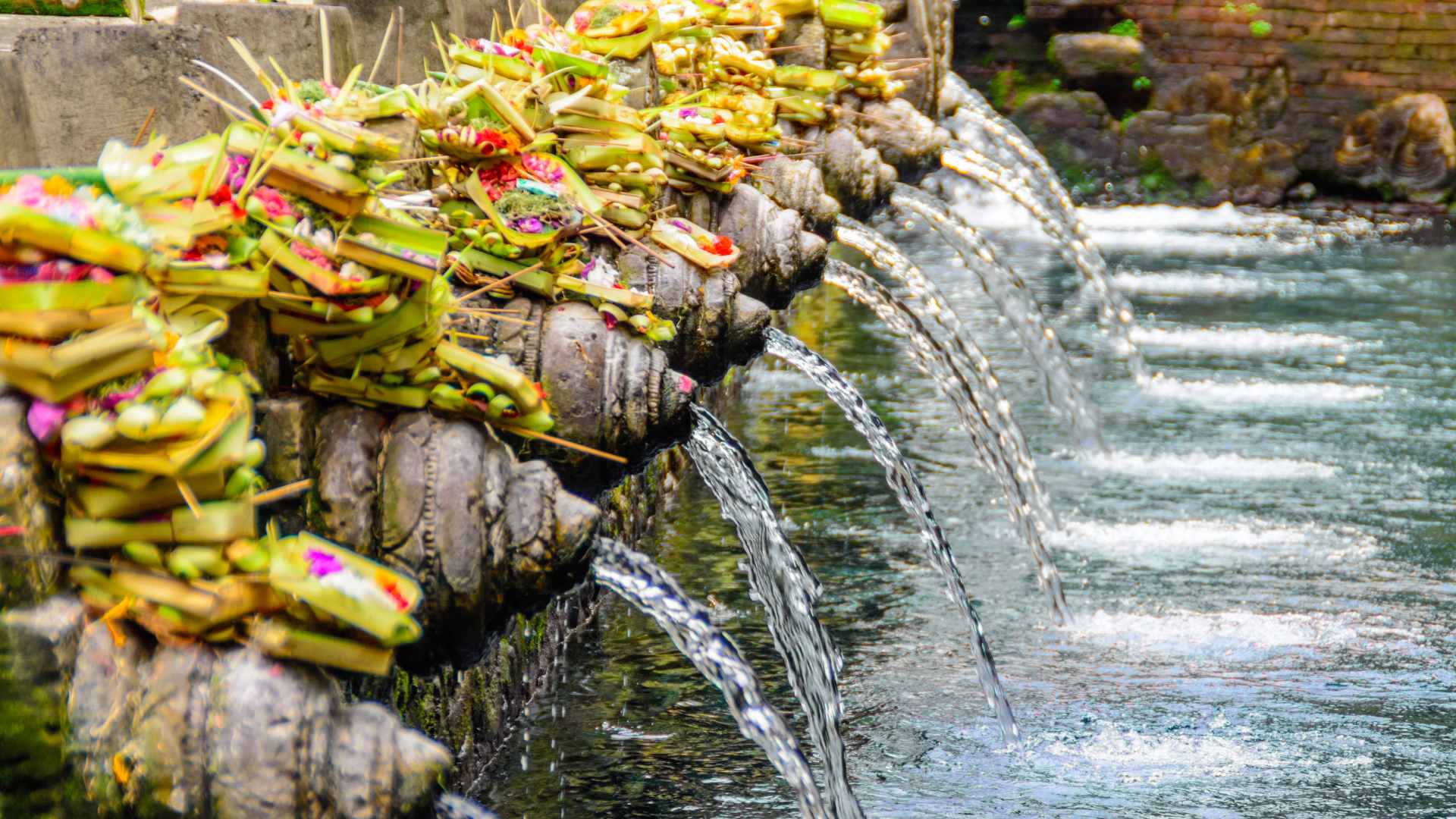 Several courtyards with small temples are located on the spacious territory, each dedicated to its own deity. One of the most famous courtyards is a complex of pools, in which people can cleanse themselves of sins and ailments by washing themselves in the spring.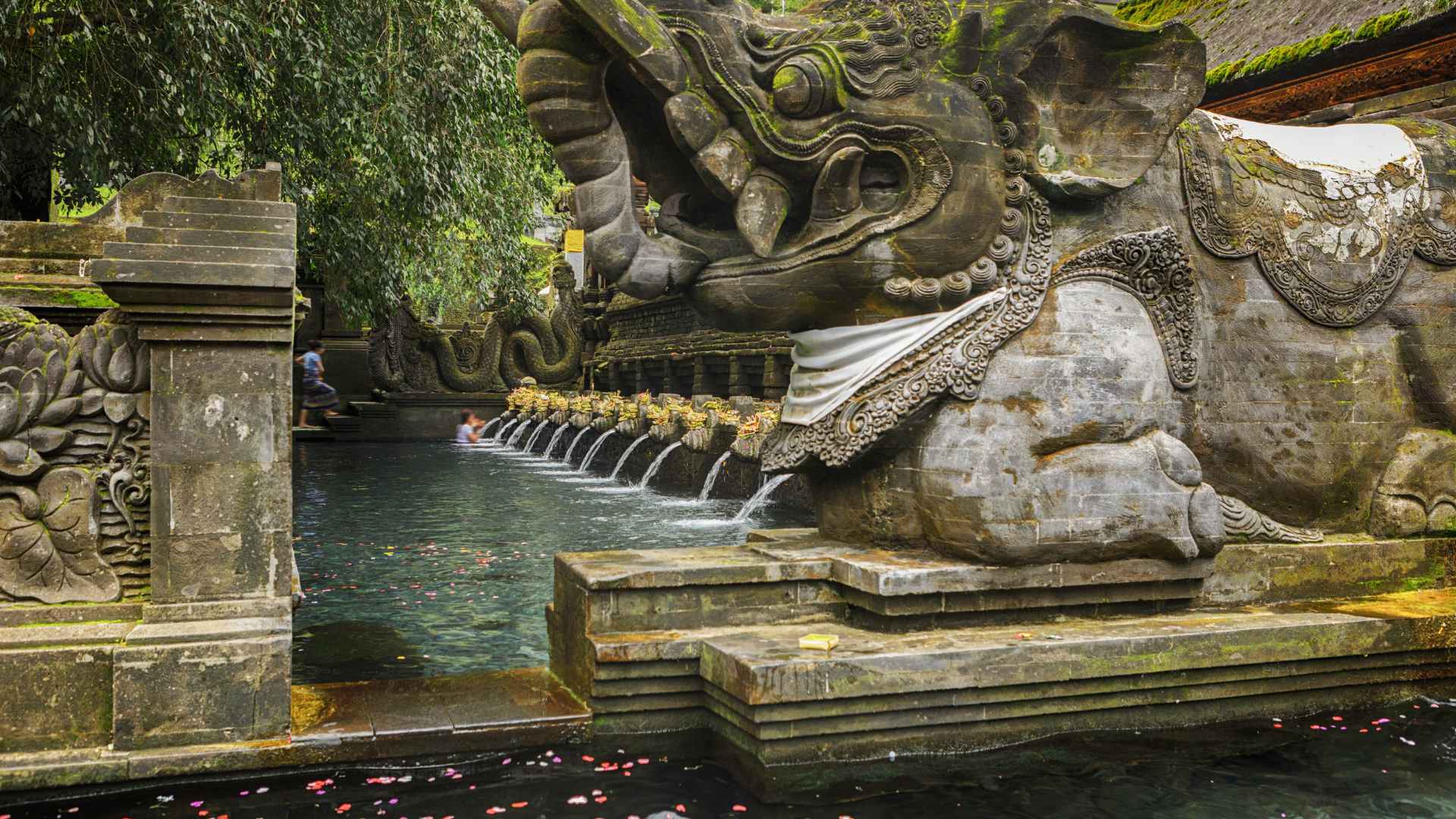 How to perform a ritual at Tirta Empul?
If you want to perform the cleansing ritual, you will need to rent a special green sarong and tie it over your swimwear: women wrap it like a dress, while men tie it around their hips.
Then you can use the services of a local Balinese who works on the temple grounds and will perform the ritual for a donation.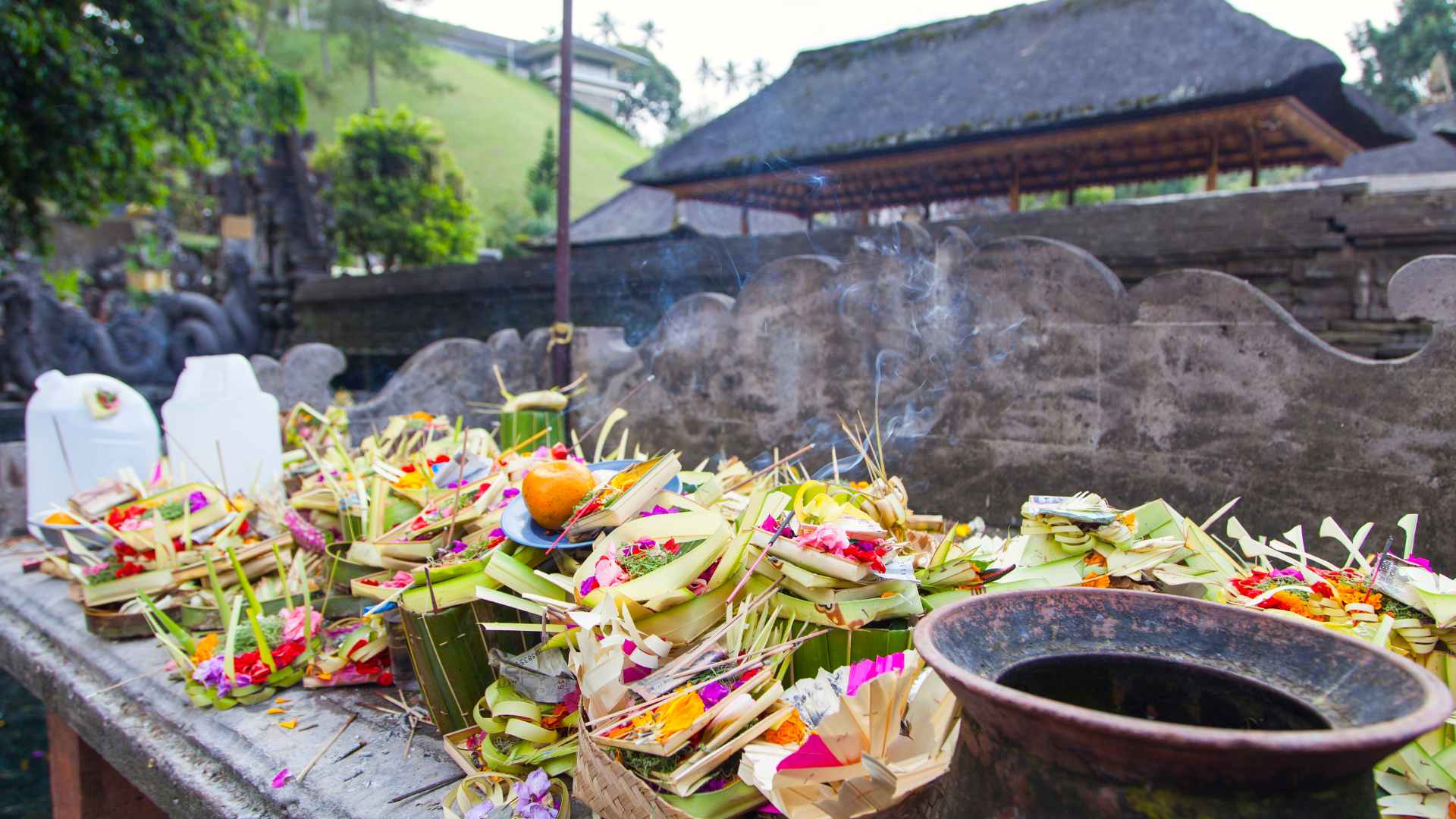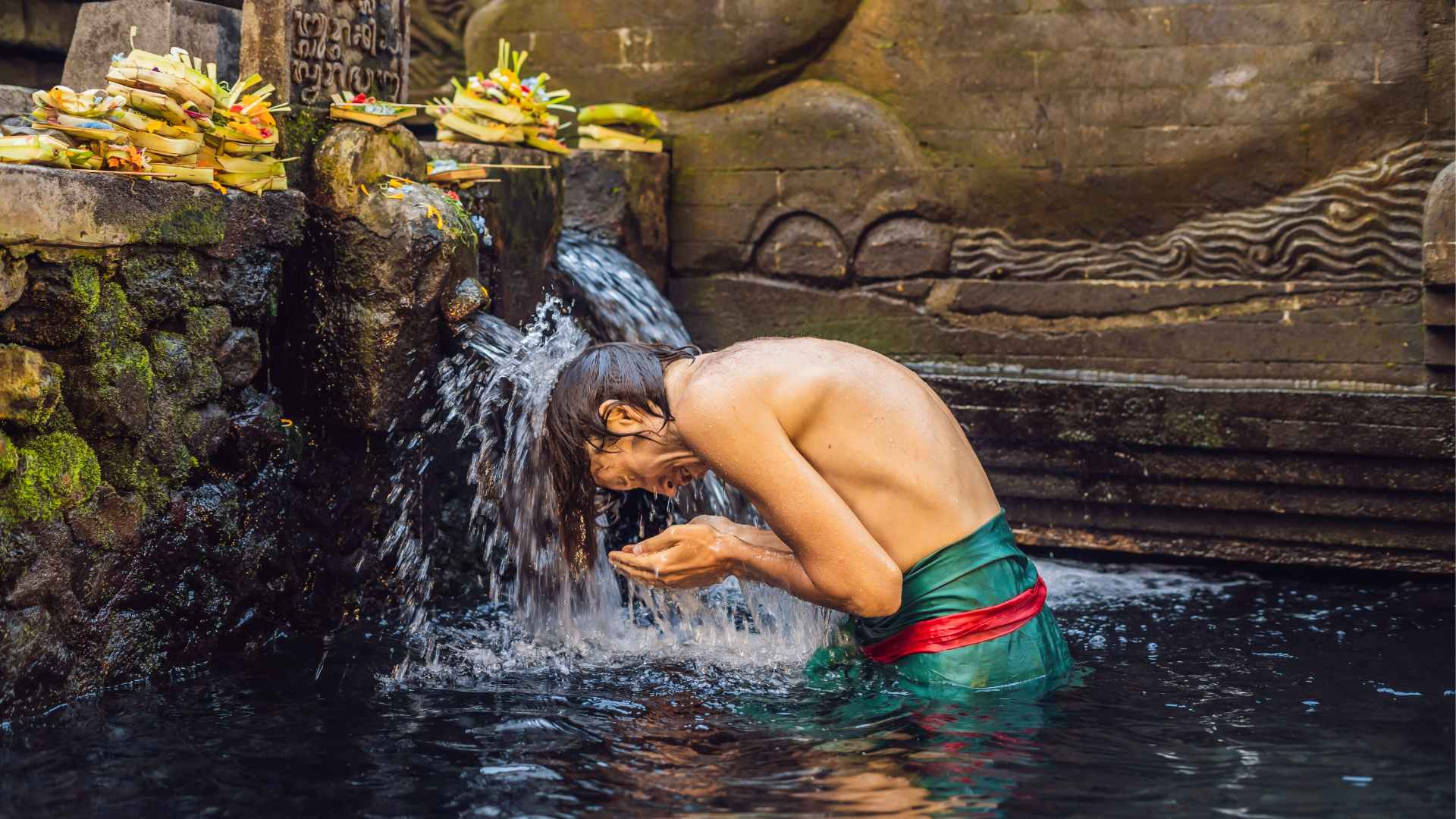 The Melukat ritual begins with prayers and offerings that you can purchase at the temple. Then, pilgrims immerse themselves in the pools, washing their body and soul in the water from the source. Each pool symbolizes a specific aspect of life: for example, in the first pool, people can purify themselves from selfishness and greed, and in the second one - from anger and envy. Each fountain also has its own meaning, some are intended only for Balinese ceremonies, so it is necessary to strictly follow the recommendations of the locals and go in a clear sequence. Before the ritual, you can formulate an intention.
These springs are located in the Tegalalang area and were unknown to tourists for a long time. They are a place of pilgrimage for many believers who come here to honor their deities and receive healing from various illnesses. The Sebatu springs are hidden in the shade of dense tropical forests, which adds mystery and a mystical aura to this place.
Unlike the Tirta Empul temple, Sebatu consists of small natural waterfalls and streams where pilgrims can perform their cleansing ritual.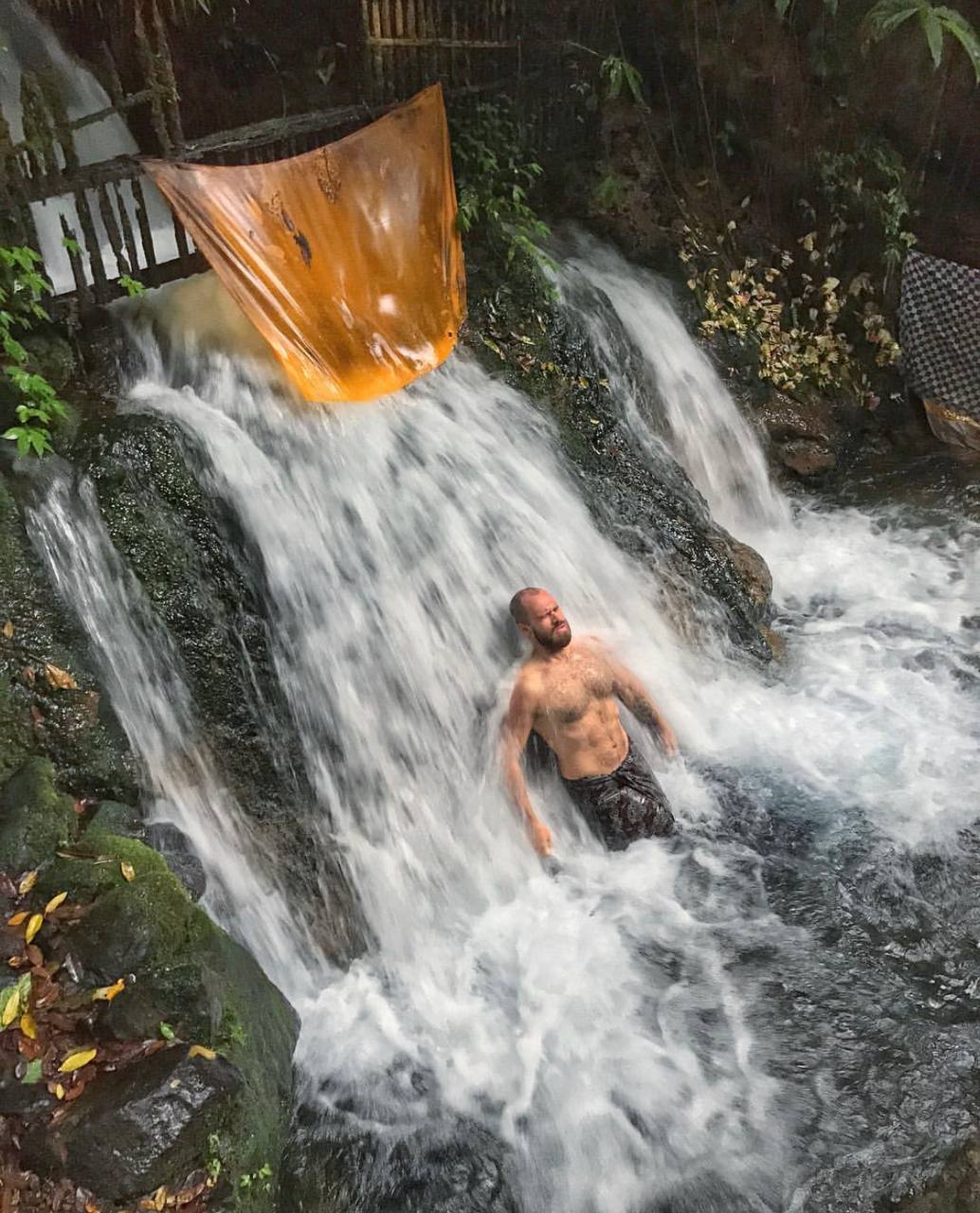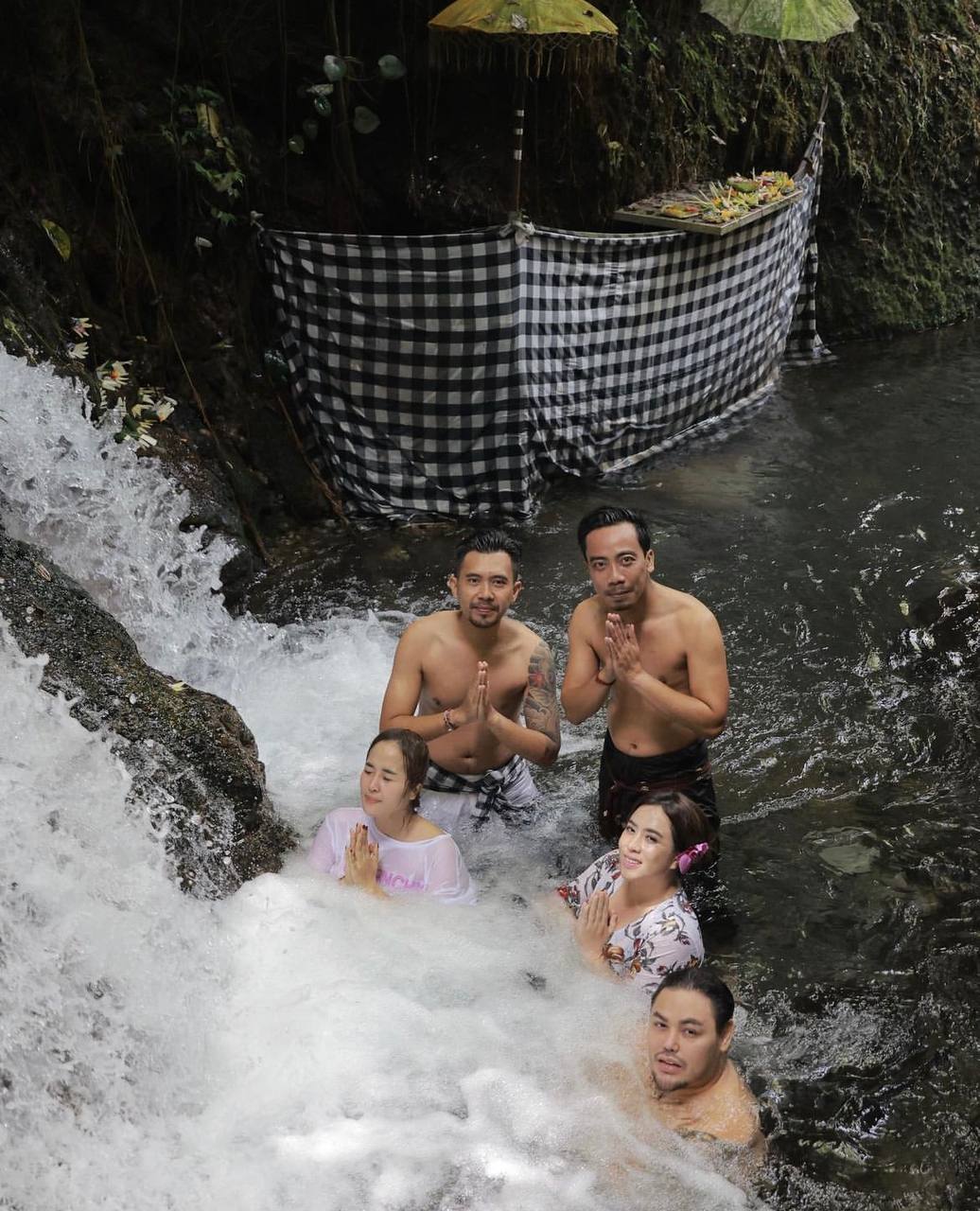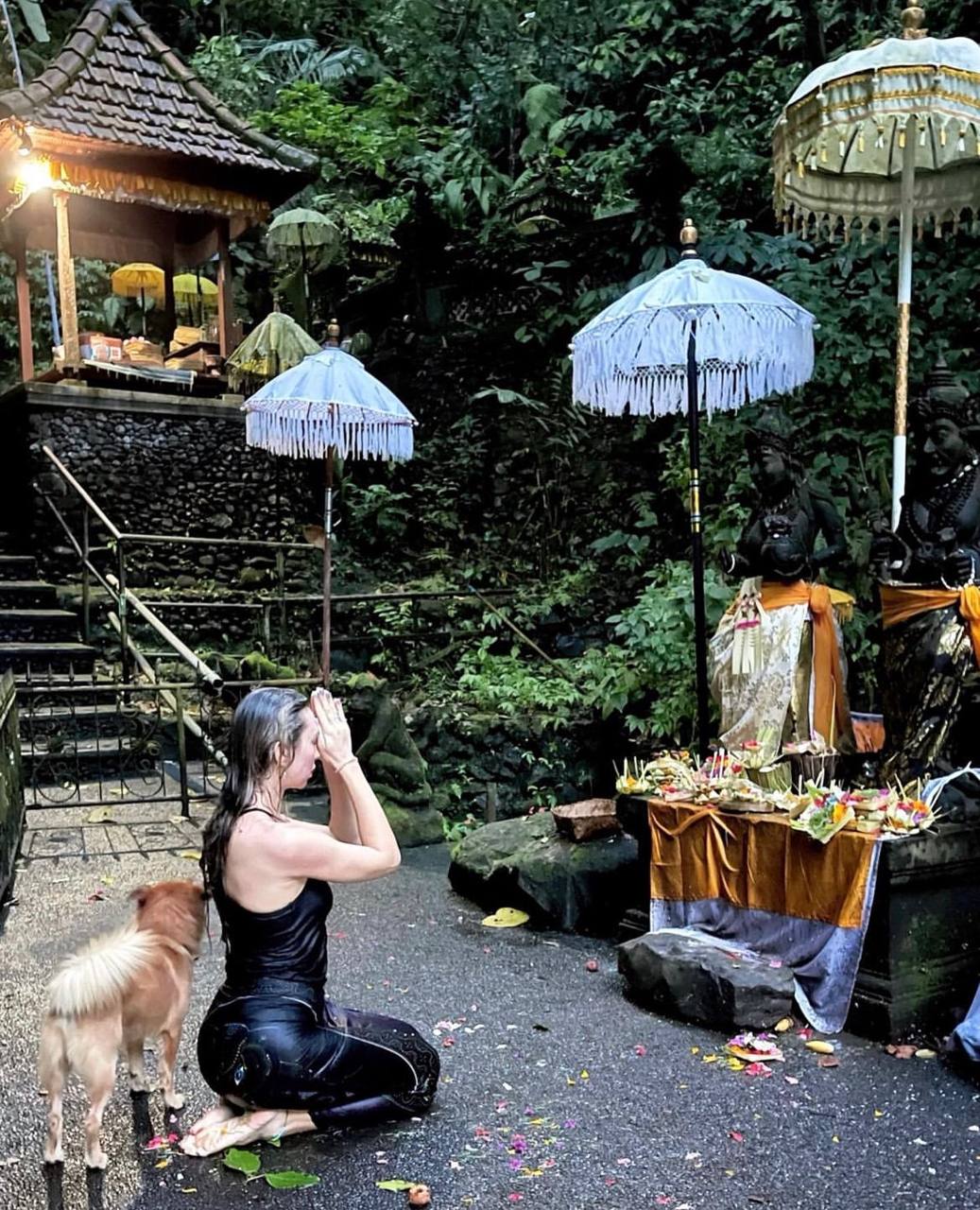 On the way to the springs, buy offerings and a sarong if you don't have one yet. At the entrance to the springs, you will be met by a monk who will conduct a ritual for you in exchange for a donation.
You can change your clothes near the stream and put all your things in a locker. Be sure to bring a set of dry clothes.
How to perform purification ritual in Sebatu?
To perform a ritual at Sebatu Springs, first you will sit on your knees with offerings in your hands in front of the altar while the monk recites a prayer. He will instruct you on what to do with the offerings, so follow his guidance carefully. After that, you need to go down to the stream. The water is cold but quite tolerable. In order, the pilgrims go to the waterfalls and lower their heads under the water streams, first facing the rock and then with their back.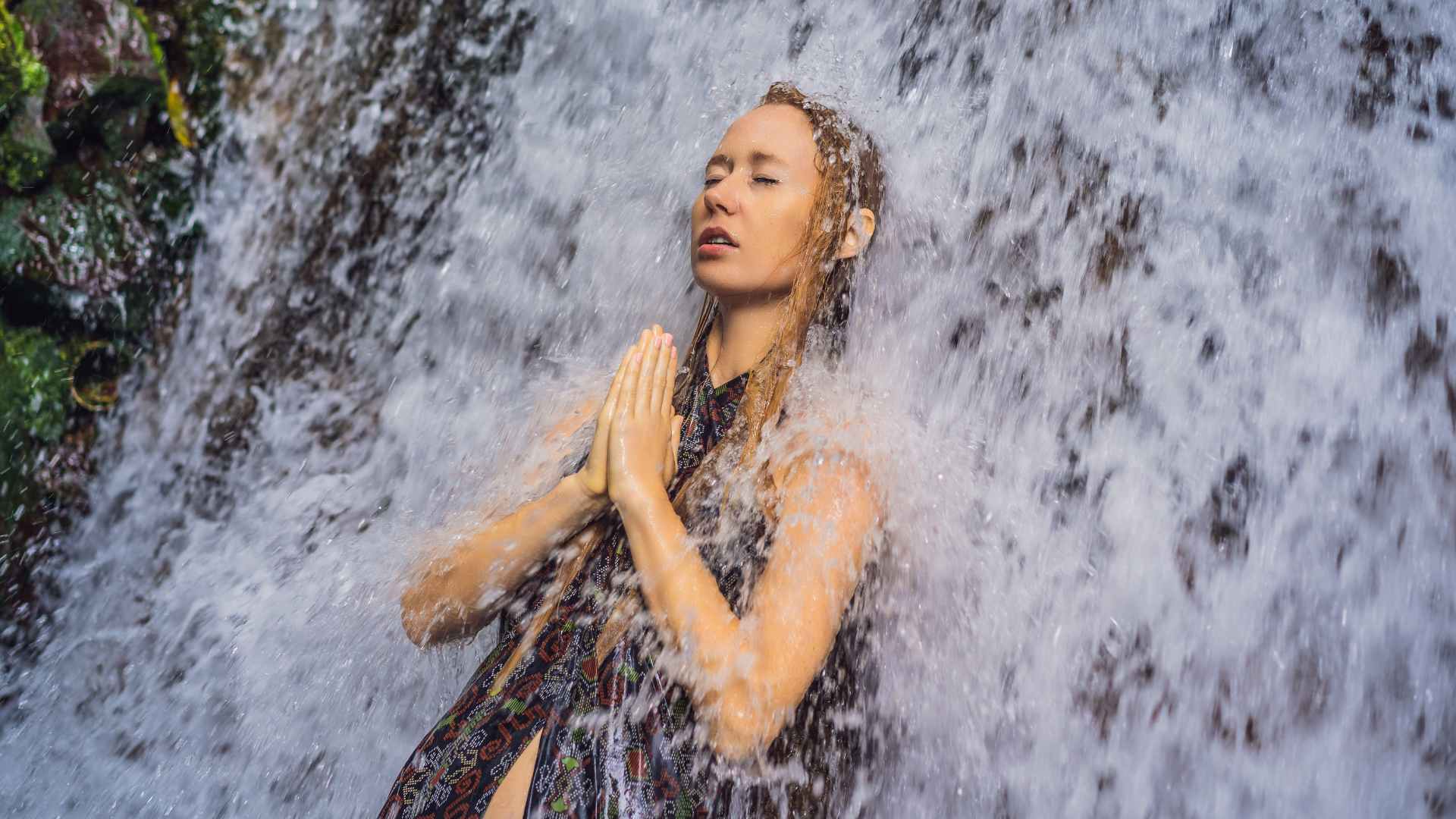 Usually, there are few people at the Sebatu springs since the place is not yet well-known to tourists. Pilgrims note that Sebatu has particularly powerful energy.
Another much less known place - the holy Beji Selati springs, located just upstream from the Instagram-famous Kanto Lampo waterfall. If you want to visit a sacred place for Balinese people that tourists don't know about, come here.
You can buy offering baskets on the way from the parking lot to the springs. The path will lead you through picturesque rice fields, and then you will have to descend into the canyon. The descent is very easy.
At the bottom, you will be greeted by a monk. He will recite a prayer and bless you. All the springs that are involved in the ritual are numbered, so you can easily understand what is what.
Near the springs, there are cabins for changing and showers. The ablution must be performed in a sarong, as is customary at all holy places.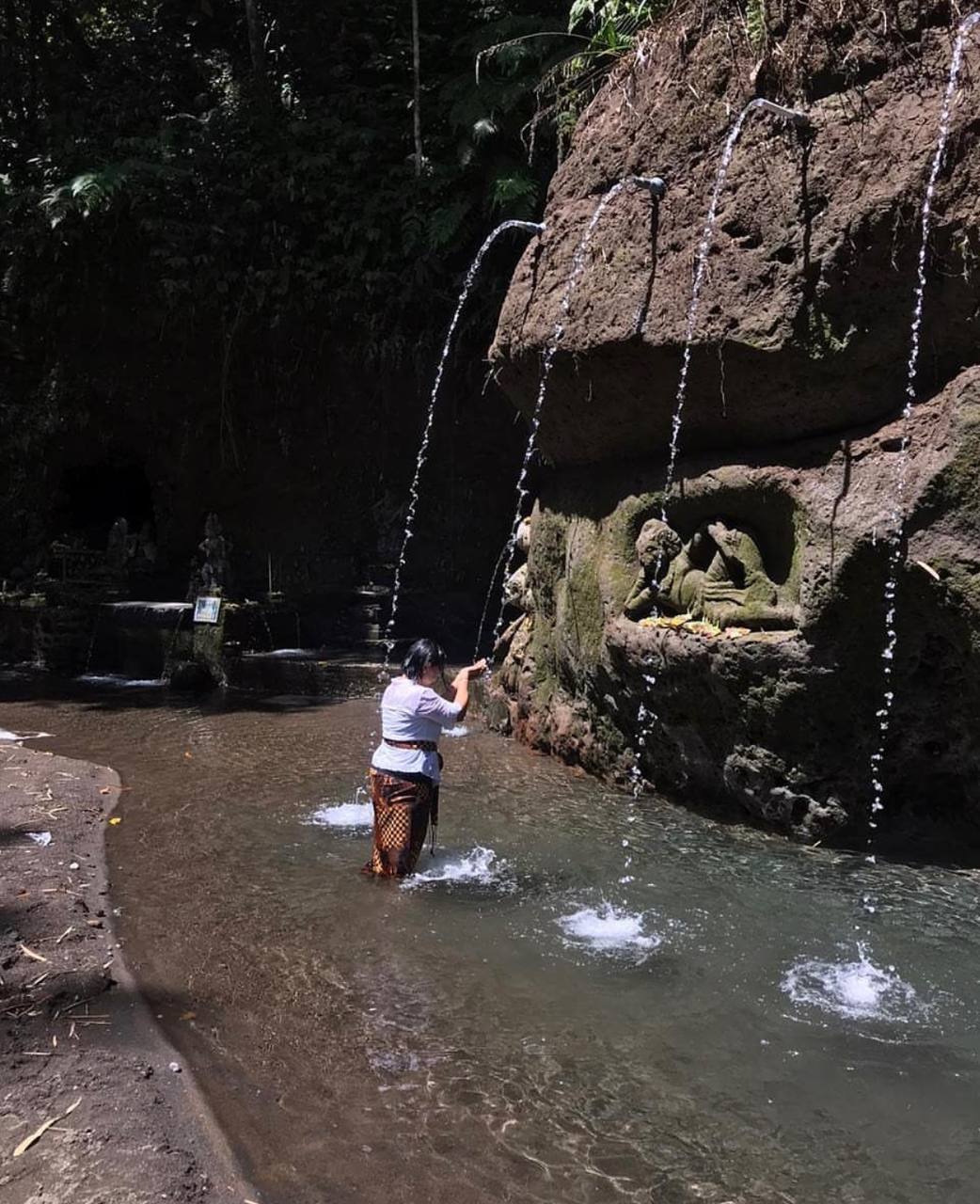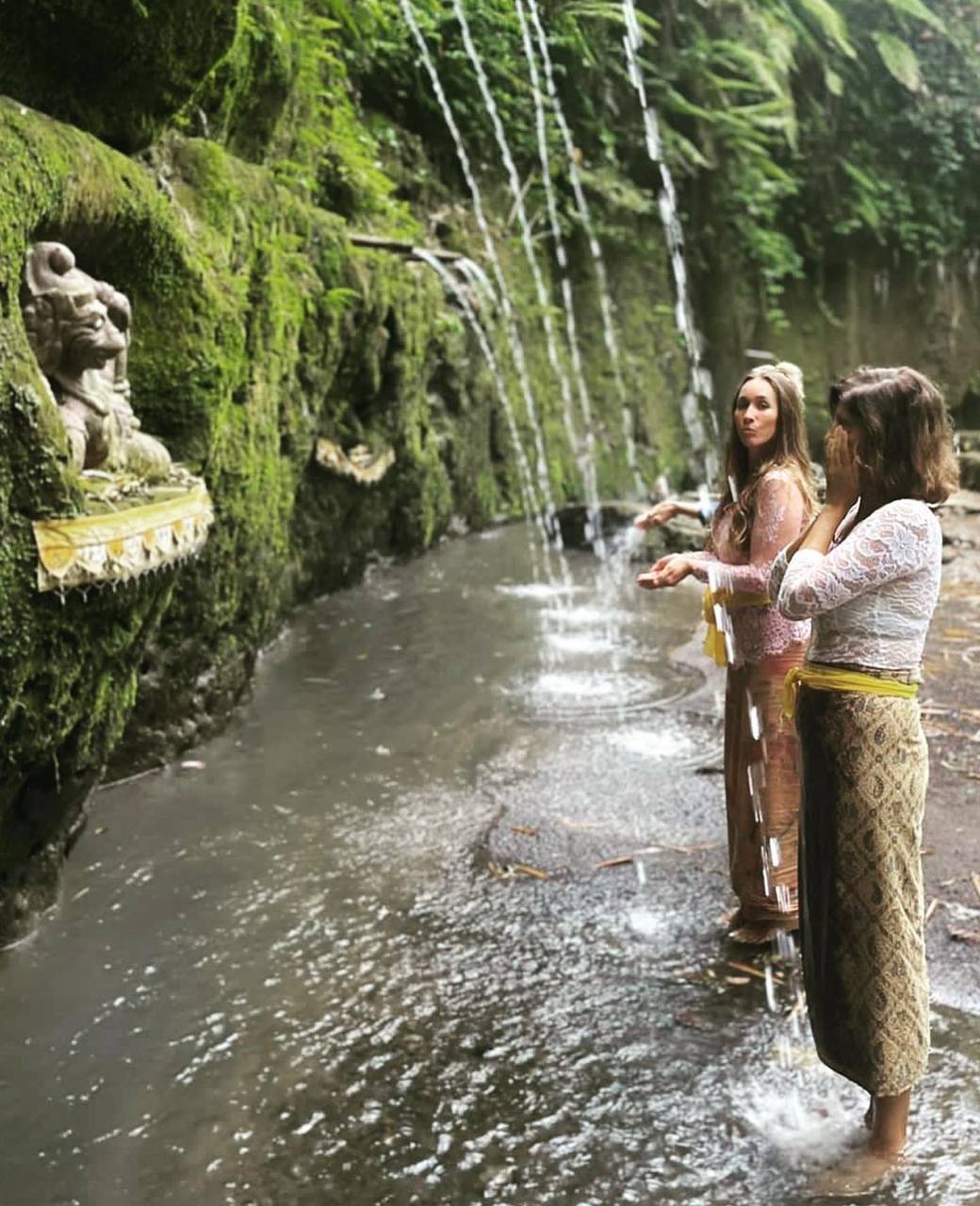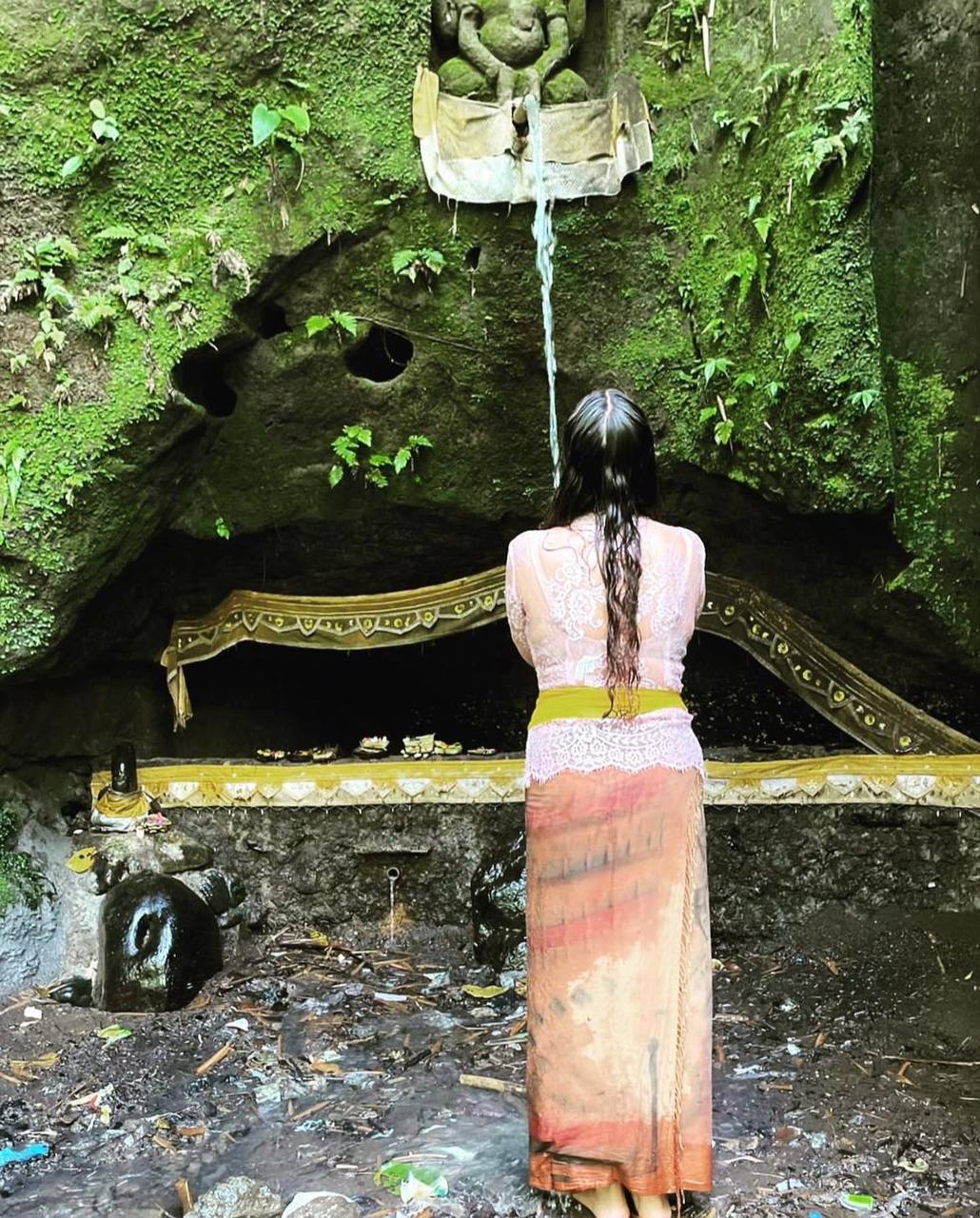 How to conduct a ritual at Beji Selati Springs?
The ritual begins with cleansing yourself in the river. Balinese people then smear themselves with mud, but whether or not to do this is up to you. Local clay is believed to have healing properties. If you want to perform the Melukat ceremony here according to all the canons, you can consult with a local monk or bring Balinese acquaintances with you.
If you are interested in the religion and culture of Bali, would like to visit sacred places for the Balinese people, experience the healing properties of the island's holy springs, and simply clear your mind and recharge your energy, we invite you to join us on the tour "Holy Springs and Cleansing Ceremony at Waterfall".
You will visit the Power places of the Balinese people - the Tirta Empul temple and Sebatu springs, where you will perform cleansing rituals. After that, you will visit the beautiful Tegenungan waterfall and relax at Alas Harum Bali with a view of the Tegalalang rice terraces. Are you ready to go?